As we snaked our way down the canyon road, flanked by farms and forest, there were no indicators that we were anywhere near our seaside vacation rental. When the car GPS signaled that we'd soon arrive at our destination we were skeptical but then – BAM – the pristine little town of Avila Beach came into view.
Renting a beach house for a few days is the sort of summer vacation that works best for our family right now. We get the conveniences of home – a kitchen, laundry, space for the kids to roam – but the change of surroundings still gives us the chance to explore and spend time together. Relaxing? Not in the least. But it could not have been more fun.
I have a Salami, Prosciutto and Provolone Panini recipe to share with you, inspired by a fantastic sandwich I had on the trip, but first here are a few highlights from our Central Coast getaway.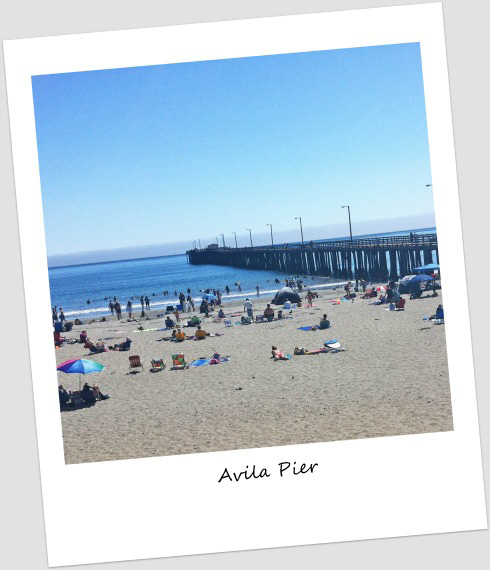 The best part about Avila Beach, aside from it being a convenient midpoint between the Bay Area and San Diego where my family and my sister's family could convene, was the plethora of (free!) activities we found without even having to leave the tiny town all weekend. There was the weekly Fish and Farmer's Market right on the beachside promenade where we were eager to sample the local BBQ tri-tip and gorgeous red strawberries. At the end of the beach – which is only half a mile long – the pirate-themed Avila Beach Park had my two kids and my nephew swinging, sliding and making friends. And, of course, we donned our hats and sunscreen and spent some time at the beautiful beach itself.
But the coolest find of all had to have been…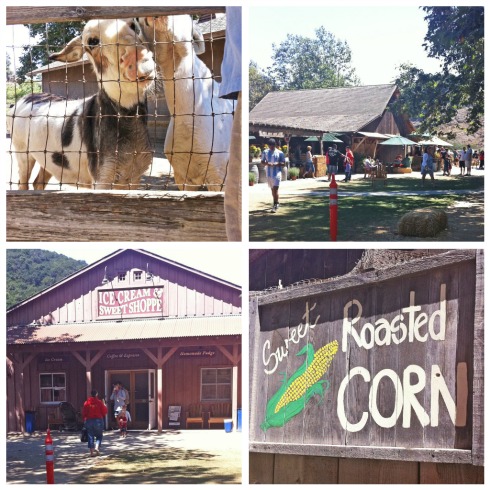 …the Avila Valley Barn. I never would have expected to find a good old-fashioned general store, complete with hay rides, petting farm, U-pick apple orchard and farmstand just a mile or two from the coast. The kids were elated to be doling out lettuce to the goats, sheep and cows (I yelped embarrassingly loudly when my hand got a massive lick from the big cow!). We made sure to bring home a Central Coast specialty from the market – olallieberry pie.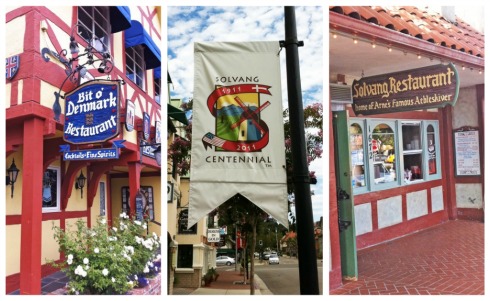 As we drove over the mountains into Avila Beach, we stopped in Solvang, aka "The Danish Capital of America". I've been to Solvang 3 or 4 times now and it still intrigues me how this fairy tale-like Danish Village exists in the middle of the Santa Barbara wine country.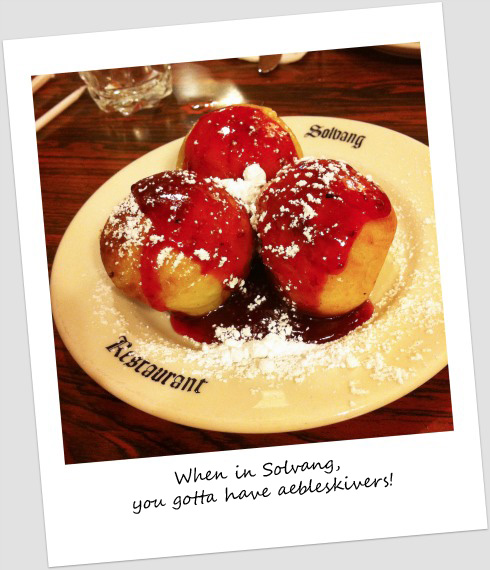 You can't leave Solvang without sitting down for aebleskivers, the tennis-ball shaped Danish pancakes, dressed in raspberry jam and powdered sugar. They're all over Solvang, but we usually stop in at Solvang Restaurant for theirs.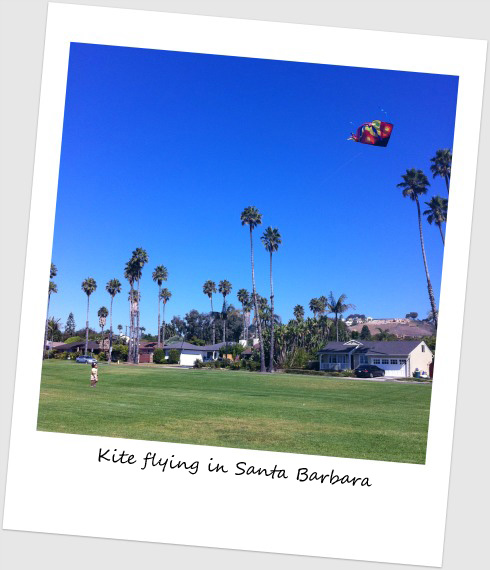 That tiny speck of a person in the photo above is my 3-1/2 year old daughter flying her first kite, out along Shoreline Park in Santa Barbara. Come to think, it was actually my first successful kite flight as well.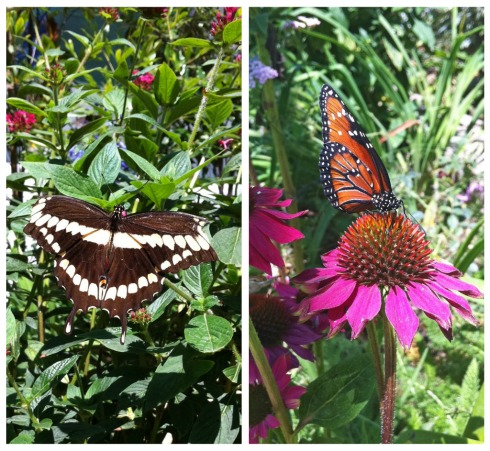 What luck to find a butterfly garden exhibit at the Santa Barbara Museum of Natural History! More than 1,000 butterflies of all different species flew freely around a greenhouse-like enclosure. The kids loved it, of course, and I found myself pretty in awe as well.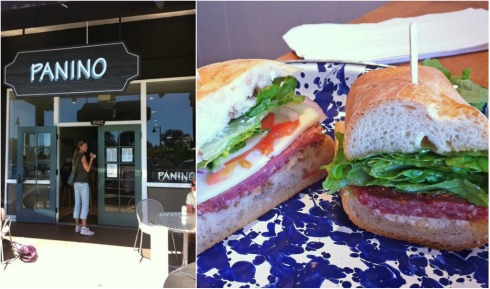 I have to mention our random celebrity sighting on the trip. While eating lunch at Panino in Montecito, a tony little town adjacent to Santa Barbara famous for being the west coast home of Oprah Winfrey, I noticed a guy who bore a strong resemblance to a friend of ours. I pointed him out to my husband, we both looked at the guy a little closer and recognized who he actually was right at the same time…Don Johnson. He looked good!
I tried the #8 Italian Combo at Panino – prosciutto, Genoa salami and provolone on focaccia with mayo and balsamic vinegar as condiments and lettuce, tomato, green bell pepper, cucumber, red onion and fresh basil topping it all off. I especially loved the crispness of the cold vegetables with the sharp cheese and cured meats. When I created my own grilled version of the sandwich I converted the vegetables into an Italian-style salsa, adding in red wine vinegar, olive oil and capers for even more zesty flavor.
It was a quick five-day roadtrip getaway, but we enjoyed every minute of it. 🙂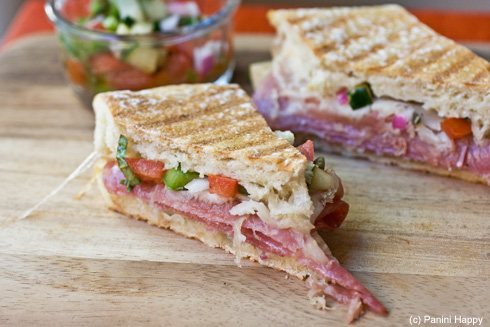 [print_this]
Salami, Prosciutto & Provolone Panini
Inspired by the #8 Italian Combo at Panino in Montecito, California.
Prep time: 1 hour 15 minutes (including rest time) | Cook time: 8 minutes | Total time: 1 hour 23 minutes
Yield: 4 panini
INGREDIENTS:
1/2 cup

chopped and seeded Roma tomatoes

1/4 cup

chopped and seeded cucumbers

1/4 cup

chopped green bell peppers

1/4 cup

chopped red onion

2 tablespoons

chopped fresh basil

1 tablespoon

capers, rinsed and chopped

2 tablespoons

extra virgin olive oil

2 tablespoons

red wine vinegar

Salt and black pepper

4

ciabatta rolls, or one large loaf cut crosswise into 4 sections

8 slices

provolone cheese

8 slices

Genoa salami

4 slices

prosciutto
DIRECTIONS:
Combine the tomatoes, bell peppers, red onion, cucumbers, basil, capers, olive oil and red wine vinegar in a small glass bowl. Season with salt and pepper to taste. Cover and let sit for one hour.
Preheat the panini grill to medium high heat.
For each sandwich: Cut a ciabatta roll in half lengthwise to create a top and bottom. Spread 1 to 2 tablespoons of the Italian-style salsa inside the bottom half. Add a slice of cheese, two slices of salami, a slice of prosciutto and a second slice of cheese. Top with another 1 to 2 tablespoons of the salsa. Close the sandwich with the top ciabatta half.
Grill for 3 to 4 minutes until the cheese is melted and the bread is toasted. Cut in half and serve immediately.
[/print_this]