Today's post is my first in a series of posts over the next few months sponsored by Panera Bread.
That was me, swinging open the doors of Panera Bread with my big camera bag (to take today's pics), my iPad case (always with me during my once-a-week "me time") and diaper bag (at least it's a cute one) in tow. I was there to set up shop, relax for the next hour or so and really get a sense of what draws people to this place.
Of course, I'd been to Panera countless times before – it's on our regular rotation of lunch places when the kids and I go out with friends. My husband is also known to stop in after work to bring home some of their cookies on a lark (always much appreciated). Today I was on my own and, at about nine-thirty in the morning, it was just the right time for a late breakfast.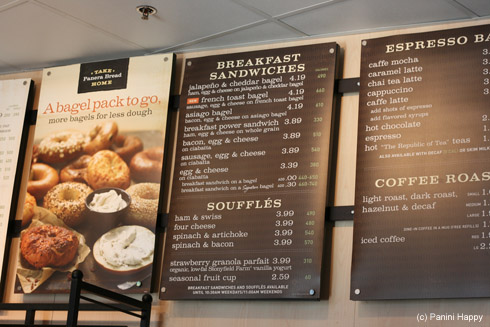 In that this is Panini Happy, I had every intention of sampling one of their breakfast sandwiches. But then my eyes gazed down the menu and landed on the section called "Soufflés". Wow, really? I'd never seen soufflés on the menu of a casual dining establishment such as this. I had to find out what these entailed.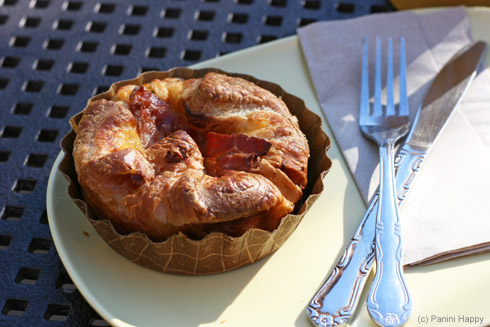 Oh my goodness, was this incredible. I honestly wasn't expecting anything nearly as good as this. It was kind of a non-traditional interpretation of a soufflé, with the eggs baked inside what they call their "sweet French dough" (very much like a croissant). I tried the spinach & bacon one, alternating between savoring each bite slowly and scarfing it eagerly. There was something about the flavors that kept me wanting more – I subsequently found out that besides the spinach and bacon there was also garlic, lemon and splash of Tabasco in the mix. This wasn't a normal weekday breakfast for me and it was a real treat.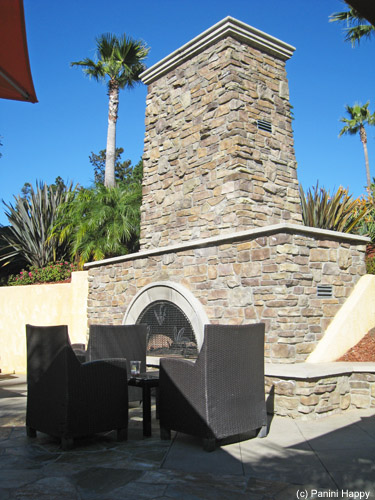 When it's sixty-eight degrees out in January, you have to take advantage of the opportunity to dine al fresco. I found a great spot by the fireplace, which felt cozy even if it wasn't lit. There were a number of little gatherings around the neighboring tables, I couldn't help but eavesdrop a little.
Around one table was a prayer group of about six women, one of whom broke down into tears while sharing a story of a niece who had just been diagnosed with a serious ailment. Behind me, under an umbrella, were two men drinking coffee and lamenting about the difficulty of installing ink cartridges in their printers at home. Inside the café, one of my own friends was actually sharing a pastry with another friend of hers (I gave them their privacy. :-)). It was pretty busy at Panera that morning, with a bunch more people working on their laptops, conducting job interviews and just enjoying a good breakfast. I never would have guessed there would be this much activity on a given weekday morning.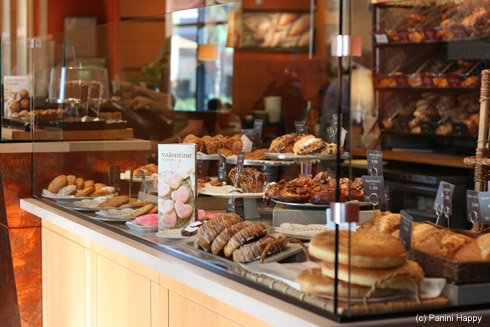 Obviously, I wasn't going to leave without trying the panini. It was about time to pick up my daughter from preschool so I took home a selection of three sandwiches to-go: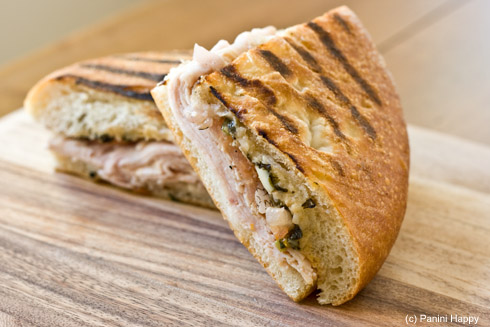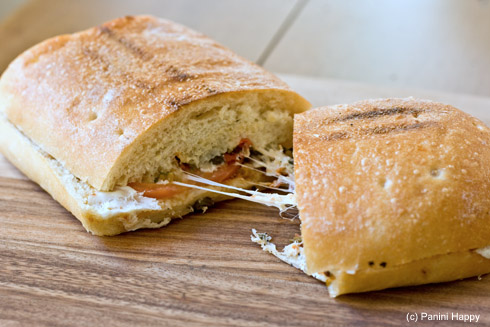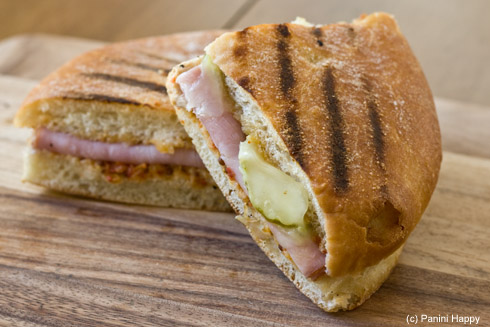 A number of you mentioned the panini at Panera Bread among your favorite sandwiches when I asked for suggestions last week – the Turkey Artichoke was mentioned a few times, in particular, so I made sure to pick up one of those. I've noticed one thing they do really well at Panera is layer flavors. Just like with their baked egg soufflés, each of their panini use big-flavor ingredients. The Turkey Artichoke uses smoked turkey, rather than the typical oven-roasted variety, and a zesty spinach-artichoke spread. The Tomato & Mozzarella uses not only fresh tomatoes but also roasted ones as well. The Cuban Chicken is finished with a chipotle mayo and sun-dried tomato ale mustard. It's these flavorful touches that make their panini taste better than many I've had in other cafés.
Did I have dessert? Yes, I indulged in a rather delicious Toffee Nut cookie. Did I take a picture of it? Nope, it was gone before I remembered to pull out my camera. 🙂
To find a Panera Bread in your area, click here.