It's time once again for my annual Super Bowl team-themed panini! It's always a fun challenge to come up with sandwiches inspired by the cities represented in the big game. First up: Pittsburgh!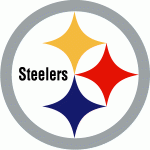 The sandwiches loaded with coleslaw and French fries at Primanti Bros. are the ones that people most often associate with Pittsburgh. Since I made Primanti Bros.-style cheese steak panini the last time the Steelers were in the Super Bowl, two years ago, I dug a little deeper into the local culinary lore this time around…and found the Devonshire.
If you're not familiar with the original Devonshire, created by Frank Blandi at The Stratford Restaurant in Pittsburgh in 1934, it is an open-face sandwich on toast topped with sliced turkey, bacon and smothered in a cheese sauce. I'm calling my Super Bowl appetizer version of this classic Devonshire Panini Bites: turkey and bacon panini (with cheddar and Parmesan), cut into small bites, with a creamy cheese sauce on the side for dipping.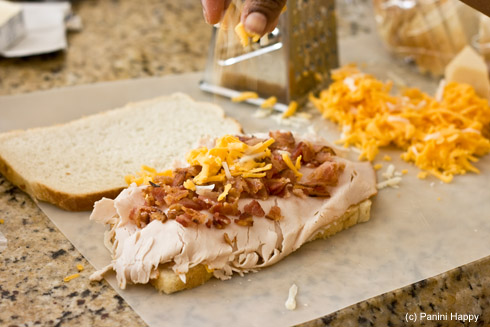 I kept all of the components of the original sandwich, just rearranging them a little. Instead of strips of bacon, I crumbled the bacon so the panini would be easier to cut into bite-sized pieces. I also added some cheese directly inside the sandwich to hold it together (and because you can never have too much cheese :-)).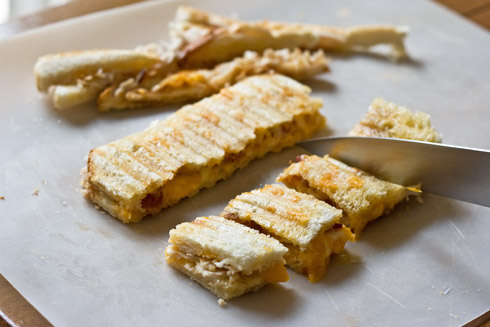 These little guys cool down quickly once you cut them so get ready to serve them right away while they're still hot! The same goes for the cheese sauce – if you have a chafing dish or fondue pot, now would be a great time to bring that out. But it's not the worst thing if, like me, all you've got is a regular bowl. These savory little comfort bites will be gone fast anyway. 🙂
Green Bay fans: stay tuned for your sandwich later this week!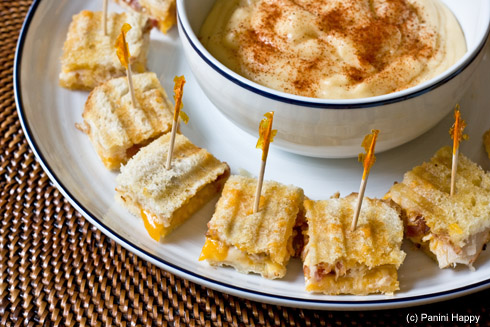 [print_this]
Devonshire Panini Bites
Adapted from Frank Blandi's Original Devonshire Sandwich recipe from the Pittsburgh Post-Gazette
Makes about 16 bite-sized panini, depending on the size of your bread
INGREDIENTS:
Cheese sauce:
6 tablespoons unsalted butter
1 cup flour
2 cups chicken broth
2 cups hot milk
4 ounces sharp cheddar cheese, shredded
1 teaspoon salt
Paprika
Sandwiches:
4 slices country white bread (I used sourdough; I would not recommend regular sandwich bread)
4 ounces sharp cheddar cheese, shredded
2 ounces Parmesan cheese, shredded
4 slices cooked turkey breast
4 slices cooked bacon, crumbled
DIRECTIONS:
To make the cheese sauce: Melt butter in deep pan and add flour, stirring constantly. Add chicken broth and then hot milk, stirring all the while. Add cheese and salt. Bring to boil, then cook slowly for 20 minutes, still stirring. Keep warm, ideally in a small chafing dish, fondue pot or crockpot.
To make the panini: Preheat the panini grill to medium-high heat.
Combine the cheeses in a small bowl. Lay two slices of bread side-by-side on a work surface. Top each slice with 1/4 of the cheese, 2 slices of turkey, half of the crumbled bacon and the remaining cheese. Close each sandwich with a second slice of bread.
Grill both panini at the same time for 4-6 minutes until the cheese is melted and the bread is toasted. Remove the panini from the grill. Cut off the crusts and divide the panini into bite-sized pieces (I was able to get 8 bites from each sandwich).
Insert a toothpick into each bite and arrange the bites on a tray around a bowl of the cheese sauce. Serve HOT!
[/print_this]