Okay, Packers fans – thanks for indulging my Pittsburgh-themed panini earlier this week. This next one is for you!

When I asked the Panini Happy Facebook fans for sandwich suggestions to represent Green Bay, naturally beer and cheese came to many people's minds. It's a classic Wisconsin pairing. As I explored different ideas for how to incorporate them into panini, I came across a creative Grilled Beer & Cheese Sandwich recipe on the Wisconsin Cheese Talk website, posted by Gabi of Honest Fare. Inspired by the flavors of the famous Wisconsin beer and cheese soup, Gabi layered sharp cheddar and fontina cheeses, caramelized onions and Dijon mustard on fresh-baked beer bread. With all of those big flavors, I had to give this one a try.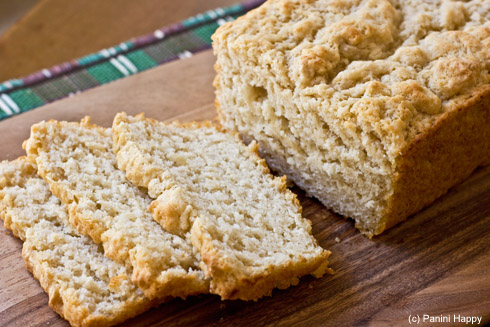 Sure, the beer bread is a little more crumbly than I'd typically grill with but WOW, you have got to taste this one! I did not want to stop eating it. A brush of melted butter on top of the bread gives it this unbelievable savory crispness as you bite in. The bread itself (which is incredibly easy to make) is quite flavorful from the beer as well as a bit of salt and sugar in the dough. On the inside, the sharp aged Wisconsin cheddar cheese I used was incredibly tangy and buttery, while the Worcestershire-splashed caramelized onions were mouthwateringly sweet. This was honestly one of the tastiest sandwiches I've grilled in a while.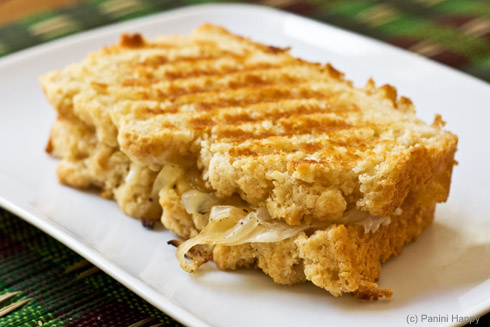 [print_this]
Grilled Beer & Cheese Panini
Adapted from the Grilled Beer and Sandwich recipe on Wisconsin Cheese Talk, by Gabi of Honest Fare
Makes 2 panini (with extra beer bread)
INGREDIENTS:
Beer Bread
3 cups all-purpose flour
4 1/2 teaspoons baking powder
1 1/2 teaspoons salt
1/3 cup sugar
One 12-ounce can or bottle of beer (Gabi says cheap beer works best; I used a wheat ale)
3 tablespoons unsalted butter
Caramelized Onions

1 tablespoon olive oil
1 white onion, thinly sliced
1 tablespoon fresh oregano, chopped
2 teaspoons Worcestershire sauce
Salt and pepper to taste
Panini
2-3 teaspoons Dijon mustard (optional)
4 ounces sharp cheddar cheese, shredded
1 tablespoon unsalted butter, melted
DIRECTIONS:
Make the beer bread:
Preheat oven to 350°F (175° C). Lightly grease a 9×5 inch loaf pan.
In a large mixing bowl, combine all-purpose flour, baking powder, salt and sugar. Pour in beer, stir until a stiff batter is formed. Best to just mix dough with your hands. Scrape dough into prepared loaf pan. Melt butter and spread evenly across top of dough. (Makes it golden and crusty!) Bake in preheated oven for about 35-40 minutes or until a toothpick inserted into center of the loaf comes out clean. Let cool completely before slicing.
Caramelize the onions:
Heat olive oil in a skillet over medium-high heat. Add onions to pan. Sauté onions until they begin to wilt, then add a pinch of salt and pepper, oregano and Worcestershire sauce. Reduce heat to medium low and cover. Cook covered until onions become soft and caramelized (about 40 minutes). Add more Worcestershire sauce to taste if you like.
Grill the panini:
Preheat the panini grill to medium-high heat.
For each sandwich: Spread a little Dijon mustard inside one slice of beer bread (optional – I forgot to include it in mine – but it'll add some nice tangy heat). Layer on half of the cheese and onions and close the sandwich with a second slice of beer bread. Brush a little melted butter on top.
Grill for 5-7 minutes until the cheese is melted and the bread is toasted. Carefully cut the sandwich in half, serve immediately and enjoy!
[/print_this]