As my husband and I were contemplating which favorite sandwiches we would contribute to my upcoming Panini Happy Guides to Great Sandwiches, we remembered one in particular…a hot sopressata sandwich with mozzarella and pesto from our babymoon trip three years ago. An amazing sandwich that I never actually got a chance to try myself.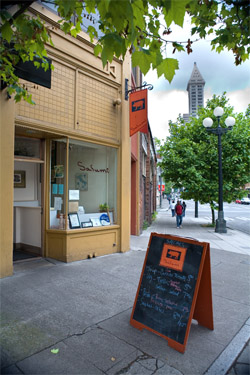 Once we arrived in Seattle that August we could not resist the call of Salumi, the renowned cured meats shop owned by chef Mario Batali's father, Armandino. It's this tiny, narrow little storefront with a perpetual line out the door, or so we'd heard. Luckily, on a weekday afternoon at 3 o'clock things had settled down a bit. A number of items had already been scrubbed off of the chalkboard by then, but the hot sopressata sandwich was still available.
As Mike eagerly ordered the sopressata – a spicy pork salami with garlic – I stood there longingly. Five months pregnant with our first child, cured meats were off the table for me, so to speak. While I made do with a rice salad (comforted by the fact that the elder Mr. Batali was having the same at a small table across from us), Mike savored his garlicky house-made salami. Three years later, he's still talking about it.
While the sopressata I bought in the supermarket to make today's panini was no match for the high-quality artisan-made product I could have had at Salumi, it still delighted my tastebuds. The best way I can think of to describe it is "pizza-like", probably because the sopressata reminds me a bit of large-scale pepperoni. That, combined with stretchy fresh mozzarella and zesty pesto, makes an incredibly mouthwatering, flavor-packed sandwich. Mike can't recall whether the one he had in Seattle was grilled or not, but I went ahead and grilled mine anyway. So this is what he's been raving about all this time!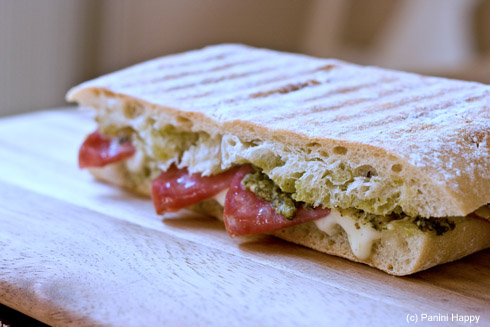 [print_this]
Sopressata Panini with Fresh Mozzarella & Pesto
Inspired by the Hot Sopressata Sandwich at Salumi in Seattle, WA
Makes 4 panini
INGREDIENTS:
4 ciabatta rolls or 1 ciabatta loaf, cut into 4 pieces
3/4 cup pesto
8 ounces fresh mozzarella, sliced
12 slices sopressata or salami
DIRECTIONS:
Preheat the panini grill to medium-high heat.
Split the ciabatta lengthwise to create top and bottom halves.
For each sandwich: Spread 1-2 tablespoons of pesto inside each bread half. On the bottom half layer several slices of cheese and several slices of sopressata. Close the sandwich with the top half.
Grill 5-7 minutes until the cheese is melted and the bread is toasted. Cut in half, serve immediately and enjoy!
[/print_this]