I've been telling friends all weekend that I baked a yellow layer cake on the panini grill. They've been universally perplexed by what this could possibly entail. Well, here it is!
Whenever I read an article casting the panini maker as a "bulky, one-use gadget", I have to sigh. Really? The only possible use in the entire culinary spectrum for a tool comprised of two direct heating sources – which, by the way, heat up in under five minutes – is grilling sandwiches? As someone who has spent the past nearly four years delving into ice cream cones, foil packet grilling, pop tarts and now Mini Birthday Layer Cake (in addition to, of course, plenty of panini) on the panini press…well, I think I've proven this is no single-use tool.
I'm excited to show you the new panini-baking technique I've figured out. This opens up a whole new world of possibilities for this versatile machine!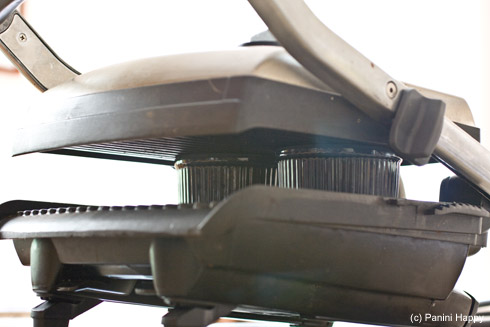 Ramekins – that's my secret to baking on a panini press. They're small enough to fit on the grill. All you have to do is determine how much to fill them, how long to bake them and at what temperature. Actually, those last three things do involve a bit of trial and error. But once you've got a good recipe down, this becomes a viable, relatively quick baking method.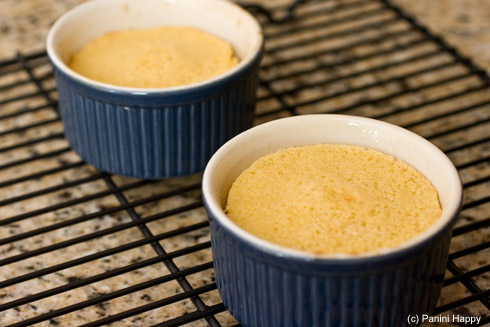 To come up with a small batch yellow cake recipe for my little layers, I adapted the One Bowl Vanilla Cupcakes for Two on How Sweet It Is, hoping that it would take roughly the same amount of batter to make two 3 1/2-inch layers as it did to make two cupcakes. That worked perfectly – the layers rose to the rim of the ramekin without spilling over. The cakes themselves felt nice and springy, as they should.
Cutting down a chocolate buttercream recipe to make just enough for this tiny birthday cake (way too small to fit all the candles I've earned this year!) really put my knowledge of measurement conversions to the test. But I focused and got it done, as I could not wait to frost this thing. And, of course, add the sprinkles.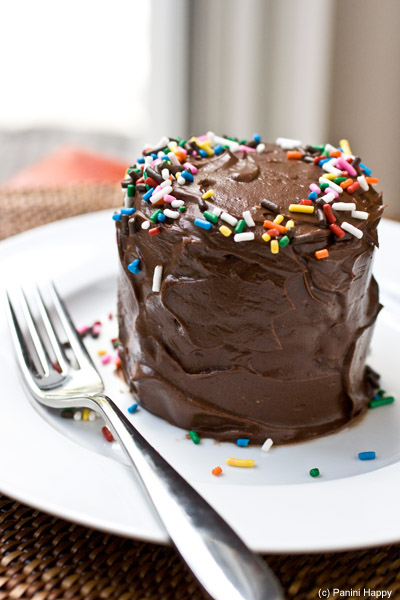 [print_this]
Mini Yellow Layer Cake with Chocolate Buttercream
Adapted from the One Bowl Vanilla Cupcakes for Two recipe on How Sweet It is
Prep time: 10 minutes | Cook time: 19 minutes | Total time: 29 minutes (plus cooling and frosting)
Yield: 1 mini cake
INGREDIENTS:
Yellow Cake:
1

egg

2 tablespoons

sugar

2 tablespoons

butter, melted

1 teaspoon

vanilla extract

1/4 cup

all-purpose flour

1/4 heaping teaspoon

baking powder

Pinch of salt

1 1/2 tablespoons

milk
Chocolate Buttercream:
3 tablespoons

unsalted butter, melted

3 tablespoons

cocoa

1 cup

sifted powdered sugar

1 1/2 tablespoons

milk

1/4 teaspoon

vanilla extract
DIRECTIONS:
To make the yellow cake:
Preheat the panini grill to 350°F.* Make sure the grill sits flat on your work surface, not tilted.
Spray two 6-ounce ramekins (3 1/2-inch diameter) with baking spray.
In a small bowl, whisk the egg and sugar together until they are combined. Stir in the vanilla and melted butter. Mix in the flour, baking powder and salt until the batter is combined and smooth. Stir in the milk. Divide the batter equally between the two ramekins, ideally filling each about halfway.
Set the ramekins on the panini grill and close the lid so that the upper grates make contact with the upper edges of the ramekins. Bake the cakes until they are set and spring back when touched in the center, about 17 to 19 minutes. Allow them to cool for 5 minutes in the ramekins, then invert them onto a rack to cool completely.
Assemble the layers and frost with chocolate buttercream. Sprinkles are optional, but sure are fun.
To make the chocolate buttercream:
In a small bowl, whisk together the butter and cocoa. Add in the powdered sugar, milk and vanilla and whisk until the frosting is smooth.
* Since this recipe involves baking, it's best if you prepare it on a panini maker that allows you to set a specific temperature (i.e., not just Low, Medium, or High).
[/print_this]