When I heard there was a contestant on the most recent season of Food Network Star, Jeff Mauro, who called himself the "Sandwich King" you know I had to tune in to see what this guy was about. King, eh? Not that I think of myself as the "Sandwich Queen" or anything…oh, maybe I do :-)…but nonetheless I was intrigued to watch him adapt each week's challenge into some rather enticing comfort-oriented sandwiches. As you may know, Jeff ultimately won the competition and Sandwich King is now a show on the Food Network.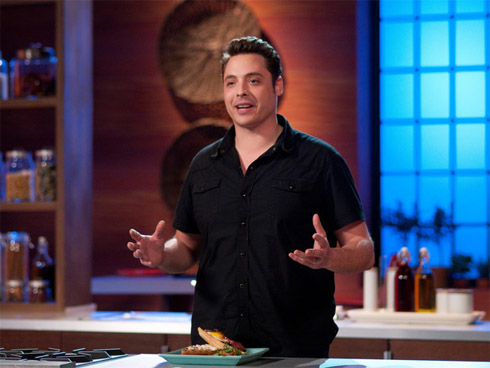 I saw my chance to taste one of Jeff's creations when I came across his recipe for a Mortadella and Fig Sandwich in the latest PEOPLE magazine (my weekly celebrity gossip indulgence). It was actually featured on the first episode of his show. He makes an easy fig jam on the stovetop and spreads it on focaccia with Mortadella and some sliced sharp Italian cheese (I went with sharp Provolone). I knew I'd love this sandwich before I even tasted it – you know I can't resist a good sweet and savory combo. The sandwich pictured in the magazine wasn't actually grilled, although the recipe calls for grilling. Here I show you the real deal – and it's a fantastic sandwich.
All right, Sandwich King…I think we can share the throne. 🙂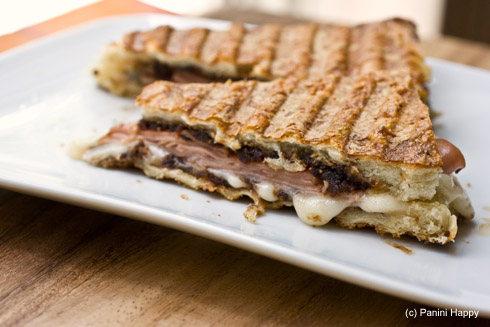 [print_this]
Mortadella and Fig Panini
Adapted slightly from the Mortadella and Fig Sandwich recipe by Jeff Mauro in PEOPLE magazine, 9/19/11
Prep time: 45 minutes | Cook time: 8 minutes | Total time: 53 minutes
Yield: 4 panini
INGREDIENTS:
2 cups

dried, chopped figs

1 cup

water

3/4 cup

balsamic vinegar

1 teaspoon

sugar

4

ciabatta rolls (or four squares focaccia bread)

8 ounces

Italian sharp cheese, such as Fontinella or Asiago, sliced

3/4 lb.

mortadella, thinly sliced

Olive oil, for brushing
DIRECTIONS:
Combine figs, 1 cup water, vinegar and sugar in a small pot and bring to a boil. Reduce heat and simmer 15 to 20 minutes. Cool 15 minutes.
Purée in a food processor or blender until smooth, 20 to 30 seconds.
Preheat a griddle or heavy skillet over medium-low heat (or preheat a panini grill to medium-high heat). Slice 1 piece of bread in half, thickness-wise.
Place 1 tablespoon fig spread on each half of bread.
Layer cheese and mortadella on the bottom half of each sandwich.
Top with the other slice of bread and lightly brush with olive oil.
Cook until golden and cheese is slightly melted, 3 to 4 minutes per side (or for 3 to 4 minutes total, if using a panini grill). Serve.
NOTE: Remaining fig spread can be refrigerated in an airtight container for up to two weeks.
[/print_this]