By now, you're probably getting to the point where you're ready to wrap up your turkey consumption for the foreseeable future. But there's still about a pound of it left in the fridge! Well, my third and final leftover turkey panini recipe of the season – Turkey Jalapeño Melt Panini – is a bit of a departure from traditional Thanksgiving flavors, so it ought to perk up your tastebuds enough to finish off what's left of the bird.
I'll admit it, the jalapeños were holding me back from trying these panini sooner. I've had a "hold the jalapeños" mantra for my whole life, out of fear of getting too spiced out. Well, I'm quite proud of myself for having thrown caution to the wind and taking the advice of my husband who had been encouraging me for months to try this combination. He regularly orders it at the little deli near his office and just loves it. Now that I've finally tried it, I can see why!
The thing about turkey is that it likes to associate with a bit of flavor. Well, if there's one thing that jalapeños have to spare it's flavor. The peppers are indeed hot but it's actually a welcome heat – especially amidst the buttery Monterey Jack cheese. I added tomatoes for a little more moisture and color (we eat with our eyes!) and grilled it all on sourdough bread. The combination was just as tasty as my husband had promised.
So there are your three leftover turkey panini ideas from Panini Happy for 2009: Turkey-Apple Salad Melt Panini, Turkey Cuban Panini and Turkey Jalapeño Melt Panini. Hope you've enjoyed them!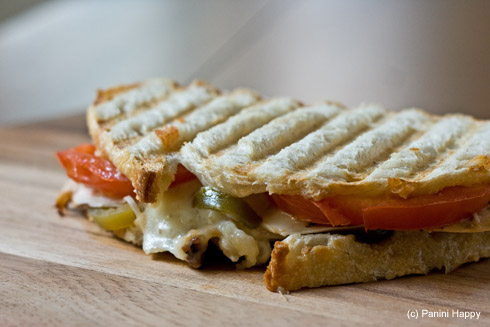 Turkey Jalapeño Melt Panini
Serves 4
INGREDIENTS:
8 slices sourdough bread
4 slices Monterey Jack cheese
Sliced pickled jalapeño peppers
Leftover roast turkey, sliced or shredded
1-2 tomatoes, sliced thinly, seeds removed
Mayonnaise
DIRECTIONS:
Preheat the panini grill to medium-high heat.
For each sandwich: On one bread slice, layer on a slice of cheese, jalapeños, leftover turkey and tomatoes. Spread a thin layer of mayonnaise on another slice of bread, and place it mayonnaise-side down to close the sandwich.
Grill 3 to 4 minutes until the cheese is melted and the bread is toasted. Cut in half, serve immediately and enjoy!