Somewhere around the 45-minute mark, as I was still diligently stirring the slowly caramelizing onions and oregano, my curiosity over whether this loooooong process was truly going to be worth it began to turn into resentment. This was a grilled cheese sandwich, for crying out loud. The simplest of all sandwiches. My husband had long since finished eating his lunch. I was hungry!
It was so worth it. Tom Colicchio, forgive me for ever doubting you.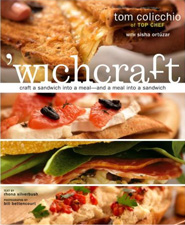 The recipe was created by the Top Chef king himself, from his new sandwich cookbook, 'wichcraft: Craft a sandwich into a meal–and a meal into a sandwich
(the same one I gave away last week in The Grilled Cheese Pageant). I thought I'd close out National Grilled Cheese month with his Gruyère with Caramelized Onions sandwich on rye bread. I've got to tell you – until now, my Bacon, Cheddar & Grilled Tomatoes Panini had been my all-time favorite grilled cheese. I still love that one…but I do believe I love this Gruyère and onions one just a little bit more. And I'll tell you why.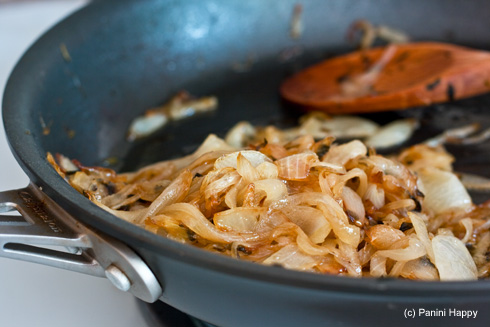 It's somewhat similar to my French Dip Panini, in that both aim to replicate the flavors of French Onion soup. But, of course, Tom's doesn't have any roast beef or jus. Just sweet yellow onions caramelized really slowly with fresh oregano and grilled with nutty Gruyère cheese on rye bread. The combination is very simple and insanely delicious. Just like in the soup it was inspired by, the Gruyère stretches between your mouth and sandwich with each bite. And those onions! To say they're like candy might be overstating things, but not by much. Ignore all my whining about how long it took to make them – good things do indeed come to those who wait. Better yet, prepare them ahead of time and then when you're ready to grill your panini they'll all come together in a matter of minutes.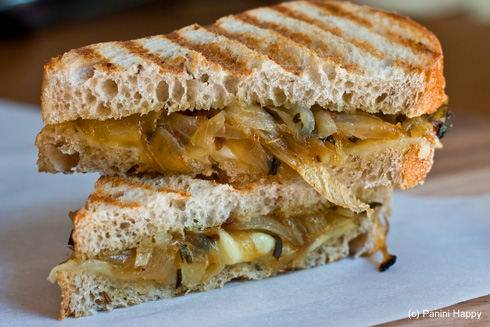 Gruyère with Caramelized Onions Panini
Adapted from 'wichcraft: Craft a sandwich into a meal–and a meal into a sandwich
Serves 4
INGREDIENTS:
4 tablespoons extra-virgin olive oil
4 medium yellow onions, halved and cut lengthwise into 1/8″ slices
2 tablespoons chopped fresh oregano, or 1 tablespoon dried Sicilian oregano
Kosher salt and freshly ground black pepper
8 oz. Gruyere cheese, grated
8 slices rye bread
DIRECTIONS:
In a skillet over medium-high heat, add the olive oil and onions and stir vigorously to avoid scorching. Add the oregano and season with salt and pepper. Continue stirring until the onions have a deep brown color. Reduce the heat and continue to cook until the onions are soft, 30 to 45 minutes. Set aside.*
Preheat the panini grill to medium-high heat (375°F).
For each sandwich: Place 1/4 of the cheese on a slice of bread. Follow with a generous amount of onions. Close the sandwich and place on the panini grill. Grill for 4-5 minutes until the cheese is completely melted and the bread is toasted with golden grill marks. Serve immediately and enjoy!
* Either use the onions immediately to make the panini or refrigerate them for up to 1 week.