For those who are counting, today marks the third occasion on which I've posted about Gruyère and onion panini (fourth, if you count the French Dip panini, which also contains roast beef). I've made these panini with caramelized onions and with marinated onions…now I'm pickling the onions. Seriously, the combination never gets old.
There's a Pickling Party happening today (stemming from the enthusiasm over last month's Pie Party), with more than 300 food bloggers and other cooking enthusiasts making and sharing pickled things. What's great about the pickled sweet onions I made for the occasion is that you don't have to know how to can (because I don't). All you have to do is combine a few simple ingredients together and wait.
There are few foods that will brighten up the flavor of a sandwich better than a pickle. They bring that big punch of acidity and, in the case of the onions I'm sharing today, a good dose of sweetness and spice. I let some sweet Walla Walla onions bathe in apple cider vinegar, brown sugar, salt and allspice until they were ready to get some mouths watering. Grab yourself a little bowl of fresh tomato soup to go along with them and get ready for a treat.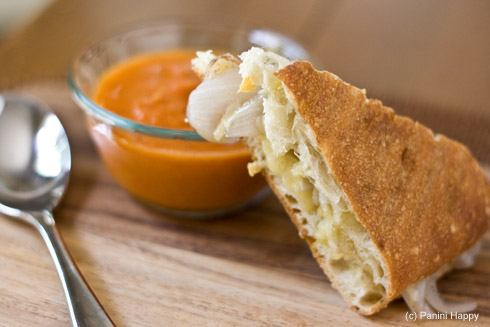 [print_this]
Grilled Gruyère Panini with Pickled Sweet Onions
Prep time: 1 hour 10 minutes | Cook time: 12 minutes | Total time: 1 hour 22 minutes
Yield: 4 panini
INGREDIENTS:
1

medium sweet onion such as Vidalia, Walla Walla or Maui, halved and thinly sliced

1/4 cup

cider vinegar

1 teaspoon

packed brown sugar

1/2 teaspoon

kosher salt

1/4 teaspoon

allspice

4

ciabatta rolls, or 1 large ciabatta loaf cut crosswise into 4 pieces

8 ounces

Gruyère cheese, shredded
DIRECTIONS:
To make the pickled sweet onions:
Bring a small pot of water to boil over high heat. Add the onions and blanch them for about 15 seconds. Drain well and set aside.
In a large nonreactive bowl , combine the vinegar, brown sugar, salt and allspice. Stir until the sugar is dissolved. Add the blanched onion slices and stir to coat thoroughly. Cover and refrigerate at least 1 hour before serving.
To make the panini:
Preheat the panini grill to medium high heat.
Halve each of the ciabatta rolls lengthwise. On each the bottom halves, add a few tablespoons of cheese. Top with onions (as much as you'd like, you can always refrigerate any extra onions) and the rest of the cheese. Close the panini with the top halves of bread.
In batches, grill the panini for 4 to 6 minutes until the cheese is melted and the bread is toasted. Slice in half diagonally and serve immediately.
[/print_this]