If you've noticed quite a number of pie-related posts around the blogosphere today, that's because there's a Pie Party going on! Shauna James Ahern put out the word on Facebook and more than a thousand pie fans have RSVP'd to share photos and recipes of pies today. I'm bringing some fabulous savory Chorizo & Potato Grilled Hand Pies to the potluck table.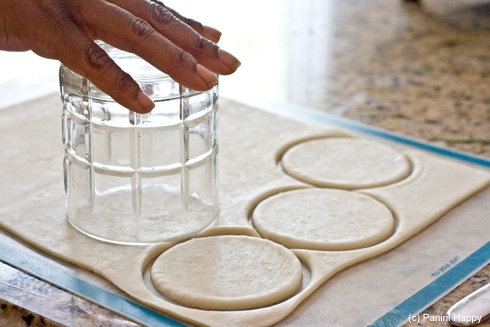 Who doesn't love a handheld pie? Portable, flaky crust, flavorful fillings – it's one of life's simple pleasures. I came up with the idea of savory hand pies filled with spicy chorizo sausage, Yukon Gold potatoes, cheddar cheese and fresh chives (snipped from my new garden!) pretty quickly, but it took me a bit longer to figure out the special ingredient that would elevate these pies to "wow" status. After consulting first The Flavor Bible (seriously, the best food book I own) and then my pantry, I had it: dried apples.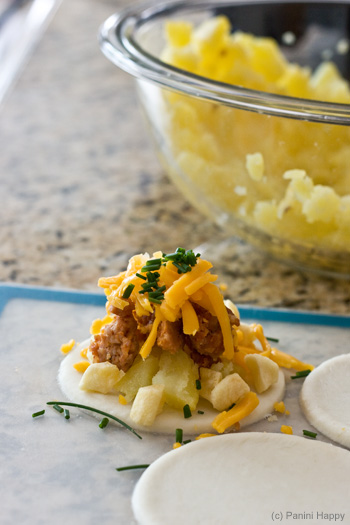 I knew that cheddar and apples are a magical pairing so when I read in The Flavor Bible that apples shared flavor affinities with chorizo as well I was eager to try them out in the mix. What the apples give is a subtle sweet-tart kick amidst the spicy chorizo and creamy potatoes and cheddar. They're just the unique twist I was looking for. I happened to have dried apples on hand, but I think golden raisins might also work really well too.
Happy Pie Day!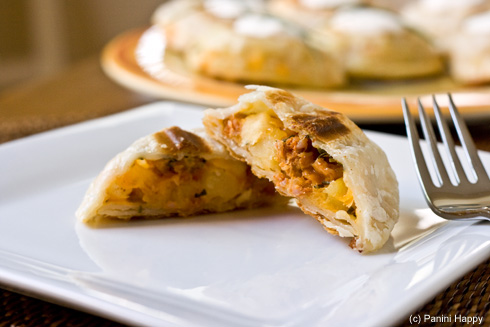 [print_this]
Chorizo & Potato Grilled Hand Pies
Prep time: 1 hr 15 min | Cook time: 45 min | Total time: 2 hrs
Yield: 16 hand pies
INGREDIENTS:
4

puff pastry sheets

1 lb.

chorizo

1 teaspoon

vegetable oil

3

Yukon Gold potatoes

4 ounces

sharp cheddar cheese, shredded

4 teaspoons

chopped chives plus more for garnish

1/3 cup

chopped dried apples or golden raisins

Sour cream
DIRECTIONS:
Set out puff pastry sheets to thaw.
Heat vegetable oil in a large skillet. Brown the chorizo, stirring to a crumble.
Bring the potatoes to boil in salted water. Cook until fork-tender, about 15-20 min. Drain.
Peel, dice and smash the potatoes with a potato masher. They don't need to be smooth, just crushed a little.
On a clean surface, roll out each sheet of puff pastry to an approximately 12″ x 15″ rectangle. Cut 3″ circles out of the puff pastry – I used the rim of a drinking glass as a cutter.
Preheat the panini grill to medium-high heat (about 400°F). Heat an oven or toaster oven to 250°F.
On half of the circles, add about 1 tablespoon potatoes, 1 tablespoon chorizo, 1 tablespoon cheese, 1 teaspoon dried apples and 1/4 teaspoon chives. Use your judgment – you want the pies to be full but not overstuffed. One at a time, pick up each remaining circle, dip your finger in some water and apply water to the outer edge of the circle. Place the circle, wet side down, on top of one of the circles with filling. Stretch the pastry a little if necessary to cover the filling. Press around edges to seal the pie. Crimp the edges with a fork.
Once you're done with 4 or 5 pies (or as many will fit comfortably on your grill) go ahead and and start grilling. Carefully transfer the pies to the grill and close the lid so that the lid makes contact with the top of the pies without applying too much pressure. As the pastry bakes it will puff up and become a more even disc shape. Grill for 10-12 minutes until the pastry is puffed, fully baked (it will be quite brown in the center and pale golden around the edges). Keep the finished pies warm in the preheated oven or toaster oven while you grill remaining ones.
Serve with a dollop of sour cream and a few snips of chives.
[/print_this]