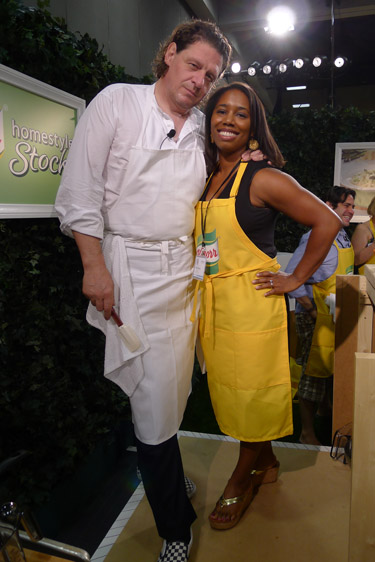 Attending blogging conferences, for me, is all about gathering up all of my extroverted tendencies I can muster, sticking my neck out there a little and making the most of the experience. At BlogHer '11, which took place right here in San Diego this past weekend, I jumped in with both feet and had an absolute blast.
If you recognize the gentleman in the photo above, then you know how thrilled I was to be standing on that platform with him. I'm confident as a cook and all, but when faced with the opportunity to cook alongside Marco Pierre White, "the original celebrity chef", a man who was the youngest (at the time) ever to receive three Michelin stars, who was a mentor to Gordon Ramsay and who, early on in his career, regularly ejected restaurant patrons who made comments to which he took offense…well, my nerves were running high.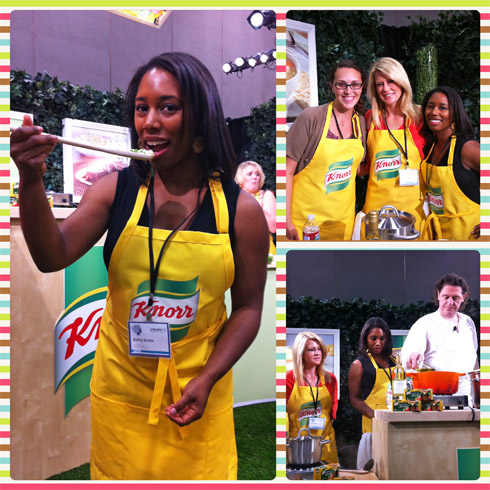 Folks, the man was lovely – very friendly and engaging. My friend and fellow San Diegan Lisa from The Gonzo Gourmet (in the orange top in the photos above) just laughed at me for all of my giddyness. Chef White corraled the six of us attending the Knorr master class to make sure we could all see every detail of the asparagus risotto he was demonstrating. Here's a great risotto tip I learned: stir it with a rubber spatula, rather than a wooden spoon – it'll keep the rice intact, rather than mashing it.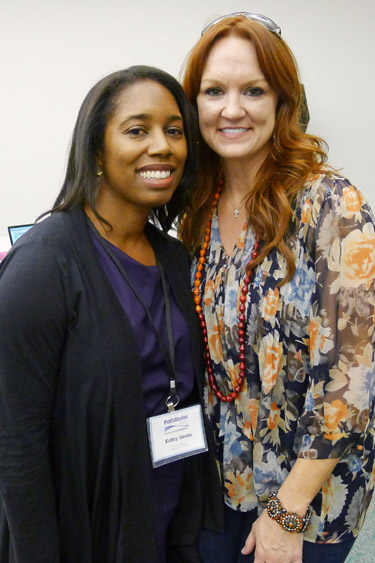 Speaking of spending time with lovely, inspiring people, I had the chance to say hello to Ree Drummond, aka The Pioneer Woman. We first met two years ago at BlogHer '09 in Chicago. She and the fabulous Kathryn Finney of The Budget Fashionista led a small group session this year in which they shared their respective paths to success. I'm so excited for Ree and her new Food Network show that's premiering in a few weeks.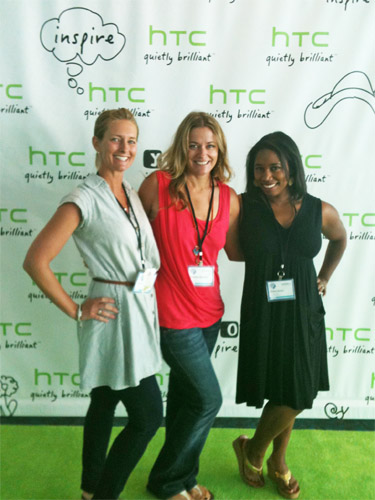 With BlogHer practically in our backyard, several of my "real life" local friends – including Alex and Chelsea from Breezy Mama – were also in attendance. With all of the hustle and hoopla of the conference, it was so nice to just exhale and relax with these ladies. We couldn't pass up the chance to do our best Kardashian poses in this empty step-and-repeat (see above)!
Chelsea roped Alex and I into learning the Lady Gaga dance routine for "Operation Glory", the flash mob of bloggers that broke out during lunch on the first day of the conference. That turned out to be a ton of fun (like reliving my old high school drill team days, ha ha). It made the local news – here's the video that the NBC camera guy shot (keep your eye on the far right of the screen – Chelsea, Alex and I come in at the start of the second chorus!):
These were just a handful of highlights from a weekend packed with fun and inspiration!