Who better to invite to our month-long celebration of grilled cheese than my friend – celebration guru extraordinaire – Heather Christo? Today's recipe for Roasted Tomato Basil Soup with Grilled Cambozola and Bacon Sandwiches comes from her stunningly gorgeous new cookbook, Heather Christo's Generous Table. Later in this post you'll have the chance to win an autographed copy of this book so be sure to read on (trust me, you want this one!).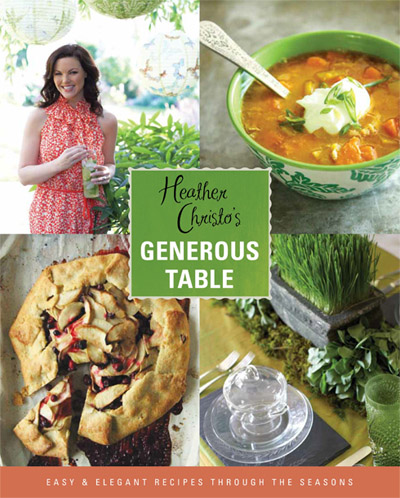 Heather Christo is one of those people who radiates warmth and friendliness from the moment you meet her. She is one of my very favorite bloggers to read and to catch up with in person (as we will do this coming weekend!). Not only is she an amazing cook (a trained chef, in fact) but she's also all about sharing the love of food with friends and family.
A unique aspect of Heather Christo's Generous Table is the way in which it's organized. There's a chapter for each season, and then within each season are menus and recipes for five different occasions. So, for example, the chapter for spring features menus and recipes for events like a Tea Party Shower and Greek Easter Fest (with recipes passed down from her mother-in-law), while the winter section offers options for a Snow Day Lunch and a Holiday Dinner Party.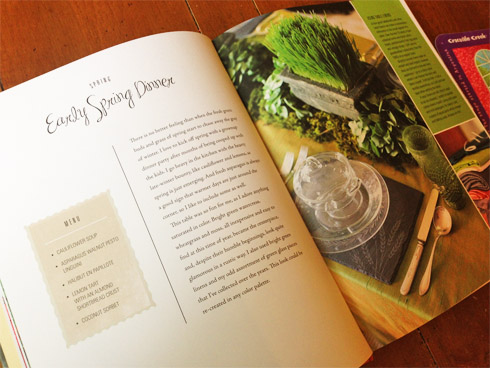 The recipes, beautifully photographed by Heather herself, reflect her style of preparing elegant-yet-accessible, seasonally-inspired food. Dishes like Asparagus Walnut Pesto Linguini, Seared Scallops with Artichoke Pesto and a Lemon Tart with an Almond Shortbread Crust made me want to start texting all my local friends to come over so we could partake in these! But there's really no reason to wait for company, these dishes are simple enough for everyday cooking as well. Each menu, by the way, also features a fun cocktail because, as Heather says, "we can all use a good drink at the end of a long day!"
Since it's Grilled Cheese Month here on Panini Happy, I naturally gravitated to Heather's Roasted Tomato Basil Soup with Grilled Cambozola and Bacon Sandwiches recipe, which is included in her New Year's Eve Cocktail Party spread. If you enjoyed my Brie, Basil, Bacon and Blue Panini, this sandwich will be right up your alley. It, too, has bacon and basil, but rather than Brie and blue cheese Heather uses Cambozola cheese, which is very much like Brie and blue cheese all in one (where has this cheese been all my life?). The pairing with a robust, homemade tomato basil soup is, of course, classic. You can either serve mini-sized sandwiches as appetizers alongside soup shots, or do as I did and enjoy them as a perfectly satisfying lunch.
 ** Win an AUTOGRAPHED copy of Heather Christo's Generous Table!! ** [THE GIVEAWAY IS NOW CLOSED]

**UPDATE 5/9/13: Congratulations to our winner, #32 Jenny!
Heather has graciously offered one Panini Happy reader a signed copy of her beautiful book.
TO ENTER:

Leave a comment below telling us about one of your favorite dishes to prepare for your friends or family.
The giveaway will close on Tuesday, April 30, 2013 at 12:00 PM PDT. I will use random.org to select one winner and announce the winner in this post. I will contact the winner via e-mail – if I don't receive a response within 5 days I will draw another name. My apologies to my international readers, the prize can only be shipped to U.S. addresses.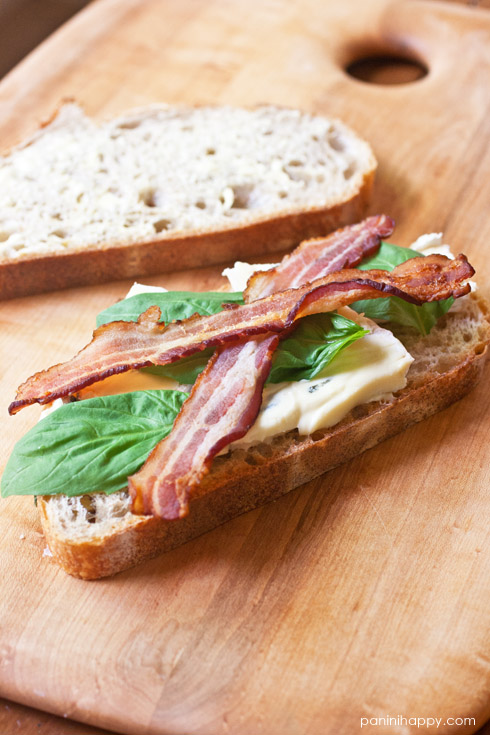 [print_this]
Roasted Tomato Basil Soup with Grilled Cambozola and Bacon Sandwiches
From Heather Christo's Generous Table, by Heather Christo
Prep time: 20 minutes | Cook time: 60 minutes | Total time: 1 hour 20 minutes
Yield: 4 to 6 servings
INGREDIENTS:
Roasted Tomato Basil Soup:
3 pounds

tomatoes, preferably on the vine

5

garlic cloves, unpeeled

1/4 cup

olive oil

Kosher salt

2 tablespoons

butter

1

large yellow onion, roughly chopped

Handful of fresh basil leaves, plus more for garnish

2 quarts

chicken stock

1/2 cup

heavy cream
Grilled Cambozola and Bacon Sandwiches:
8 strips

thick-cut bacon

8 ounces

Cambozola cheese

8 thin slices

rustic bread

Handful of fresh basil leaves

2 tablespoons

butter
DIRECTIONS:
First make the soup. Preheat the oven to 400°F.
Arrange the tomatoes and garlic on a sheet pan. Drizzle with the olive oil and sprinkle with salt. Roast for 30 minutes, then set aside to cool.
In a soup pot, melt the butter over medium heat. Add the onion and sweat until tender, about 5 minutes. (It is okay if the onion starts to caramelize).
Squeeze the roasted garlic from their skins and add the garlic, tomatoes, and any juices into the soup pot, along with the basil and chicken stock. Adjust the heat to medium-high and cook for about 15 minutes.
Meanwhile, make the sandwiches. Cook the bacon in a medium pan over medium-high heat until all of the fat has been rendered and the bacon is very crispy. Transfer to a paper towel to drain.
Divide the Cambozola among 4 bread slices and top each with a few leaves of basil and 2 strips of crispy bacon. Top the fillings with the second piece of bread so you have 4 sandwiches.
Heat a griddle or grill pan over medium heat. Add the butter, a few teaspoons for each sandwich, and fry the sandwiches in batches until golden brown on the bottom, about 3 minutes. Flip the sandwiches (adding more butter) and cook until both sides are golden brown and the cheese has melted. Transfer the sandwiches to a cutting board and slice each into 6 small pieces. (Kathy's note: If you'd like to use your panini press, heat it to medium-high heat and grill the sandwiches with the lid closed until the cheese is melted and the bread is toasted, 4 to 5 minutes.)
Remove the soup from the heat. Using an immersion blender, puree the soup until completely smooth. Stir in (do not blend!) the heavy cream. Taste and adjust the seasoning. Garnish with fresh basil leaves.
Serve the sandwiches hot alongside the tomato soup.
[/print_this]