It's the final day of Grilled Cheese Month! Before we close the book on our celebration of grilled cheese I wanted to share with you a peek into one more fun, cheesy (in a good way) event I attended this month. A local cheese club called Queso Diego invited me to attend their 2nd annual Grilled Cheese Night. I could hardly pass that up!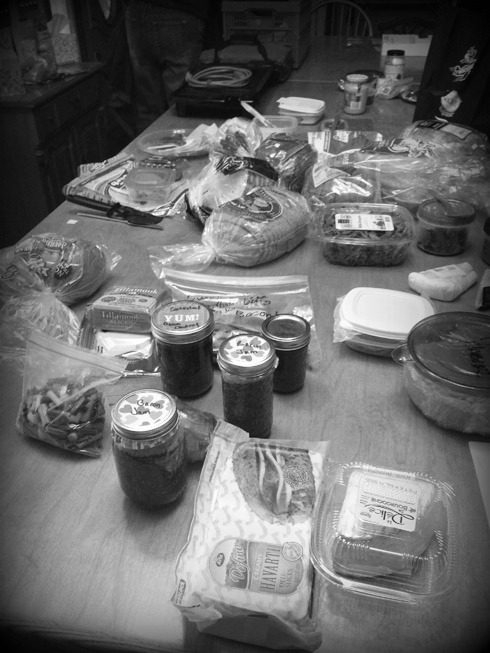 The meeting was held in a private home on the grounds of a local farm (a rather urban part of town has sprouted up around it). I traipsed through the garden and past the bleating goats to find the open door of the house and sounds of conversation and laughter pouring out.
The club supplied much of the bread and the heating implements (as you'll see, we were grilling on a wide variety of devices!), while the members brought cheese and condiments (many of which were homemade) to share. My contributions: caramelized onions, roasted poblanos and one of my favorite cheeses, Beecher's Flagship.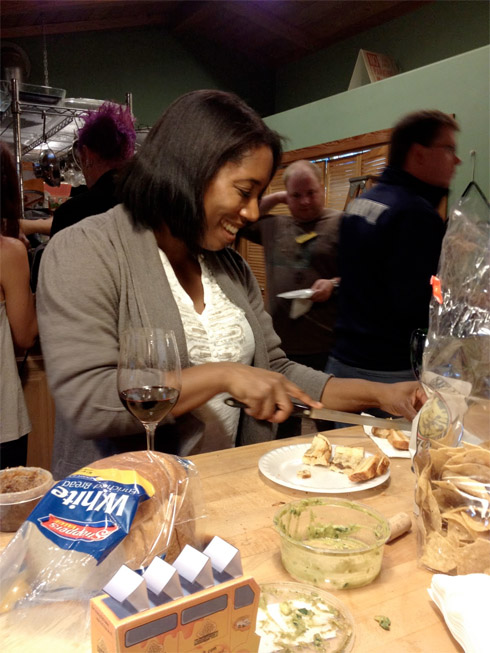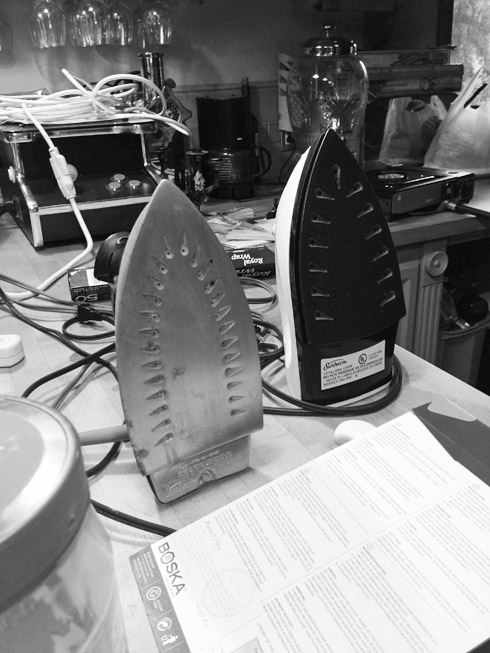 After a brief meeting covering a bit of club business, everyone headed to the grilling stations to get the evening's main task underway: making and sharing grilled cheese. When I mentioned earlier that all types of cooking devices were utilized, I wasn't kidding. The household irons above were used in conjunction with Toastabags to innovatively grill some of the sandwiches.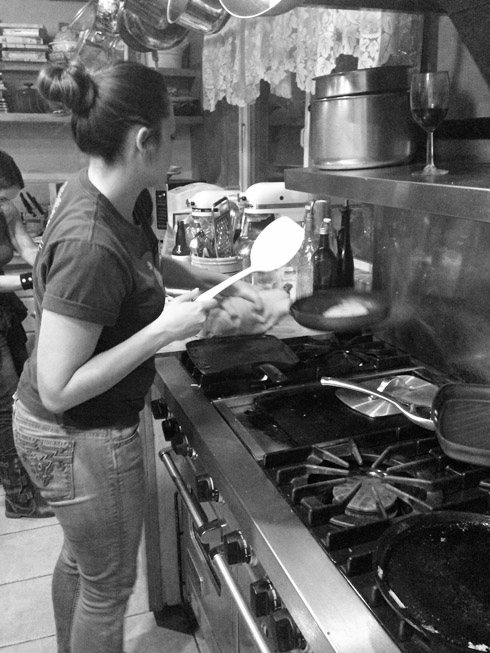 The huge, six-burner gas stove, of course, came in handy…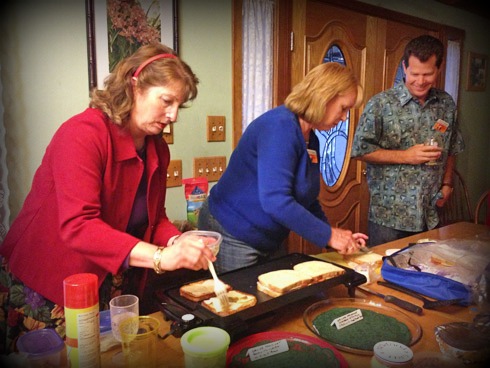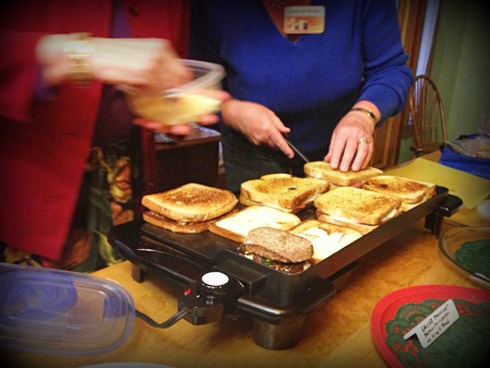 …as did an electric griddle.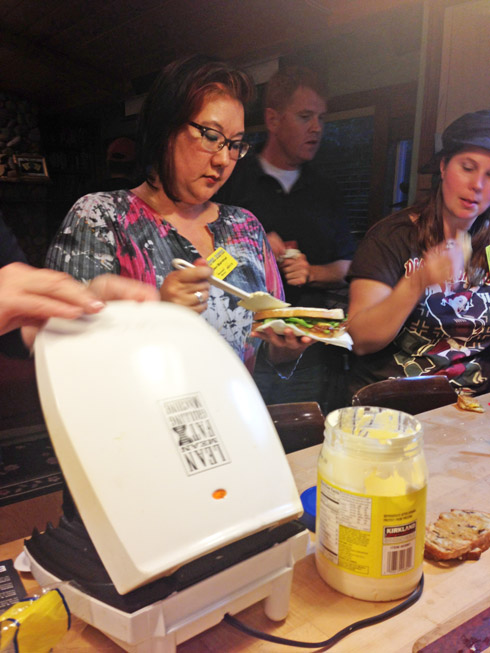 Fillings ranged from straight cheese, to kale to homemade cured, smoked swordfish belly (aka "ocean bacon"!) to a pretty extraordinary tiramisu grilled cheese, prepared by club president, Chris (complete with rum- and coffee-soaked homemade sheets of ladyfingers!).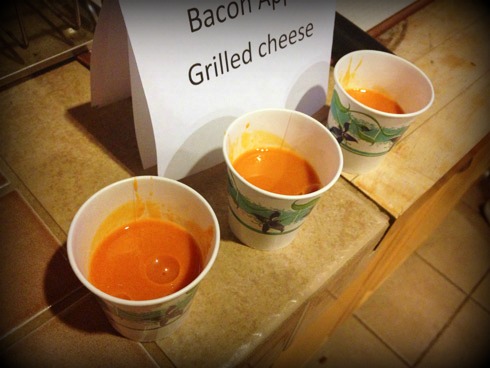 Fortunately, someone remembered to bring tomato soup!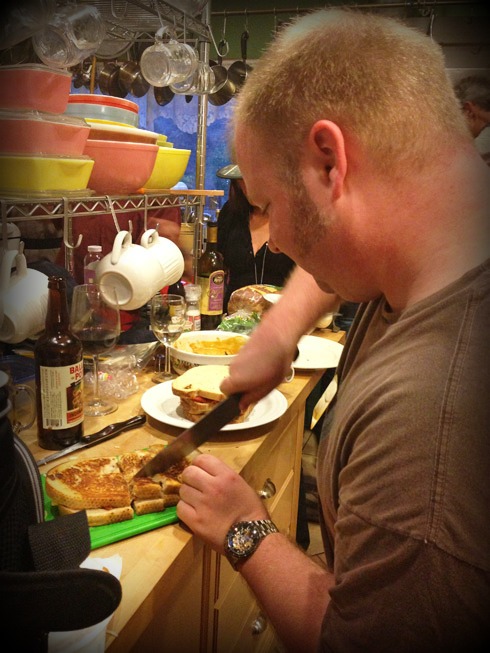 Everyone sliced up and shared their grilled cheese creations around the room. HR folks take note – this would be an extremely fun team-building exercise. 🙂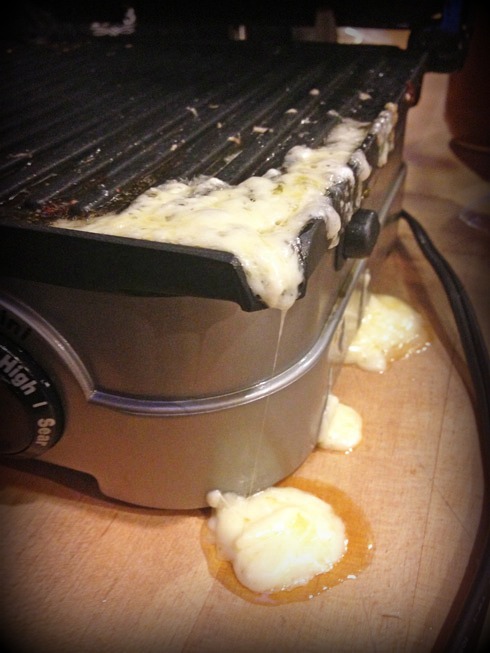 Suffice it to say, there was no shortage of melty cheese in this room.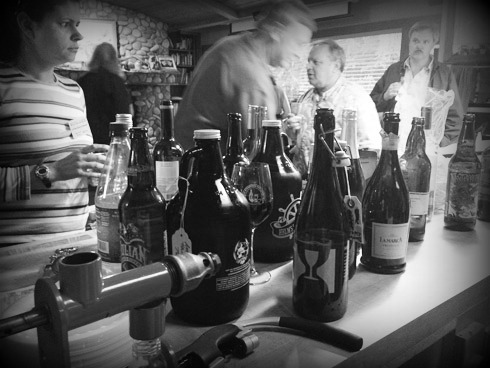 Many Queso Diego members are as interested in beer (and craft brewing) as they are in cheese. The beverages were flowing!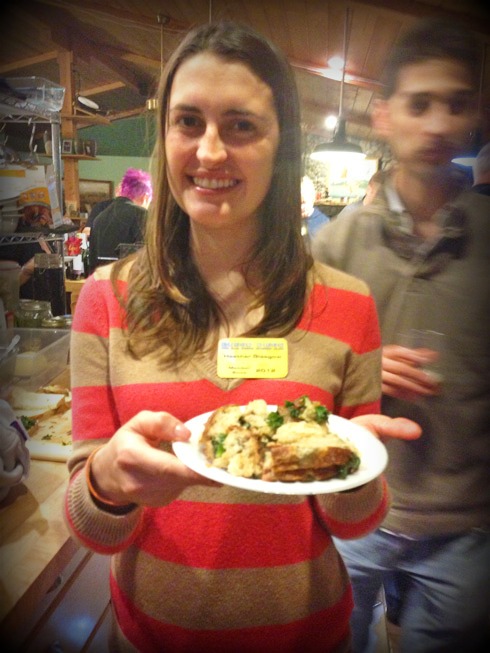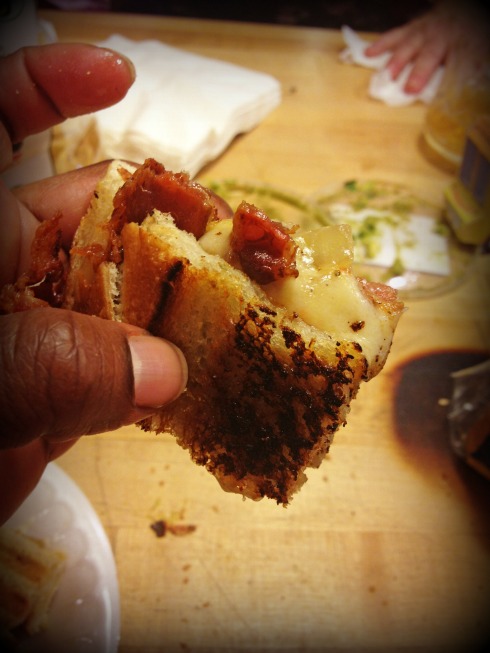 Queso Diego made me feel right at home for Grilled Cheese Night. Everywhere I turned, someone was grilling sandwiches, enjoying a good beverage and having a grand time. Thank you guys so much for having me – I hope to cheese up with you again soon!