Brie, basil, bacon and blue…can you tell I've been reading more than my fair share of Dr. Seuss lately? Well, it's just a happy coincidence that all of these great ingredients start with "B" (as does Breville, which is sponsoring a fantastic panini press giveaway today!). They happen to combine into a pretty amazing grilled cheese sandwich. Our celebration of National Grilled Cheese Month continues!
Even if you're not a fan of blue cheese – I'm speaking to my husband here – you still have got to dab on just a little bit (close your eyes if you have to). The tangy flavor almost borders on tasting sweet amidst the smoky bacon, fresh basil and creamy Brie. I couldn't crunch my way through that baguette fast enough.
Read on for my Brie, Basil, Bacon and Blue Panini recipe and for today's Breville Panini Press Giveaway [THE GIVEAWAY IS NOW CLOSED]!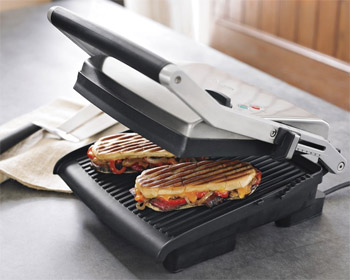 When you make grilled cheese on a skinny-surfaced baguette with loose ingredients like bacon strips and basil leaves hanging out of it, this is a job for a panini maker. You don't have to flip the sandwich when you're using a grill. But even when I'm making a simple grilled cheddar for my kids I still prefer to use the panini maker. Besides not having to flip, grilling the sandwich is quicker than with the traditional skillet method because heat is applied to both sides of the bread at the same time. Have I mentioned lately how much I enjoy this appliance?
** Breville Panini Press Giveaway! ** [THE GIVEAWAY IS NOW CLOSED]
Breville, which makes the panini maker I have been using since I started Panini Happy four years ago, will generously provide one lucky reader with a new Breville Panini Press (retails for $119.95 at Williams-Sonoma).
Here are five ways to enter, you can do any or all of them (please leave separate comments for each entry):

The giveaway will close on Friday, April 20 at noon PDT. I will use random.org to select one winner and announce the winner in this post. I will contact the winner via e-mail – if I don't receive a response within 5 days I will draw another name. My apologies to international readers, the prize can only be shipped to U.S. addresses.
** UPDATED 4/20/12: Congratulations to our winner – #39 mlb! **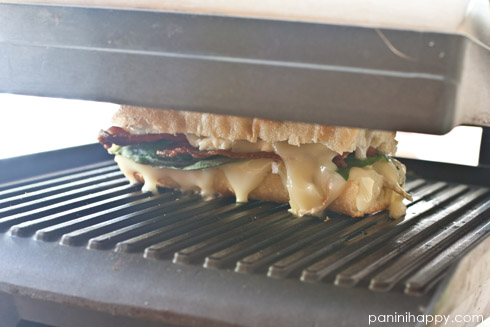 [print_this]
Brie, Basil, Bacon and Blue Cheese Panini
Prep time: 10 minutes | Cook time: 10 minutes | Total time: 20 minutes
Yield: 4 panini
INGREDIENTS:
1

French baguette, divided into 4 portions

8 ounces

Brie cheese, sliced, with or without rinds

2 ounces

blue cheese, crumbled

8 fresh basil leaves

8 strips

cooked bacon
DIRECTIONS:
Heat the panini maker according to the manufacturer's directions.
For each sandwich: Slice the dome off of the baguette to create a flat grilling surface. Split the baguette in half lengthwise to create top and bottom halves. Inside the bottom half, lay down a thin layer of Brie slices and sprinkle a little blue cheese (according to your taste) on top. Add two leaves of basil, two strips of bacon, more blue cheese and more Brie. Close the sandwich with the top baguette half.
Grill the panini, two at a time, until the cheese is melted and the baguette is toasted, 4 to 5 minutes.
[/print_this]