We're almost halfway through April – it's about time we started celebrating National Grilled Cheese Month, don't you think? Today – April 12 – has been designated (by whom, I don't know) as National Grilled Cheese Day, which I suppose makes it an especially important day within Grilled Cheese Month.
We've got an especially delicious sandwich to kick off the celebration on Panini Happy – Grilled Gruyère with Red Onion Confit  – as well as my interview with  the owner of my favorite cheese shop here in San Diego, Gina Freize of Venissimo Cheese (this is one of the sandwiches they love to serve at their shops). Gina – whose official company title is "Cheese Wiz" – has a passion  for cheese that you can hear in her voice. She has channeled that passion into a successful business, which in the past 8 years has expanded to four locations within Southern California. Gina and I had the chance to chat all about cheese: the best way to store it, which cheeses melt best for grilled cheese sandwiches, how we can learn about cheese, and more.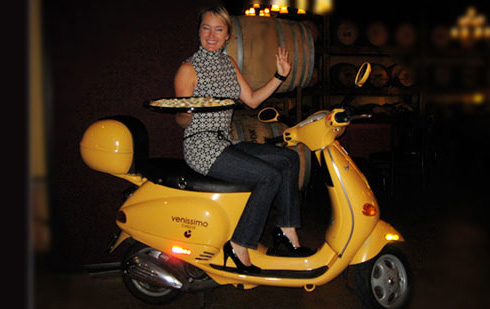 What led you to enter the cheese business?
It was pure love of cheese, my absolute favorite food in the world. Growing up, if there was ice cream in the freezer or cheese in the fridge, that cheese was mine, no question. It really was that love. My mom is from Austria so we have relatives over there. Having traveled there and seeing the cheese shops – the light bulb went off, "Why don't we have cheese shops here? I love cheese. This is a business to have." So that's what started it all.
When did you open Venissimo?
The very first Venissimo was in Mission Hills and that opened January 17, 2004. We've had more than 2,000 different cheeses come through since.
Whether we're buying an artisanal cheese from a specialty cheese shop like Venissimo or picking up something more everyday the grocery store, what are some good tips for storing cheese that will allow it to taste its best?
At Venissimo we have that special cheese wrap paper that lets the cheese breathe a little. But if you buy something shrink-wrapped from the grocery store get it out of that tight plastic and wrap it in waxed paper or even put it in a Tupperware-type container that gives the cheese a little bit of air to breathe but also seals it off. That's what you're after to store the cheese.
It's so fascinating, the tighter and longer the cheese is wrapped in plastic the quicker it goes bad. It really does suffocate the cheese. It also impacts the flavor. Just like you wrap other foods in plastic it kind of takes on a plastic taste. It's no different with cheese. Giving it a little air to breathe lets it smell and taste the way it should.
We're celebrating grilled cheese sandwiches all month in honor of National Grilled Cheese Month. What makes for a good melting cheese? Which types melt the best?
I would say the number one best melters are the Alpine-style cheeses. The most famous is probably Gruyère. The way the Alpines are made lends them to be good melters. They're cooked and pressed as they're made so when they're heated up they just melt right back. Their method of production makes them such fantastic melters.
Goat cheeses don't have a lot of fat in them. They're the least fatty of them all so they tend to not melt as smoothly. But they still taste spectacular.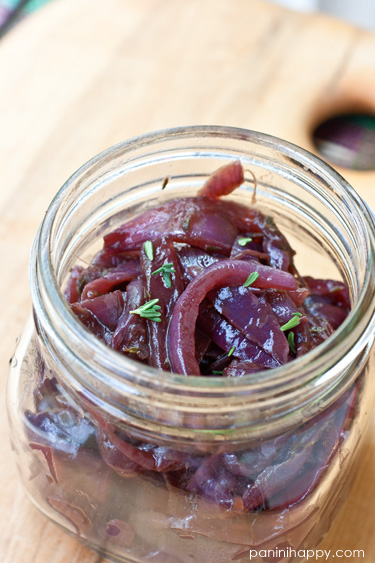 What are a few of your favorite grilled cheese sandwiches?
For one of our favorites, we melt Gruyère with some red onion confit (from the girl & the fig in Northern California). Those two together on a fresh ciabatta – it's a beautiful little panini – is one of the most delicious things. It's like French onion soup on a bun. That's one of our go-to classics that we love (see the Grilled Gruyère with Red Onion Confit recipe at the end of this post!).
Another one of our favorites involves a creamy blue cheese – Saint Agur, it's a French one that's just awesome and it's a great melter as well. You take that with a little honey or honeycomb and some sliced pears – oh my goodness. It's spectacular.
We love another one with goat cheese called bucherondin and a bacon jam that we have. (much swooning from both of us) We use Bread & Cie ciabatta buns. Those are spectactular. We actually like to flip it inside out after we cut it so that the crust is on the inside. So then you get the real crunch on the outside and it gives you the beautiful lines and everything. We also love pretzel bread. You get that little bit of sweetness that pretzel bread has and that salt.
Besides tasting lots of cheese – which, of course, is the best way – how can someone educate themselves about different types of cheeses? Are there good resources?
There are more and more great books out there on cheese that will give you a Cheese 101 on how it's made, you could learn different regions, some of the history of cheese. There's one book called the Cheese Primer that is still kind of considered the bible of cheese. It gives you the basics. It's classic. Now, it's older so it doesn't have some of these new artisanal American-style cheeses, but if you just want a foundation a book like that is going to be super helpful. There's also a cheese magazine now called Culture. It's beautiful. That's going to be more current, of course, with all of the latest, greatest artisanal cheeses. Obviously, reading about it and tasting it are completely different things. Never be shy – if you're ever traveling somewhere and there's a cheese shop, go in and ask for a taste. They all want to educate.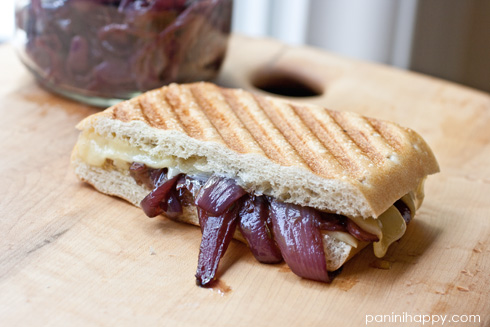 [print_this]
Grilled Gruyère with Red Onion Confit
Inspired by the Grilled Gruyère and Red Onion Confit sandwich served at Venissimo Cheese
Prep time: 10 minutes | Cook time: 55 minutes | Total time: 1 hour 5 minutes
Yield: 4 panini
INGREDIENTS:
Red Onion Confit:
2 tablespoons

unsalted butter

1 tablespoon

extra virgin olive oil

3

medium red onions, thinly sliced

2 tablespoons

chopped fresh thyme

1/2 cup

dry red wine, such as cabernet sauvignon or malbec

2 tablespoons

sugar

3 tablespoons

balsamic vinegar

Coarse salt and black pepper
Panini:
4

ciabatta rolls or 1 ciabatta loaf divided into 4 portions

8 ounces

Gruyère cheese, thinly sliced
DIRECTIONS:
Heat the butter and olive oil in a large skillet or Dutch oven over medium heat until the butter is melted. Add the onions and cook them, stirring often, until they're softened, 8 to 10 minutes.
Add the thyme, wine and sugar and continue cooking and stirring occasionally until the onions are very soft and tender, about 30 minutes. Lower the heat, if necessary, to avoid scorching.
Pour in the balsamic vinegar and season the onions with coarse salt and pepper to taste. Continue cooking and stirring for another 5 minutes to allow the liquid to absorb. The onions will be silky, glistening and deep reddish-purple in color.
Heat the panini grill according to the manufacturer's directions.
For each sandwich: Split the ciabatta in half lengthwise. Arrange enough cheese slices inside the bottom to cover the surface. Top it with a few tablespoons of red onion confit* and more cheese. Close the sandwich with the top half of the ciabatta.
Grill the panini, two at a time, until the cheese is melted and the bread is toasted, 4 to 5 minutes.
* Store any extra red onion confit in an airtight container in the refrigerator. Use them in any dish where you'd enjoy caramelized onions – a few ideas might be other panini, meats or poultry, or pizzas and pastas.
[/print_this]