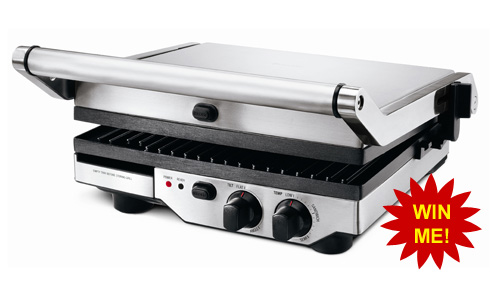 In case you lost count, that decadent Peanut Butter Pound Cake S'mores Panini recipe I just posted was actually my 49th sandwich on Panini Happy.  That means the next one marks the big 5-0!  I think that's cause to celebrate…and what better way than with a really good blog giveaway?  That's right – there's another panini grill up for grabs!
This time we've got the Breville Ikon Removable-Plate Grill
, which I've been trying out recently.  It's really similar to the Breville Ikon Panini Grill model I also use, but it's even better since (as the name implies) you can remove the plates, which makes it so much easier to clean.  It comes with a flat plate in addition to the two ribbed ones so it can also be used as a griddle.  Another great feature is the adjustable tilt that allows you to change the angle of the lower plate – so you can tilt it up when you want to drain fat from grilling meats or leave it flat if you're making eggs or pancakes.  The grill retails at Amazon for $149.99, but one lucky reader will receive one for FREE, courtesy of the lovely folks at Breville.
How to enter the giveaway:
THE CONTEST IS NOW CLOSED.
In the comments, vote on one of the following three post-Thanksgiving turkey sandwiches for me to make as my 50th sandwich:

Turkey, Cranberry & Havarti Panini – grilled on a baguette
Pulled Turkey Sliders – with cranberry BBQ sauce on dinner rolls
Prosciutto-Wrapped Turkey, Avocado & Swiss Panini – with sundried tomato mayo, grilled on ciabatta
Feel free to suggest any write-in ideas as well!  I'll randomly select one person to win the Breville Ikon Removable-Plate Grill
.  GET FIVE EXTRA CHANCES TO WIN – if you Twitter about the contest (and DM PaniniKathy or e-mail me at panini[DOT]happy[AT]yahoo[DOT]com to let me know), you'll receive 5 additional entries. Contest ends Monday, November 24 at 12 PM PST. THE CONTEST IS NOW CLOSED. Apologies to my international readers – we can only ship the prize to U.S. addresses.
Subscribe to Panini Happy to stay posted on future giveaways, recipes and tips!