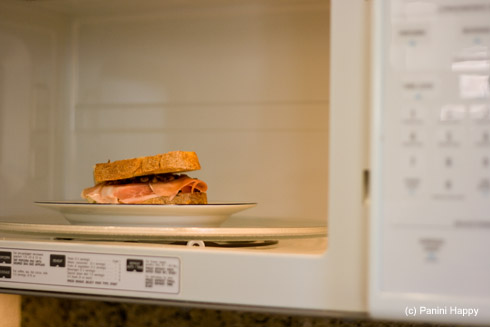 Your eyes aren't deceiving you.  That's a panini ("panino" for you sticklers) in my microwave.  And I'm ready to suggest that you try this sometime too.
I never would have thought there would be any benefit to introducing steam to a sandwich – especially one that I wanted to be crispy.  But a reader named Candace recently brought to my attention an interesting panini-making method that's used in a popular casual restaurant chain: steaming.  She comments:
"…they have these steam boxes (about the size of a mini garage fridge) that they use to steam the paninis for about an hour before they go on the panini grill. This method is really nice in my taste because it melts the cheese, and adds moisture to the contents of your sandwich. This way, when your sandwich is grilled, you get nice toasty grill lines on your bread but the inside is super moist and tasty (not soggy but moist)."
Right away I thought of the Mario Batali panini recipe I made last month and how wrapping the sandwich in foil did seem to have the unintended (yet desirable) consequence of making the insides particularly moist.  Unfortunately, the outside was also moist and kind of gummy (not desirable) but Candace's suggestion to grill the sandwich after steaming seemed like a good solution to crisp things up.  So I set up a little experiment.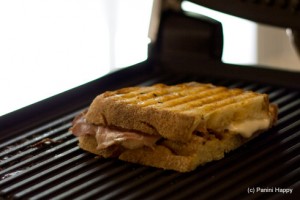 I prepared a prosciutto, fresh mozzarella and sundried tomato tapenade sandwich (aka Mario Batali's Classic Panini) three ways: 1) grilled, 2) microwaved for 35 seconds then grilled and 3) wrapped in a damp paper towel, microwaved for 35 seconds then grilled.
Sandwich #1. Grilling panini works, after 50+ sandwiches this much I know.  But I wanted to give my mouth a little baseline for comparison – plus I wanted to be sure at least one of these came out to be edible for my lunch!  Crispy on the outside, warm and melted on the inside.  Excellent.
Sandwich #2. This one was definitely soft and kind of floppy when I pulled it out of the microwave, no surprise there.  I brushed a little olive oil on the outside before placing the sandwich on the grill to give it a little extra help to crisp up.  Can you believe I actually liked this one a little more than grilling alone? I had to keep going back and forth taking bites from each one, it was hard to discern why I preferred #2 over #1.  The pre-microwaved sandwich was, in fact, a bit softer and moister inside yet it was still sufficiently crispy on the outside.  I didn't even realized I wanted my panini to be soft and moist on the inside. Huh!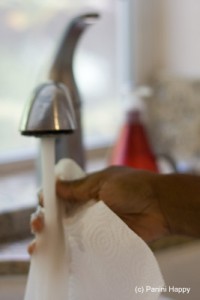 Sandwich #3. I'll say it, this was the best of the three. Wrapping the sandwich in a wet paper towel before microwaving created a greater amount of steam and seemed to keep more of the steam inside the sandwich. Again, the grilling made everything nice and crisp on the outside.  I finally put my finger on why steaming, at least in this instance, was better. The steamed panini are hotter inside. You bite through the crispy outer bread and sink your teeth into the extra-hot fillings that are thoroughly melted and a touch chewy (in a good way).
Will I be pre-steaming all my panini going forward? No. For sandwiches that are comprised of fillings whose moisture I want to maintain – such as cheese, ham, chicken and turkey – then, yes, I'll probably consider steaming before grilling.  But for ingredients whose flavors or textures might be altered with steam – like bacon, cabbage, breaded meats – I definitely will stick to just grilling.
How exciting to find out about yet one more technique for making great panini!  Many thanks again, Candace, for bringing this one up!