As you could tell from
my interview with Cristina Ferrare
, cookbook author and host of
Cristina Ferrare's Big Bowl of Love
on OWN, love is a key ingredient in her cooking. Today's
Stove-Top Sirloin Sandwiches
from her cookbook are no exception. They bring together steak and cheese hot off the broiler with crisp, raw vegetables – kind of like "cheese steaks meets
bánh mì
". Her daughter Alex's salsa verde condiment ratchets up the flavor of the sandwiches several notches. It's fabulous!
Read on for Cristina's Stove-Top Sirloin Sandwiches recipe and a chance to win a copy of the Cristina Ferrare's Big Bowl of Love cookbook.
Of course, you could very easily grill the steak and melt the cheese on your panini grill. But there's a key benefit to preparing this sandwich just as Cristina describes in the recipe: the raw cucumbers and red peppers retain their crisp bite. If you've ever tried a Vietnamese bánh mì sandwich you know how fantastic that hot-cold contrast is. The salsa verde on the sandwich, with its green olives, capers, shallots and vinegar, reminds me a lot of the olive salad on a muffuletta. The bold flavors seep into the soft baguette and…mmmm…it's an incredible sandwich.
Besides the Stove-Top Sirloin Sandwiches, I've also tried Cristina's Orecchiette with Broccoli Rabe and Sweet Italian Sausage, Fall-Off-the-Bone Roasted Chicken Thighs, "Best Ever" Chicken Chili, Marinated Grilled Flank Steak Fajitas and Super-Duper Double Chocolate Chip Cookies. Every dinner for a week at our house came from this cookbook, and we ate well! It was easy to cook from this book on weeknights as so many of the recipes require simple preparation.
* * *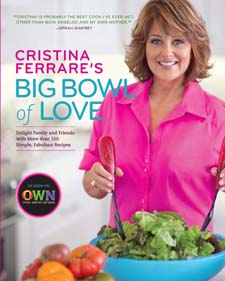 Win a copy of Cristina Ferrare's Big Bowl of Love!
Here are four ways to enter, you can do any or all of them (please leave separate comments for each entry):

Leave a comment on this post telling us the dish you make that your family loves most.
"Like" Panini Happy on Facebook
Follow me @paninikathy on Twitter
The giveaway will close on Monday, June 6, 2011 at noon PDT. [THE GIVEAWAY IS CLOSED] I will use random.org to select one winner to receive a copy of Cristina Ferrare's Big Bowl of Love cookbook and announce the winner in this post. Due to shipping costs, the prize can only be shipped to U.S. addresses.
***UPDATE 6/8/11 – Congratulations to our winner – #19, Leanna Morris!
* * *
[print_this]
Stove-Top Sirloin Sandwiches
From Cristina Ferrare's Big Bowl of Love by Cristina Ferrare. Reprinted with permission.
Prep time: 10 minutes (make Salsa Verde ahead of time) | Cook time: 15 minutes | Total time: 25 minutes
Yield: 4 sandwiches
INGREDIENTS:
For the Salsa Verde:
3 tablespoons

finely chopped shallots

1 tablespoon

chopped mint

1 cup

packed Italian parsley, chopped

2

anchovy fillets, chopped

8

pitted green olives, finely chopped

2 tablespoons

capers, rinsed and chopped

4 tablespoons

extra-virgin olive oil

4 tablespoons

white wine vinegar
For the Sandwiches:
Kosher salt

Cracked pepper

1

(4- to 5-ounce) 1/4-inch-thick beef cutlet from a sirloin (ask your butcher for cutlets made from a sirloin)

1 tablespoon

olive oil

1

French baguette

Dijon mustard

6 slices

Muenster cheese

12 thin slices

cucumber

2

medium red peppers, cut into 1/4-inch strips
DIRECTIONS:
Prepare the Salsa Verde:
Place all of the ingredients in a glass bowl and mix. Cover and let sit for an hour. Store in an airtight container in the refrigerator for up to 3 days.
Prepare the Sandwiches:
Salt and pepper each piece of sirloin. Heat an ovenproof skillet for about 3 minutes, until hot. Add the olive oil and swirl it around the pan. Sauté the cutlets for 30 seconds on each side. Transfer from the skillet to a plate to cool for 5 minutes.
Cut the bread into 4 (6-inch) pieces. Slice into sandwich halves, then toast. Spread 1 tablespoon of Salsa Verde over half of the slices of toasted baguette. These will be the bottoms of the sandwiches. On the other half of the baguette slices, spread a thin layer of Dijon mustard. These will be the tops of the sandwiches.
Place an oven rack 2 inches from the broiler. Turn on the broiler.
Slice the meat on a diagonal into thin slices, and place back in the ovenproof skillet. Lay the cheese slices on top, and broil until the cheese begins to melt, 30 to 40 seconds. With a metal spatula, lift the beef and melted cheese and distribute among the bottom baguette halves. Layer on 4 slices of cucumber and 6 strips of red pepper per sandwich. Cover with the top baguette halves.
[/print_this]