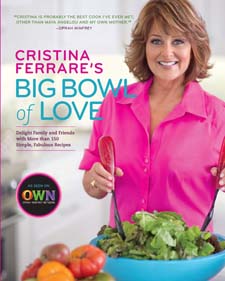 Cristina Ferrare had just returned home from the grocery store when I called for our phone interview. She was gathering ingredients for her weekly food blog on Oprah.com. A mother, author and former talk show host, she now hosts Cristina Ferrare's Big Bowl of Love on OWN and recently released her latest cookbook by the same name.
Cristina is a genuine, upbeat, delightful person to speak with. We had a lovely conversation in which we discussed her love of family, of cooking and of Todd and Diane from White on Rice Couple (I love them too).
* * *

Panini Happy: This cookbook really did feel to me like a "big bowl of love". I've tried at least five of the recipes so far and each one has been comforting, accessible, family friendly and even worthy to serve for entertaining. There must be a whole lot of love around your house with this kind of food.
Cristina Ferrare: We have seven children between us and four grandkids. My husband is Greek and my family is Italian and we're just always together. With our extended family around the holidays I think we're up to sixty. One of my nieces is expecting a baby so I guess we'll be sixty-one on Christmas.
Big Bowl of Love stems from being with family. I'm so thrilled that my daughters are in the kitchen with me. It's a bonding experience. They tell you things that they normally wouldn't tell you if you sat them down to talk to them. They just start talking and I just listen. It's really nice.
It's great to encourage your kids come into the kitchen. Even when they're small and they make a mess, they spill the sugar and the flour gets everywhere. It's just so worth it because there's a wonderful connection that comes from that.
PH: When I read that you prepped every dish yourself to be photographed for this book I was just in awe. How long did that take you?
CF: First of all, I had Diane Cu and Todd Porter.
PH: I've met them, they're wonderful.
CF: They're incredible. The publisher gave me a list of photographers, there must have been maybe thirty. They were the second name on the list. I went to number two and just stopped. And I said, "These are the people." The publisher asked, "Did you look at everybody?" and I said "No, no. I feel it. I feel it. These are the people who get it. They really get it." There was something about the way they photographed food where – and I know this sounds corny – I could feel the love that they have for the food and I could see it come through the lens.
We shot everything here in my kitchen. My daughter, Alexandra, was my sous chef on this (She is in culinary school and is totally gluten-free because she has celiac. She's taken all of our family traditional recipes and made them more tummy-friendly for people who eat gluten-free. We're Greek and Italian – we eat pasta, baklava!). We decided we were going to do five recipes a day, which we thought was rather "oh my gosh".
PH: That's like Thanksgiving every day!
CF: It took us three weeks, Monday through Saturday. Toward the end we were knockin' 'em off – the last four days – twelve to fifteen recipes per day. I got their [Todd and Diane's] rhythm on how they shot, so we kind of alternated the harder things to do with the easy things to do. While they were shooting the hard stuff I'd prepare the lighter stuff. It got to be where we were like a fine-tuned machine. We were able to get all of those pictures done in less than three weeks.
It was so much fun and such a labor of love. We ate and we sang and we had music going. It was just a wonderful shoot. And I think it's reflected in the photographs in the book.
PH: Absolutely. Like you said, they love food and it shows through their work.
CF: I learned a lot from [Diane]. I had a vision of how I wanted the food to look. I had the tendency – you know, I'm Italian – to throw on lots of basil, lots of cheese. I wanted the food to be the star and she showed me how to subtly put the little accents on there so that it's not overbearing and you can still see the food. I wanted people to want to eat the page. She helped me in how it should look in the photographs. It was a wonderful collaboration.
PH: Your career has followed an exciting path – from modeling to TV hosting to writing books. When did you first realize that cooking was a passion of yours?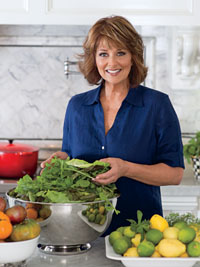 CF: First of all, I've been doing it since I was a little child. As far back as four years old I can remember my mother and grandmother chasing me out of the kitchen through one of those revolving doors when you go in one door and out through the other. I would just make a circle and come right back in until they finally got me a stool. They gave me tasks like washing the carrots and the celery and things like that. I just wanted to be there because there was just something about the kitchen and the atmosphere in there which was always happy. I loved the smell of the food and the anticipation of people coming over. It just excited me.
When I started doing talk shows the producers said to me, "What do you like to do? We have to feature you doing something." I said, "Well, I like to cook." Back in 1985, when I had my first talk show called AM Los Angeles, they built a kitchen for me called "Cristina's Kitchen." Every single day for five years we did cooking segments.
One Thanksgiving I did the whole Thanksgiving meal with this marinade that I used for my turkey. It became so famous in LA that the following year we decided to put together a little cookbook for Thanksgiving. We would sell it and all the proceeds would go to our local food bank here in Los Angeles. We raised so much money from this little booklet. It's twenty-six years later and people still stop me on the street. I've been on Oprah with it. It's in the book – I use it for the chicken. You can use it on shrimp, on fish, on lamb.
One year, Oprah was at a mutual friend's house. I cooked the turkey for dinner and she said, "That's the best turkey I ever had. What did you do to it?" And I said, "Well, there's this marinade…" So she invited me a couple of years ago to come on her show and recreate the Thanksgiving dinner. After the show was over she said to me, "You know, I'm going to start my own network in a few years. I'd like for you to have a cooking show on it." And I went, "Excuse me?"
PH: Well, that was a nice fortuitous dinner!
CF: Absolutely.
PH: Speaking of your show…you've got a brand new show (Cristina Ferrare's Big Bowl of Love) on a brand new network (OWN). What have been some of the opportunities and challenges with that?
CF: There haven't really been any challenges. Over the last twenty years I've been so schooled in how to do these segments. It's just been pure joy. The machine is very well oiled.
The opportunities have been that I get to work for OWN. I get to work for Oprah Winfrey as my boss. The women and men over at OWN are just the most wonderful group of people to work with. They are the best of the best of the best and on top of their game. I always tell my children, "You need to surround yourself with people who are better than you are because they make you better." That's how I feel being over there. They're all just so much better than I am at everything that they do…except for cooking!
I'm now doing some things for Kellogg's. I'm going to be on the back of their Kellogg's boxes coming in the fall with recipes. There will be about 20 million boxes. That's what I told my family they're getting for Christmas this year – a box! And milk. I'm very happy to be associated with them. And I got to be on the back of a box with my childhood friends, Snap, Crackle and Pop!
* * *
Later this week: Cristina's Stovetop Sirloin Sandwich recipe plus the chance to win a copy of Cristina Ferrare's Big Bowl of Love cookbook!