Our class reunion was the original reason for our trip up to the Bay Area a few weeks ago, but these days when Mike and I travel the real focus always seems to turn to food. We had our three "sandwichspotting" stops planned weeks ahead of time: Bakesale Betty in Oakland, Blue Barn Gourmet in San Francisco and The Melt just off the Stanford campus in Palo Alto.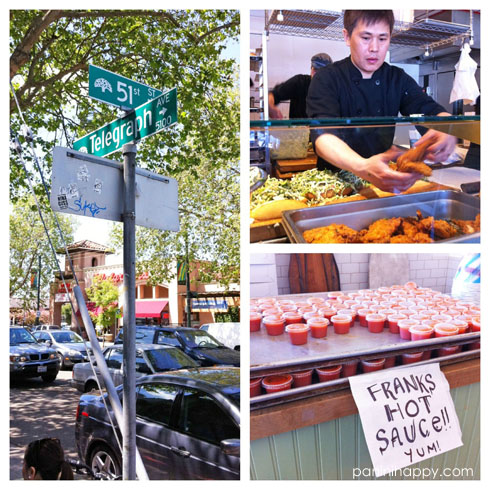 As soon as we picked up our rental car at SFO we headed straight out to the East Bay, to finally taste that famous Fried Chicken Sandwich everyone raves about from Bakesale Betty (pictured above, and listed in my Great American Sandwich Guide as well). There's no need for a sign on the door (and they don't have one) – all you need to do is look for the line extending down Telegraph Avenue at 51st street in Oakland's Temescal neighborhood. On Friday at 11:30 AM the line was already in full force but it moved swiftly. With just three sandwiches on their menu plus a few bakery items, these guys can really crank folks through.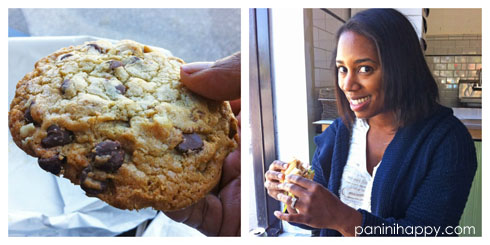 Crunchy golden coating on the outside, juicy on the inside – this chicken deserves its reputation. It's flavorful enough on its own, but they pile on the spicy jalapeño cole slaw anyway to make it extra-mouthwatering. We couldn't bear to leave without sampling something from their bakery case as well – the chocolate chip walnut cookie was excellent too, soft in the middle (a little on the cakey side) with nice, crispy edges.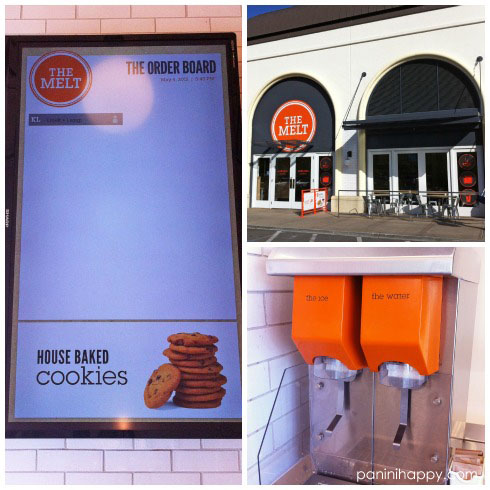 Back "home" at Stanford, Mike and I grabbed a quick bite at The Melt at the Stanford Shopping Center before heading over to our reunion drinks-and-apps-thingy that evening. We'd heard a lot about this chain – that it was founded by the tech entrepreneur who brought us the Flip Cam, they have a special proprietary panini press that can melt cheese and toast sandwiches in under 60 seconds and they have enormous plans for expansion. But the one thing we most wanted to know: how is the grilled cheese?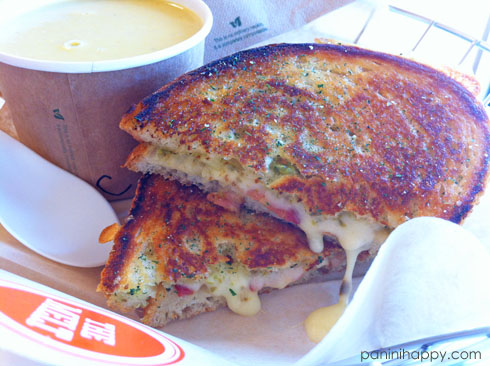 Of course I liked the sandwich. I like all grilled cheese sandwiches, even bad ones. This one definitely wasn't bad at all, though. We went for the combo called The Mission, which is a jalapeño jack grilled cheese on sourdough (we opted to add bacon – a "middle") served with a bowl of sweet corn tortilla soup. For all the technological bells and whistles this place employs they didn't lose sight of the food. They kept the sandwich nice and simple, with a sprinkling of seasoning on the outside for a little extra flavor. I really enjoyed the sweet corn tortilla soup as well, and it paired nicely with the spicy sandwich.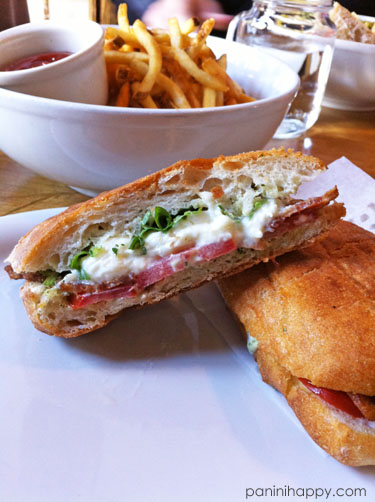 For the third and final stop of our little sandwich tour we met up with our good friend Alissa at Blue Barn Gourmet in San Francisco's Marina district. I hadn't been on Chestnut Street in years, but I used to love to browse the shops and people-watch over there back when I used to live in the city right after college. On a warm spring afternoon Blue Barn, which is pretty tiny, had a full late-lunch crowd. Alissa, Mike and I managed to find three empty stools at the long wooden communal table and we dug into our sandwiches.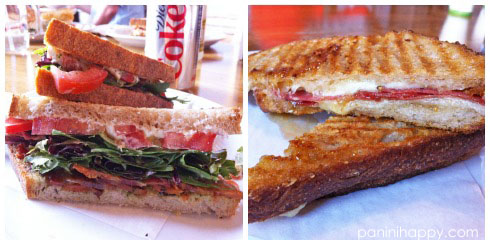 Of the three sandwiches we tried, my favorite was Mike's pick, the Sheep grilled cheese: manchego (my favorite cheese), fig jam and spicy salumi on country levain. I must have been on some kind of sweet-and-spicy kick that weekend – I was loving it everywhere. My choice was the Burrata (my second-favorite cheese) grilled cheese, which was made with roma tomatoes, arugula and pesto aioli on ciabatta. Once again, I sprang for the optional Niman Ranch bacon as well, which added a saltiness that I enjoy with burrata. Alissa chose the Barn BLT, which came with more of that awesome bacon, goat cheese, roma tomatoes, mixed greens and pesto aioli on country levain. They were generous with the bacon on this one, which I appreciated, and the goat cheese was a fabulous tangy addition to this classic.
* * *
Did I mention we visited all these sandwich shops not a week after I judged the Grilled Cheese Invitational? Believe it or not, I still wasn't tired of them. As long as people are coming up with something new, exciting and delicious I'm up for trying it. And if there's one thing we're used to a lot of around here it's sandwiches. 🙂