Thank you guys so much for all of your kind words about my upcoming cookbook. And for all of you who signed up to be recipe testers, I will be in touch shortly – get those grills ready!
Today I wanted to share one of my new favorite treats for breakfast or lunch – Avocado-Bacon Toasts. These are right up there with tomato sandwiches as evidence of just how sublimely delicious the simplest sandwiches can be. Who would ever guess that smashing a creamy, ripe avocado on grilled bread with a squeeze of lime juice and a sprinkling of salt could be so…well, actually when you start to visualize it in your mind it's easy to imagine why avocado lovers fall for this treat.
For me, a few slices of crisp, smoky bacon take these toasts up one impressive flavor notch, but if you prefer to leave the bacon off you'll still have something simply incredible.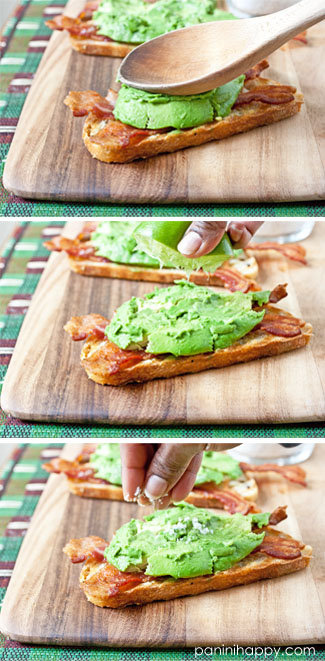 [print_this]
Avocado-Bacon Toasts
Prep time: 5 minutes | Cook time: 4 minutes | Total time: 9 minutes
Yield: 4 toasts
INGREDIENTS:
4 slices

rustic white or wheat bread

4 teaspoons

extra virgin olive oil

8 slices

crispy cooked bacon

2

ripe medium avocados, halved and pitted

1

lime, cut into quarters

Coarse salt to taste
DIRECTIONS:
Heat the panini maker according to the manufacturer's directions.
Drizzle olive oil over each slice of bread and grill the bread, two slices at a time, until they're toasted, about 2 minutes.
For each toast: Criss-cross two slices of bacon on a slice of grilled bread. Lay an avocado half on top of the bacon and smash it with the back of a spoon to spread it around the toast. Squeeze lime juice over the top and season the avocado with coarse salt to taste.
[/print_this]
Join Dine & Dish and Cookin' Canuck for the California Avocado 4th of July Blast, sponsored by the California Avocado Commission.