Rajas…isn't it great when you can finally put a name to something you've been eating forever? I never knew until about a year ago that bold-flavored strips of roasted chiles and onions are called rajas. I made the connection not in the context of rajas con crema or any other traditional Mexican dish. Nope, my first exposure to the term rajas came with fries.
There was a long line of people waiting for the Rajas Fries from LA's Frysmith at a food truck event I attended a while back. This dish, their most popular, consists of "fire-roasted poblano chiles, caramelized onions and shawarma-marinated steak with Jack cheese". Over fries. Sounded amazing to this fry fan.
I made it to the front of the line and I had to crane my neck to make eye contact with the guy taking the orders (food truck windows are so high up!). I'd never heard the term rajas before. I debated in my head whether this was a Spanish word and therefore I should pronounce it "rrrrah-has" or if it was some other language and I should just hit it with a regular ol' American "rah-jas". Taking a cue from the poblanos and out of respect for the seven years of Spanish I took in school, I went with a tentative "rah-has". Phew! The guy repeated it back to me the same way. Hurdle surmounted.
Take it from someone who usually doesn't even add so much as ketchup to fries (I'm a fry purist), these rajas-and-marinated-steak-loaded fries were crazy good! Just to be clear, the roasted poblanos aren't especially spicy, but they bring a ton of flavor and just a hint of heat.
In celebration of National Grilled Cheese Month, Tillamook asked me to contribute a recipe for the Grilled Cheese Recipepalooza feature on their Loaf Life blog. When I saw that pepper jack these was among their cheeses I could choose from, I immediately thought of the rajas from Frysmith to pair with it. I grilled the onions and peppers in minutes right on the panini maker. With the addition of pepper jack, things do start to get a little spicier so if you'd rather keep it on the cooler side go for regular Monterey Jack.
Read on for my Rajas Grilled Cheese Panini recipe…plus the chance to win a Tillamook Cheese Deli Sampler Gift Box! [THE GIVEAWAY IS NOW CLOSED]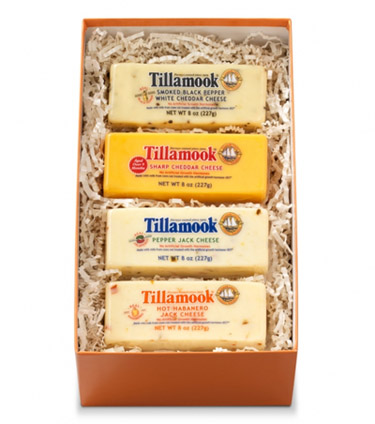 ** Tillamook Cheese Deli Sampler Gift Box Giveaway! **
You'll be able to make grilled cheese galore if you win this Deli Sampler Gift Box, provided by Tillamook. It contains four of their most popular half-pound loafs:
Hot Habanero Jack
Sharp Cheddar
Smoked Black Pepper White Cheddar
Pepper Jack
TO ENTER: Leave a comment on this post telling us which of these four cheeses you'd like to dig into first. [THE GIVEAWAY IS NOW CLOSED]
The giveaway will close on Sunday, April 22 at noon PDT. I will use random.org to select one winner and I will announce the winner in this post. I will contact the winner via e-mail – if I don't receive a response within 5 days I will draw another name. My apologies to international readers, the prize can only be shipped to U.S. addresses.
** UPDATE 4/24/12: Congratulations to our winner – #39 Neena!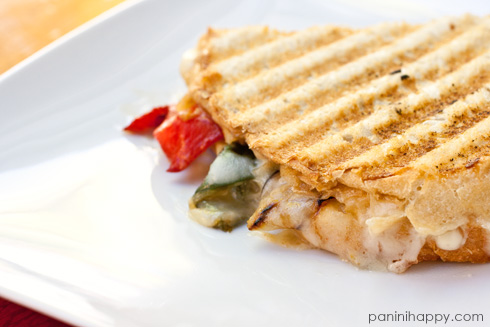 [print_this]
Rajas Grilled Cheese Panini
Prep time: 30 minutes | Cook time: 15 minutes | Total time: 45 minutes
Yield: 4 panini
INGREDIENTS:
1

poblano pepper *

1

red bell pepper

2 teaspoons

vegetable oil

1

small white onion, sliced into 1/2-inch thick rounds, rings intact

8 slices

sourdough bread

8 ounces

pepper jack cheese, sliced
DIRECTIONS:
Preheat the panini grill according to the manufacturer's directions.
Slice off the tops and bottoms of both peppers. Stand each one up on its end and slice it open from top to bottom. With the poblano you'll be able to open the pepper out flat; with the red bell pepper you'll need to cut the walls of the pepper a section at a time. Remove and discard the seeds and trim any white ribs.
Lay the peppers cut side down on the grill and close the lid. Grill the peppers until they're charred and blistered, 5 to 7 minutes. Transfer the peppers to a paper bag and leave them in there for 20 minutes to allow the steam to release the skin.
While the peppers are steaming, drizzle the onion rounds with oil and grill them until they're tender with dark grill marks, 6 to 8 minutes. Transfer the onions to a medium bowl, separating the rings. Keep the panini grill on.
One at a time, remove the peppers from the paper bag, peel off the skins (if they don't come off easily, try putting them back in the bag to steam for a little while longer) and slice the peppers lengthwise into strips. Toss the peppers in with the grilled onions.
For each sandwich: Lay a slice of pepper jack cheese on a slice of sourdough bread. Top the cheese with a generous pile of peppers and onions and second slice of cheese. Close the sandwich with another slice of bread.
Grill the panini until the cheese is melted and the bread is toasted, 4 to 5 minutes.
* Some grocery stores may label them as "pasilla" peppers, which is a technically incorrect (but common) designation.
[/print_this]