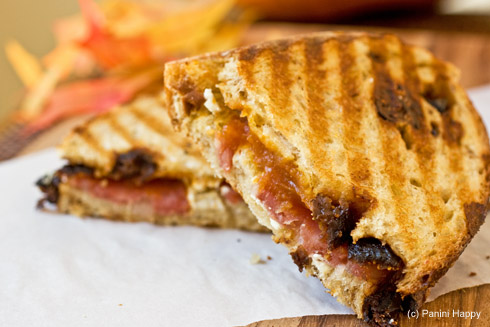 The first time I made these panini I included sliced honeycrisp apples instead of the sopressata. Pumpkin butter with sweet crisp apples and creamy goat cheese – that sounds like it would be pretty autumn-like and tasty, right? And it was. But it was also a little…predictable.
Maybe it's because I still have sopressata on the brain (and in the fridge), but the sweet and tangy flavors in this sandwich just begged for some salty cured pork to come join in. What ultimately gave me the confidence to go ahead and grill this unlikely match-up was my choice of bread: a Fig & Anise loaf from Bread & Cie, a local San Diego bakery. The licorice flavors of the anise seed in the bread and the fennel seed in the sopressata are so close that the two ingredients actually complement each other. And then, of course, the goat cheese – an old friend of pumpkin – brings a fresh, creamy tanginess that's absolutely wonderful.
(Not to worry if you can't locate some fig and anise bread – the sweet, earthy spiciness of a good cinnamon raisin bread would be another great alternative, or even a seeded multigrain.)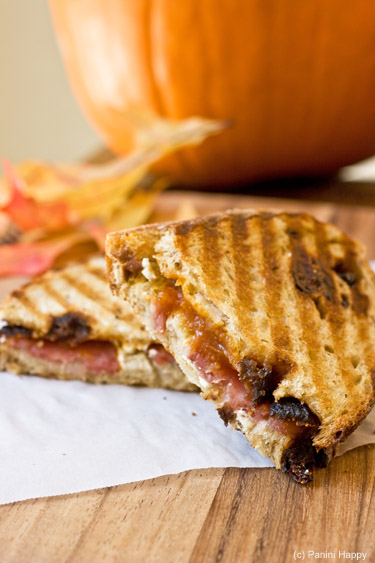 [print_this]
Pumpkin Butter, Sopressata and Goat Cheese Panini
Prep time: 10 minutes | Cook time: 8 minutes | Total time: 18 minutes
Yield: 4 panini
INGREDIENTS:
8 slices

fig and anise bread, if you can find it – otherwise an artisan multigrain or cinnamon raisin bread would be good alternatives

4 ounces

goat cheese, room temperature

6 ounces

sopressata or other salame, sliced

1/2 cup

pumpkin butter

2 tablespoons

unsalted butter, melted
DIRECTIONS:
Preheat the panini grill to medium-high heat.
For each sandwich: Spread a layer of goat cheese onto one slice of bread. Layer on 1/4 of the salame. Spoon a few tablespoons of pumpkin butter onto a second slice of bread and place it on top, pumpkin butter side down, to close the sandwich. Brush a little melted butter on top.
Grill for 3 to 4 minutes until the bread is toasted with grill marks and the goat cheese is softened. Slice in half and serve immediately.
[/print_this]