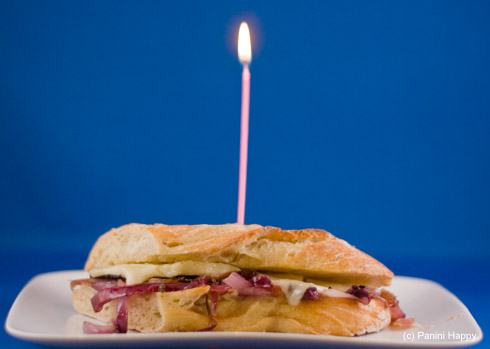 One year ago this week I got off the fence and put up my first-ever blog post.  I hadn't even heard of the term "food blogger" and yet I had just become one. And I'm so glad I did!
At a time in my life when I might have otherwise become a bit insular and excessively baby-obsessed, having stepped out of the working world to take care of my newborn daughter, Panini Happy very quickly became an important creative outlet for me. As I've been expressing myself through food blogging I've made so many great new friends who share a common interest in panini and food in general. Through fun exchanges on Twitter, e-mails, Facebook messages and even a smattering of in-person meetups,  it's been a blast to get to know so many foodie folks.  What I initially thought would be this quiet little project involving just me, my panini press, the computer and "cyberspace" has become a far more interactive, social, rewarding undertaking than I ever could have imagined.  Thanks so much to all of you for reading my blog, commenting on my posts, trying out my panini recipes (who knew I'd ever grill this much?) and embracing me into the online food community!
To celebrate her first birthday (I decided my blog is a "she"), I grilled Panini Happy a big, messy roast beef and sharp white cheddar sandwich with sweet caramelized red onions and horseradish mayo.  On a homemade baguette!
My little blog baby is all growns up. 🙂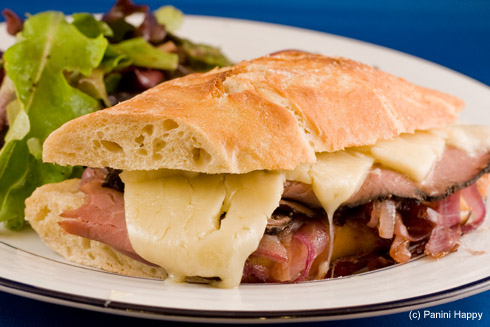 Roast Beef and Cheddar Panini
Serves 4
INGREDIENTS:
1 tablespoon olive oil
1 red onion, halved and thinly sliced
1/2 teaspoon balsamic vinegar
Salt and pepper
1/2 cup mayonnaise (I use light)
2 tablespoons prepared horseradish
4 small baguettes or 1 large baguette cut into 4 pieces, halved lengthwise
1/2 lb. roast beef, thinly sliced
4 oz. sharp cheddar cheese, sliced
DIRECTIONS:
Heat olive oil in a large sauté pan over medium heat. Add onions and sauté 20-25 minutes until caramelized. Remove from heat. Stir in balsamic vinegar and season with salt and pepper. Set aside.
Preheat panini grill to medium-high heat (375 degrees).
Combine mayonnaise and horseradish in a small bowl. Spread a thin layer of horseradish mayo inside the bottom half of each baguette. Add onions, roast beef and cheese and close the sandwich with the top baguette half.
Grill 6-7 minutes until cheese is melted. Serve immediately and enjoy!