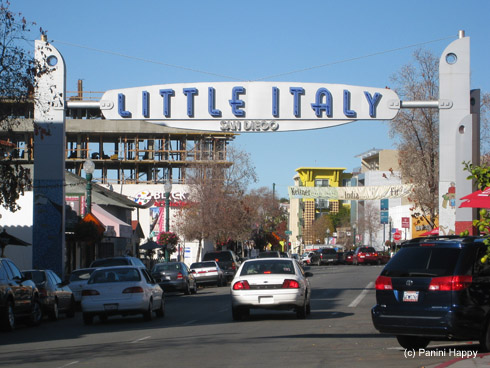 I really, really wish that a…um…"research and development" trip to Italy was in the budget for Panini Happy this year. Wouldn't that be incredible? Sample panini throughout the motherland…and pasta and olive oil and espresso and chianti and Gucci…
In the meantime, I've got Little Italy.
On my sister's last afternoon in town, she and I (and my 1yo sidekick) headed downtown to Enoteca Style in the heart of San Diego's Little Italy, on India Street between Ash and Beech, to try out their much Yelped about panini.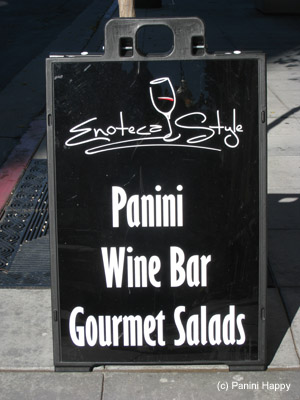 Enoteca Style is actually a wine bar (hence no high chair for my little one), but at one o'clock in the afternoon their panini take center stage.  Each named for a street in Little Italy, their nine sandwich offerings were very hard to choose between – all sounded highly enticing.  And, surprisingly, I haven't made any of the combinations yet (although my French Dip Panini is very similar to their Cedar).  After about 5 minutes of agonizing, I settled on the Kettner, with roasted pork loin, sweet and spicy mustard, arugula, gorgonzola cheese and garlic aioli on ciabatta. My sister decided to go all-Italian with the Ash: salami, mortadella, Provolone cheese, pepperoncinis and garlic aioli on ciabatta.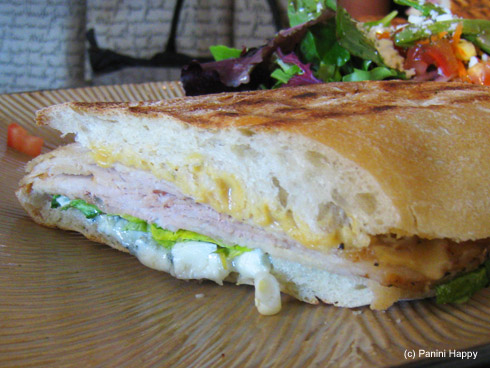 What did we learn from these panini? For starters, both offered big flavor. Mine, the Kettner (pictured above), had a sweet and spicy mustard which was at once the best and worst part of the sandwich. The mustard itself was delicious and was a perfect complement to the salty pork and tangy gorgonzola. Unfortunately, it was applied a bit heavy-handedly to the point that I repeatedly got these huge pangs of spice explosions in my frontal lobe. Like sushi with too much wasabi.  Similarly, my sister's Ash (pictured below) had a robust amount garlic aioli which, while tasty, overpowered the overall sandwich. So the lesson here was that the right condiments can really elevate a sandwich, but there can be too much of a good thing.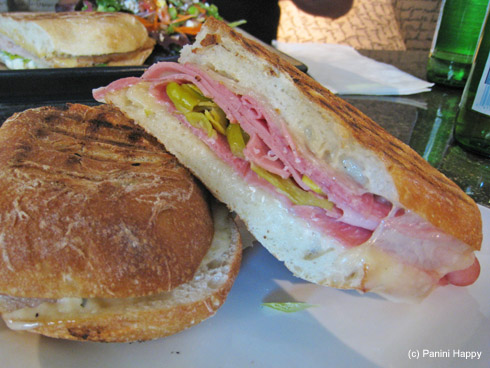 Texture was the other aspect of these panini we especially appreciated. The roasted pork on my Kettner was succulent and really thinly sliced – the way you can't achieve at home without a meat slicer (one kitchen gadget I don't own). A thick hunk of pork just wouldn't have had the same smoothness to it, this was a real treat. As you can see in the photo of my sister's Ash, Enoteca Style actually layers the pepperoncinis in between the meats so not only do you have that great peppery flavor right in the middle of the sandwich you also get a nice crunch.
I will definitely be lunching at Enoteca Style again – there were so many other sandwiches on the menu I wanted to try. I'm also looking forward to more panini-tasting throughout the year at other eateries around town and in other parts when I travel. I'll be sure to bring you back some tasty photos and great tips!