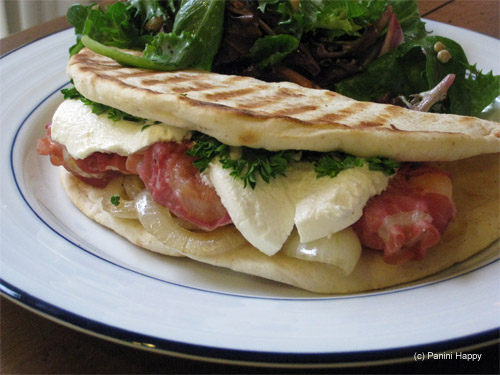 You know the Kohler plumbing fixtures commercial – "Design a house around this…" and then the couple presents their architect with a rather striking faucet for inspiration. That ad came to mind as I was gearing up to create a panini recipe involving shrimp. Usually, I have a specific sandwich concept in mind at the outset but this time I decided to work "from the inside out" and let my palette be my guide. Not a bad approach, it turns out! I ended up grilling jumbo prawns inside some pancetta, balancing the saltiness with some sweet caramelized Vidalia onions and creamy goat cheese, tossing in some chopped parsley for fresh color and flavor and wrapping it all up in a crispy pita. Delicious!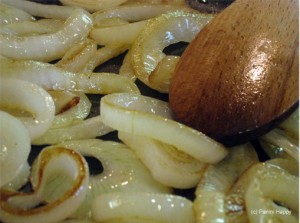 It was a typical lazy Sunday afternoon for us. My husband relaxed on the couch with his Blackberry, doing his best to tune out my Paula Deen episode. Jumping, cackling baby human played a rousing game of "How Loud Can My Voice Go?" Vidalia onions sauteeing in the kitchen made the house smell like Sunday too.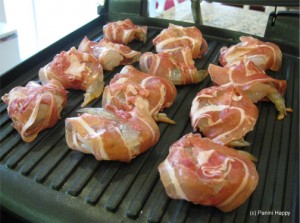 Even though there was a little more prep than normal involved with these panini, it really didn't take much time at all. I was able to multitask during the ~18 minutes while the onions caramelized. Wrapping the shrimp only took about 5 minutes and grilling them – well, if you thought grilling chicken on the panini press was lightning fast, you'll be excited to have perfectly juicy, pink shrimp in just 2 minutes!
Let's be real – pancetta can be some salty stuff. But that's not necessarily a bad thing, flavor-wise. The shrimp soaks up all this great flavor, and when balanced with something sweet like these great Vidalias, the combination is wonderful. The tangy goat cheese also mellowed out the saltiness as did the fresh chopped parsley. Like with the Buffalo Chicken Panini, the grilled pita bread came out so nice and crisp on the outside and still a little soft on the inside. My husband I enjoyed this with a simple green salad last night – I hope you'll give it a try!
Pancetta-Wrapped Shrimp & Goat Cheese Flatbread Panini
Serves 4
INGREDIENTS:
1 Vidalia onion, sliced into thin rings
1 tablespoon olive oil
12 jumbo shrimp, peeled, deveined, tails removed
12 slices pancetta
4 pita breads
5.5 oz package goat cheese, sliced into 1/8″ slices
Chopped fresh parsley
Salt and pepper
DIRECTIONS:
In a saute pan, heat olive oil over medium heat. Add onions, season with salt and pepper and saute for 15-20 minutes until onions are soft and caramelized.
Heat panini grill to medium-high heat (375 degrees).
Wrap each shrimp with a slice of pancetta. Place pancetta-wrapped shrimp onto the panini grill, close lid and grill approx. 2 minutes until shrimp are pink. Transfer shrimp to a plate to keep warm. Unplug grill and carefully clean grates.
Reheat panini grill to medium-high heat (375 degrees).
For each sandwich: Microwave pita bread on high for 15 seconds to make it fold more easily. Lay about 1/4 of the onions onto the lower half of the pita. Top with three shrimp, two slices of goat cheese and a sprinkling of parsley. Carefully fold the top half of the pita over the toppings to form a sandwich. Grill sandwich for 4-5 minutes until goat cheese is softened and golden grill marks appear. Serve immediately and enjoy!