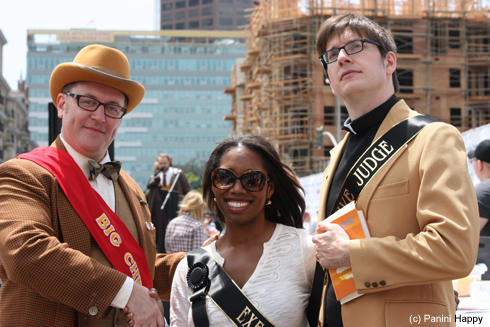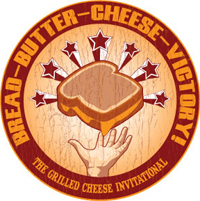 What better way to conclude our celebration of Grilled Cheese Month on Panini Happy than with an inside look at a one-of-a-kind event that draws 300 amateur and professional competitors and thousands of grilled cheese fans annually: The Grilled Cheese Invitational.
The event, founded eight years ago by Tim Walker, started out as a friendly competition between friends. It has since blossomed into a full-blown national grilled cheese movement, with regional competitions across the country. I was honored to participate as an executive judge this past sun-filled Saturday afternoon in downtown Los Angeles. I had myself an absolute cheesy blast.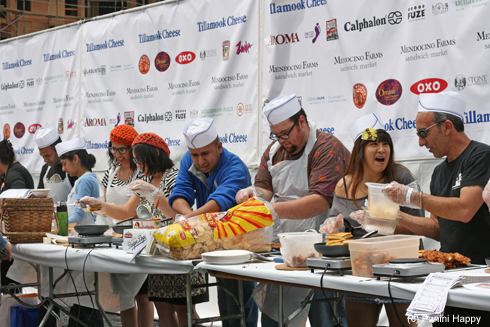 This was my first time attending the Grilled Cheese Invitational and I have to say, being an executive judge for the event was definitely the way to go. I had the chance to chat up all of the competitors, watch them assemble their amazingly creative sandwiches and, at the end of the event, bestow a judge's award on my favorite sandwich. Of course, I also got to do one heck of a lot of tasting. Like a lot!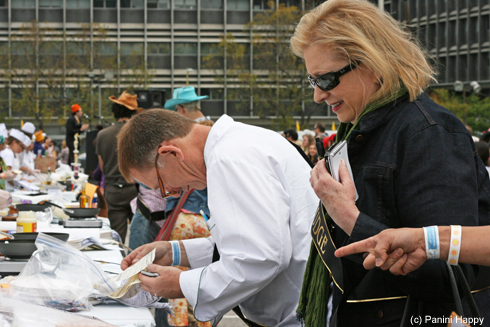 Over the course of the five-hour competition I had the opportunity to meet and compare tasting notes with my fellow executive judges. In particular, it was a real treat to spend time with two food luminaries I've truly admired: Barbara Fairchild, the former longtime editor-in-chief of Bon Appétit, and Mark Peel, chef-owner of Campanile in LA (and Top Chef Master!).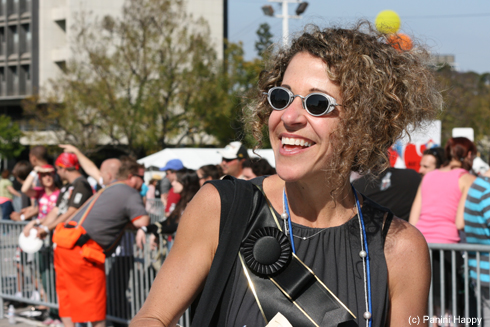 I also had the chance to get to know Laura Werlin, cheese expert and author of the recently released book Grilled Cheese, Please!: 50 Scrumptiously Cheesy Recipes. I'll tell you one funny experience she and I had at the event. We approached a competitor who was laying out some baked cheddar cheese crisps in front of him. In unison, we exclaimed "Fricos!", the name for these cheese crisps. Well, the quizzical response on the competitor's face let me know right away he was unfamiliar with that term. He thought we were yelling, "Freak-o!" at him. Yikes. We smoothed that one over right away.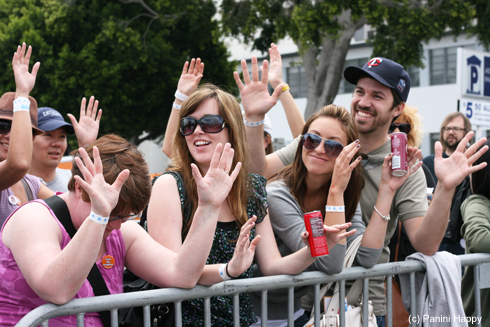 Event attendees had the option of buying a special ticket that allowed them to be populist judges, which meant they could sample and vote on the competitors' grilled cheese as well (their votes would comprise 60% of the competitors' scores, while the executive judges accounted for the other 40%). They were, of course, sworn in at the outset.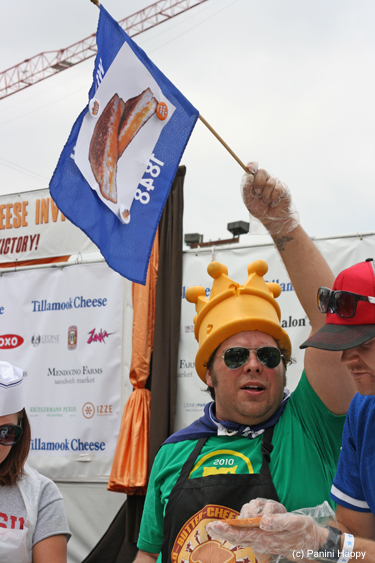 Here's how the judging went. When the competitors had a sandwich ready they waved their sign (or in this cheese king's case, flag) to alert one of the volunteer runners to pick it up and distribute samples and ballots amongst the executive and populist judges. Most often, I obtained samples right off the grill from the competitors. We rated the sandwiches according to presentation, taste, "Wessonality" (style points) and "SPAZ" (weird factor).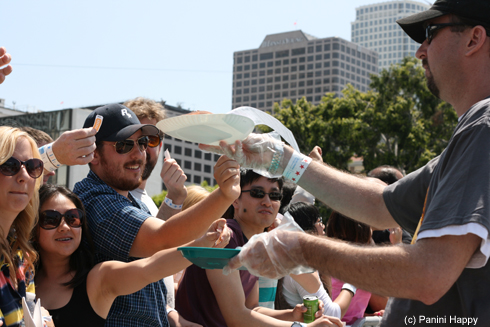 I was asked to aim to taste around 33 sandwiches and I'm pretty sure I hit that target and then some. I did my best to take just one good bite each time, but sometimes I just had to go for a second…or third. They were often that good.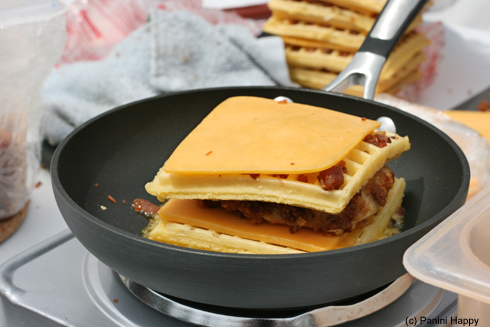 It didn't surprise me that this one ended up winning the People's Choice Award. Several people told me I had to go try the Chicken and Waffles with Cheddar and Bacon Crust sandwich that the guy from the Grilled Cheese Truck was making. I managed to nab a bite of his very last sandwich before the competition heat was over. The brilliant part of this sandwich was tucking the bacon bits into each crevice of the waffle and "sealing" them all in with cheese on the outside. I missed the maple syrup dipping sauce, but I can just imagine what an unreal combo that was.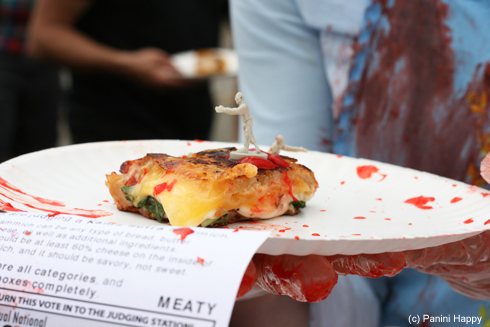 I forgot to write down the official name of this grilled cheese and tomato soup massacre, but I'm pretty sure those were supposed to be little zombies on top.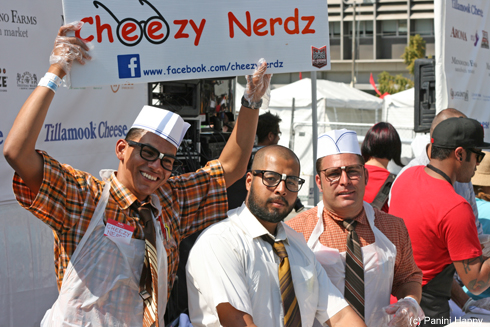 These guys call themselves the Cheezy Nerdz. They may be nerdy, but they can make a sandwich! They won a judge's award from one of the event's sponsors, Mendocino Farms.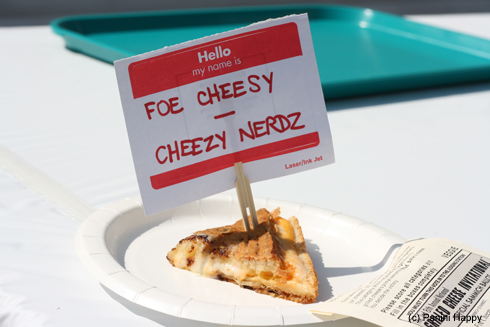 I'm not sure whether the "Foe Cheesy" was the award-winning entry for the Cheezy Nerdz or not (I believe they competed in every heat), but it was pretty great. Cheese grilled on the outside of the sandwich was definitely a new-to-me trend I noticed often.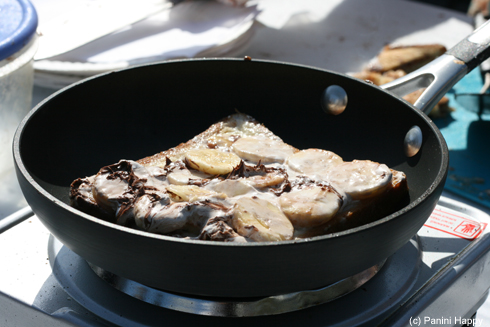 After four hours of ingesting grilled cheese (after the first two hours, it moved past "tasting" into "ingesting") it took all the fortitude I could muster to rally for the fourth and final heat of the competition: the Honey Pot (aka, dessert round). My favorite in this round was one called the "Shirley Temple": marscapone cheese mixed with strawberry jam, spread with crumbled candied bacon on cinnamon sugar toast.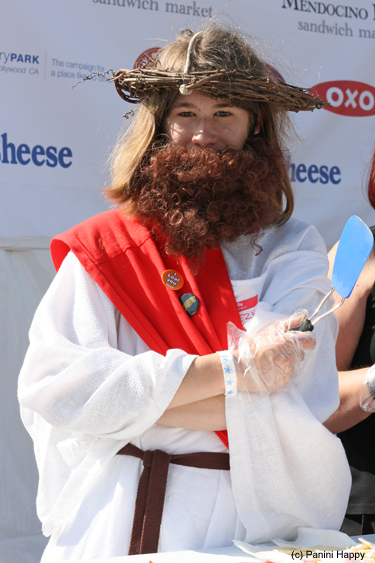 There was really no shortage of interesting things to see at this competition.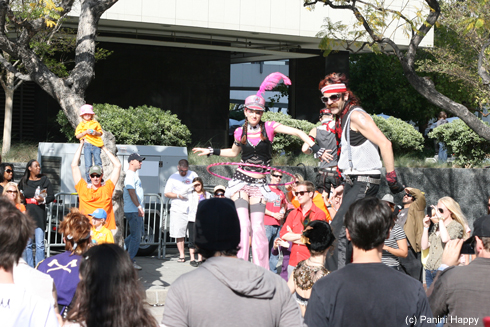 And believe it or not, there was actually a whole lot more to see besides grilled cheese. In particular, I loved this really funky, eclectic marching band called March Fourth that performed. I couldn't get over these guys dancing on stilts! There was also a costume contest, cheese calling contest and a well-attended beer garden.
In addition to the 30,000 sandwiches being prepared for judging there were also about twenty of LA's finest food trucks positioned throughout the venue, each serving more grilled cheese to rather lengthy lines of attendees.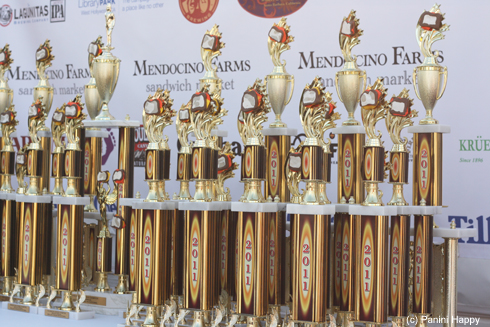 Finally, at the end of the day and once all the votes were tabulated, the winners were announced. As I mentioned earlier, in addition to the winners of the most votes in each category each executive judge also gave an award for their favorite sandwich. My favorite of the day was comprised of Berkshire country ham, caramelized onions, aged cheddar and Gruyère cheeses, and pickled apples on multigrain bread. What ultimately won me over were the pickled apples and the ham oil they rendered from cooking the ham and brushed onto the bread for extra flavor.
After handing the competitor his trophy, we shook hands and he told me his name was Paul. But amid all the applause and cheering I didn't have a chance to find out where he worked (he was competing as a pro). Well, that mystery was cleared up once I saw this tweet from Chef Marcus Samuelsson (Top Chef Master 2010!):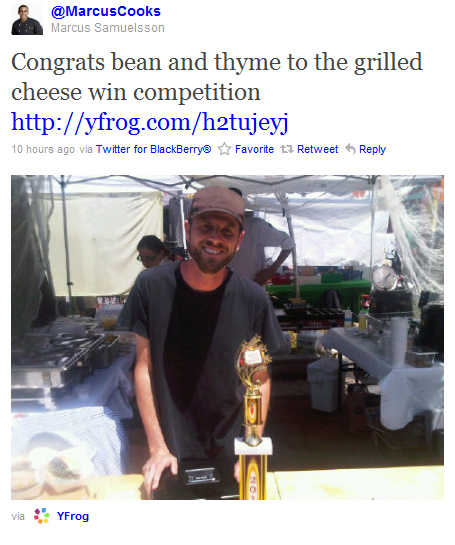 I recognized my guy in the photo! So, a big congratulations to the recipient of my judge's award: Chef Paul Osher of Bean & Thyme in Santa Monica.
* * *
As you can imagine, I am quite full of grilled cheese for a while. 🙂 Between a pilgrimage to the Grilled Cheese Truck, three grilled cheese recipes, funky grilled cheese crafts on Etsy, grilling halloumi on the outdoor grill and judging the Grilled Cheese Invitational it's been quite a month. Thanks so much for joining me on the ride!