Boy, pop tarts are everywhere these days, aren't they? Recipes for homemade pop tarts have been appearing on food blogs for a while now, but once Bon Appétit published theirs this past spring it ignited a bit of a trend. Then, last week, the Pop-Tarts World retail store opened its doors in Times Square. The sweet little breakfast treat we grew up with all of a sudden got huge!
Of course, I'm of the belief that almost anything that you toast can be made just as easily – possibly even better – on the panini grill. Pop tarts definitely qualify. So I cut out some puff pastry rectangles, filled some with homemade blueberry jam and others with chocolate-hazelnut spread (aka, Nutella), sealed them up and put them on the grill. Within about seven minutes I had perfectly puffed,  flaky, golden homemade pop tarts…complete with ridges to cradle some tangy lemon glaze.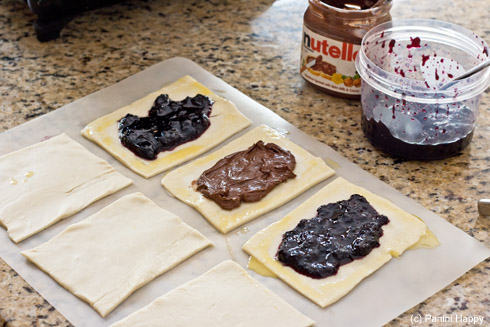 These were incredibly easy to make, with a few sheets of frozen puff pastry and the sweet fillings I had on hand. They'd also be interesting with savory ingredients, like shredded cheese or barbecued pork. Just thinking aloud.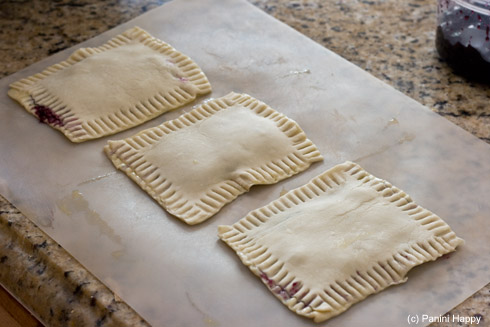 There was a small ooze factor with the jam. Try as I might, a little always wanted to escape from inside the tart. Deb from Smitten Kitchen recommends mixing in a little cornstarch to thicken it and minimize the ooze. I actually didn't mind…it makes it easier to tell which one's which!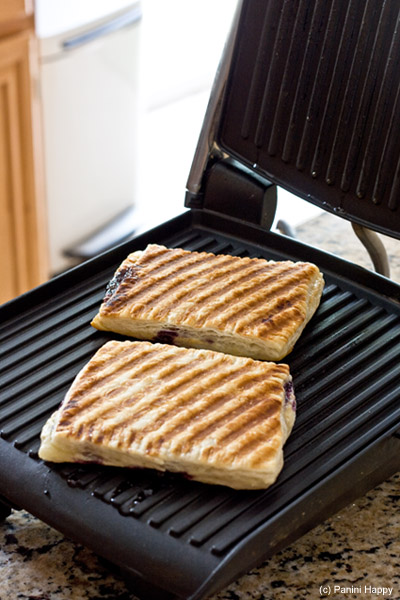 After about seven minutes on the grill, breakfast was served!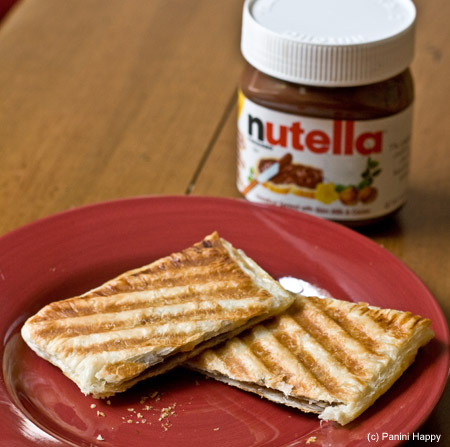 [print_this]
Homemade Pop Tarts…on the Panini Grill
Makes 6 pop tarts
INGREDIENTS:
For the pop tarts:
2 sheets frozen puff pastry, thawed
1 cup jam, Nutella or any sweet or savory filling you choose
1 egg
1 tablespoon water
For the lemon glaze:
1 cup sifted powdered sugar
2 tablespoons lemon juice
DIRECTIONS:
Preheat the panini grill to 400°F.
Unfold the puff pastry on a lightly floured surface. Depending on the thickness of your pastry, you may need to roll it out to a 1/8″ thickness. Divide each pastry sheet into 6 equal rectangles (the size is up to you, mine were about 3″x 4″). Spoon 2-3 tablespoons of filling onto six of the rectangles – be careful not to overload them or the filling may be more likely to ooze out during grilling.
In a small bowl, beat the egg and water together to make an egg wash. Brush the egg wash around the edges of the rectangles that have filling. Place an "empty" rectangle on top of each of the filled rectangles, press to seal the edges and crimp with a fork.
In batches, carefully place the sealed tarts onto the panini grill. Lower the lid until it's hovering just above (about 1/4″) the tarts without actually touching them. As the tarts bake they'll puff up and make contact with the upper grate – you want to give them a little room to expand. Grill for 6-7 minutes until the tarts are puffed and golden.
Meanwhile, whisk together the powdered sugar and lemon juice in a small bowl to make the glaze. Drizzle glaze over the grilled pop tarts – serve hot and enjoy!
[/print_this]