Several of you commented about growing up making and eating apple butter on last week's Chicken Sausage, Apple Butter and Fontina Panini post. As I mentioned, I had only just recently tried it for the first time. The idea of having a pile of apples cooking down with sugar and spices on the stovetop on a gorgeous autumn Sunday was too enticing to resist. So yesterday a new Apple Butter-making tradition was begun in my house.
Wow, this homemade apple butter was so much better than the store-bought version I tried last week. First of all, I preferred having the spices in there. Cinnamon, cloves and mace enhance the flavor of the apples so much. I also found the homemade version to have an appealing almost floral-like quality, which I attribute to the honey in the recipe. The house, of course, smelled amazing as it simmered away.
I hear that peanut butter and apple butter sandwiches are pretty divine – my kids will soon be the judges of that (we have a whole lot of apple butter to work through)!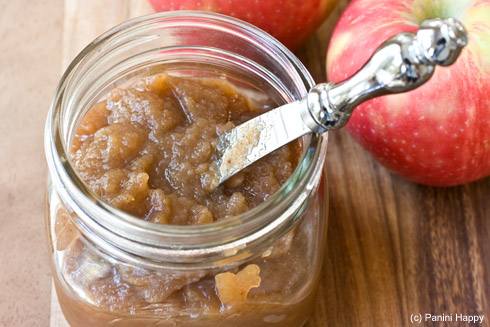 [print_this]
Apple Butter
Adapted from the Overnight Apple Butter recipe by Domenica Marchetti in Cooking Light
Prep time: 15 minutes | Cook time: 1 hour 30 minutes | Total time: 1 hour 45 minutes
Yield: 4 cups
INGREDIENTS:
1/2 cup

packed brown sugar

1/4 cup

honey

1/4 cup

apple cider

1 tablespoon

ground cinnamon

1/4 teaspoon

ground cloves

1/8 teaspoon

ground mace

10

medium apples (ideally a mixture of varieties), peeled, cored, and cut into large chunks (about 2 1/2 pounds)
DIRECTIONS:
Combine all ingredients in a Dutch oven. Cover and cook over medium-low heat 1 hour or until apples are very tender, stirring occasionally.
Place a large fine-mesh sieve over a bowl; spoon one-third of apple mixture into the sieve. Press the mixture through the sieve using the back of a spoon or ladle. Discard the pulp. Repeat this procedure with the remaining apple mixture.
Return the mixture to the pan. Cook, uncovered, over medium-low heat 15 minutes or until thick, stirring frequently.
[/print_this]