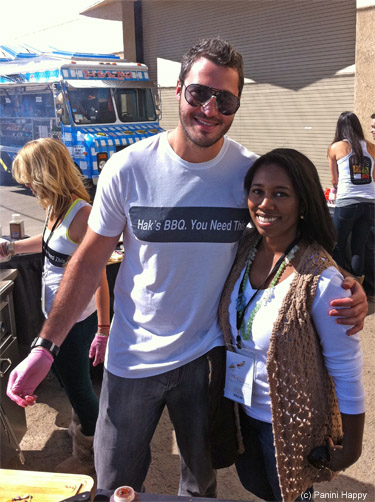 I love to watch entrepreneurship in action – people with a dream and a business plan (or perhaps not) and the moxie to see it all come to fruition. When I went back to school for an MBA  my hope was that some day I would run my own successful business. That dream is still alive – and to an extent, through my blogging, I've already started to realize it. But for the time being I live vicariously through the men and women who are truly taking the plunge and rockin' it out. I encountered many such individuals this past weekend at a trade show called The Gourmet Experience here in San Diego.
At booth after booth I found proud, hopeful, enthusiastic faces of those who were presenting their products. Some of these faces were familiar, including Sharone Hakman (you might remember him from the first U.S. season of Masterchef) who was outside the pavilion grilling juicy burger sliders with a shot of his chipotle bourbon Hak's BBQ Sauce. Others had been in business for just a matter of months.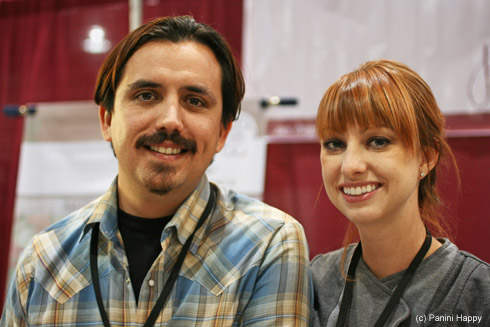 One of the best things I tasted at the show was the Smoked Applewood Caramel Sauce from Cruz Caudillo at Praline Patisserie. The smokiness was so subtle but – oh wow – does that ever take caramel to the next level. Theirs is a relatively new business and it looks to be off to a promising start.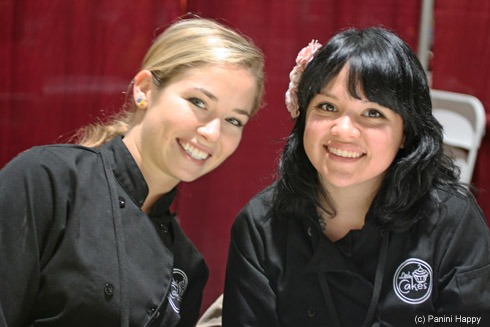 Another amazing bite of the day was the Almond Champagne mini cupcake (with champagne buttercream frosting!) I tried from Little Cakes Cupcake Kitchen. They have a shop up the road in Vista which I may have to trek out to visit one day soon so I can have another one of those.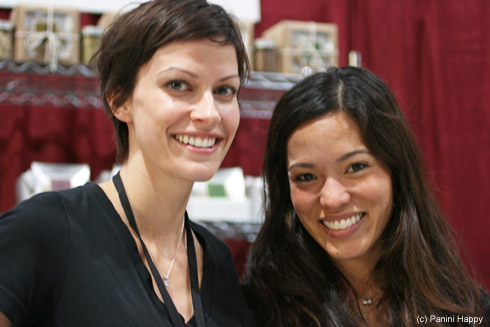 I'm not usually the first to rush to sample gluten-free cookies but these gorgeous ladies at the Good Habit booth sure looked like they had good taste. And so, as it turned out, did their cookies! Seriously, the Apple Pie a la Mode cookie I sampled lived up to its name and was a real treat.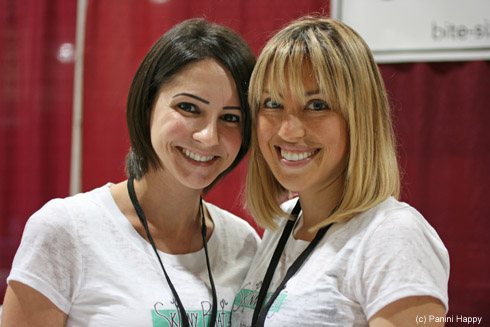 After all of these sweet indulgences, the girls from Skinny Batches drew me in with their "bite-sized, guilt-free goodies".  I also think their company name is incredibly clever!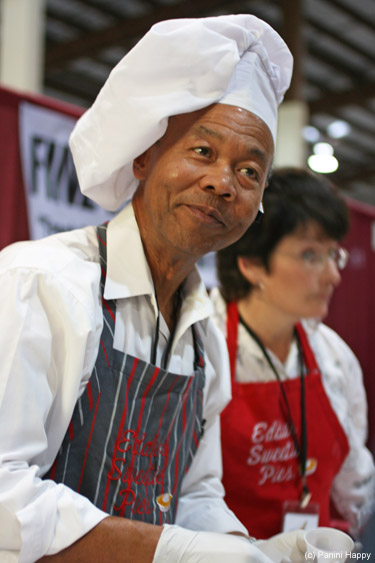 I didn't have a chance to try one of Eddie's Sweetie Pies – there were quite a few people reaching in for samples at that moment – but I couldn't resist snapping a picture of this gentleman in his awesome chef hat.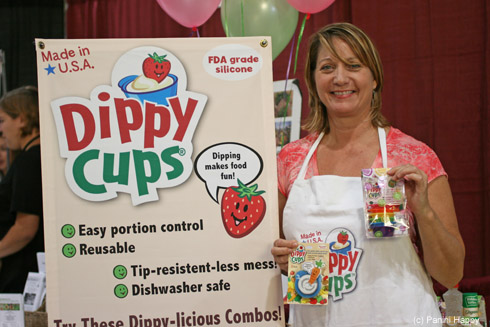 One of the first people I came across at the show was Lisa Ann Savage who has invented Dippy Cups, small bear-shaped silicone cups to hold ketchup, yogurt or other sauces for kids to dip their food into. They don't slide around the plate – how genius!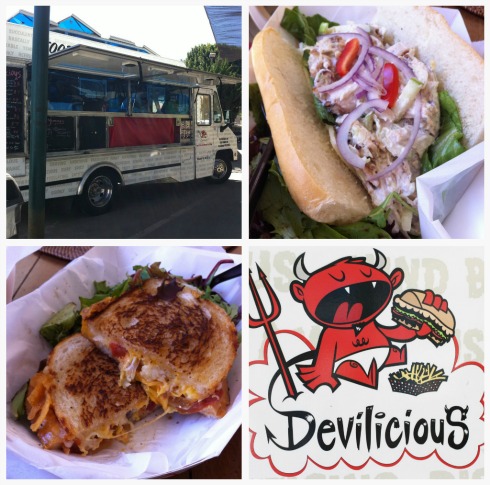 I couldn't leave the show without paying a visit to Devilicious, the San Diego food truck best known for its Butter-Poached Lobster Grilled Cheese and its appearance in the most recent season of The Great Food Truck Race on the Food Network. Since I'm allergic to lobster (I know, sad!) I let my husband feast on that amazing grilled cheese sandwich while I had the equally incredible Smoked Turkey Sandwich with Bacon Apple Slaw.
Maybe one day soon I'll arrive at a show like this without a press pass. Until then, I'll continue to be inspired by these entrepreneurial folks and lend them my support where I can.