If I were to ever lose my iPhone whoever found it would be privy to my ongoing list of sandwich ideas in my Notes app. I jotted down the concept for today's Green Chile Steak Melt Paniniwhile on vacation in Santa Barbara a few months ago.
We had made our way to the Hollister Brewing Company in Goleta at the end of a long day of kite flying and butterfly chasing. I ordered a fantastic sandwich – the Spicy Steak Melt – with thinly sliced steak, chiles, onions, pepper jack and chipotle crema on a baguette. It was like an incredible southwestern cheese steak. It went straight into the Notes file to remind me to recreate my own version at home.
If you ever find yourself with leftover steak on hand (or feel like quickly grilling some New York strip), I highly recommend making these sandwiches. For my Spicy Steak Melt-inspired panini, I opted to caramelized the onions to bring in some sweetness. I dialed the spice level down a touch by going with Monterey Jack rather than pepper jack. Lastly, I converted the chipotle crema to a chipotle mayonnaise (which still has a touch of cooling sour cream in it). Just thinking about these now makes me glad it's almost lunch time…and I have all the ingredients ready to make these again!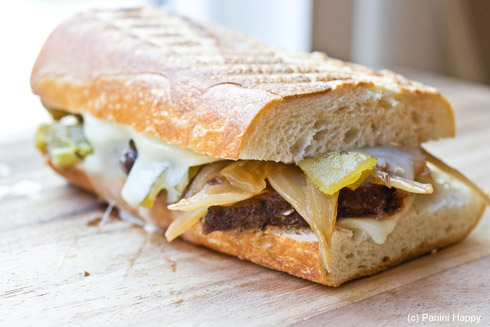 [print_this]
Green Chile Steak Melt Panini
These are great panini to make with any kind of leftover steak, or you can quickly grill a fresh steak. If you keep a batch of caramelized onions on hand in the fridge, as I often do, you can significantly cut down on the time.
Prep time: 15 minutes | Cook time: 1 hour 35 minutes | Total time: 1 hour 50 minutes
Yield: 4 panini
INGREDIENTS:
For the Caramelized Onions:
1 tablespoon

extra virgin olive oil

3

medium yellow onions

Salt and black pepper
For the Chipotle Mayonnaise:
1/2 cup

mayonnaise

1 tablespoon

finely chopped chives

1

chipotle in adobo sauce

1 1/2 teaspoon

adobo sauce

1 teaspoon

lemon juice

Salt and freshly ground black pepper
For the Panini:
1 pound

New York strip steak

Kosher salt and pepper

1 tablespoon

extra virgin olive oil

Chipotle Mayonnaise

1

ciabatta loaf or baguette, cut into 4 sections

8 slices

Monterey Jack cheese

Caramelized Onions

1

7-oz can whole roasted green chiles, chopped
DIRECTIONS:
To make the Caramelized Onions:
Heat the olive oil in a large skillet over medium heat. Add the onions and cook for 10 minutes, stirring occasionally.
Reduce the heat. Season with salt and pepper and continue to cook, stirring often to prevent scorching, until the onions are soft, deep brown in color and caramelized, another 40 to 50 minutes.
To make the Chipotle Mayonnaise:
Combine all of the ingredients together in a food processor or blender. Season with salt and pepper to taste. Chill until you are ready to serve.
To make the Panini:
Season the steak generously with salt and pepper.
Heat a skillet or grill pan over moderately high heat. Once it's hot, add olive oil to the pan, then the steak. Grill the steak, turning every few minutes, until it's cooked to your preferred doneness. For medium, I cook it until my instant read thermometer reads 137°F.
Let the steak rest on a cutting board for 10 minutes, then slice it crosswise into thin slices.
Preheat the panini grill to medium high heat.
Halve each piece of bread lengthwise to create top and bottom halves.
For each sandwich: Spread about a tablespoon of mayonnaise inside each half of bread. On the bottom half, add a slice of cheese, steak, onions, chiles and a second slice of cheese. Close the sandwich with the other half of bread, mayonnaise side down.
Grill the panini until the cheese is melted, about 4 to 5 minutes. Cut in half and serve immediately.
[/print_this]