It's not usually my style to wrap up my food in little bows, but today I'm making an exception for a few practical reasons. Not only do these Grilled Ratatouille Panini taste even better once the flavors of the grilled summer vegetables, fresh mozzarella and pesto have had the chance to mix and mingle a bit, but they're also a little on the tall side and can benefit from some harnessing. All right, they do look a little cuter with the bows too (just this once).
Read on for my Grilled Ratatouille Panini recipe and for a fantastic PESTO GIVEAWAY (seven flavors!) from Bear Pond Farm.
Beyond the fancy wrapping, you might have also noticed that there are grill marks on the inside of these sandwiches. That's because I put the baguettes on the grill along with the eggplant, zucchini and onions to could get a toasty crunch on the bread without heating up the entire sandwich. The vegetables in a traditional ratatouille are sautéed and baked as a casserole, but for these sandwiches I opted to grill them. Since the panini aren't served hot, they'd be great to bring for lunch at work or even a picnic.
By the way, the basil pesto I used came from Bear Pond Farm in Glastonbury, Connecticut. The company sent me all seven of their nut-free pesto flavors to try (I happened to already have the basil one in my fridge, from my last trip to Whole Foods). We've been having a pesto bonanza for the past week, spreading pesto on sandwiches, wraps, salmon (keep an eye out for the salmon recipe later this week – packet grilling on the panini maker!) and even just dipping it with tortilla chips (specifically, the jalapeño artichoke one).
* * *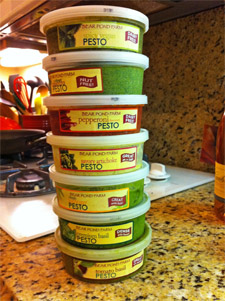 Pesto Giveaway!  [THE GIVEAWAY IS NOW CLOSED]
The folks at Bear Pond Farm were kind enough to offer one lucky Panini Happy reader their own set of seven pesto flavors:
Premium basil
Pepperoni
Tomato-basil
Fresh lemony
Spicy vegan
Vibrant cilantro
Jalapeño artichoke
Here are four ways to enter, you can do any or all of them (please leave separate comments for each entry):

Leave a comment on this post telling us your favorite way to cook with pesto (e.g., toss in pasta, as a base for pizza, in scrambled eggs, etc.).
"Like" Panini Happy on Facebook
Follow me @paninikathy on Twitter
The giveaway will close on Monday, July 18, 2011 at noon PDT. [THE GIVEAWAY IS NOW CLOSED] I will use random.org to select one winner to receive the Bear Pond Farm pestos and announce the winner in this post. Due to shipping costs, the prize can only be shipped to U.S. addresses.
**UPDATED 7/18/11: Congratulations to our winner, entry #33 – Jacqui!
Thanks to Bear Pond Farm for providing the pestos for this giveaway.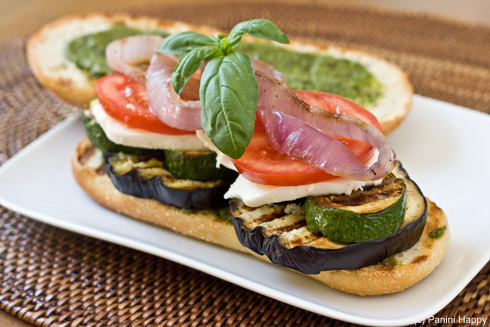 [print_this]
Grilled Ratatouille Panini
Adapted from Giada De Laurentiis' Grilled Vegetable Panini recipe on FoodNetwork.com
Prep time: 10 min | Cook time: 40 min | Total time: 50 min
Yield: 4 panini
INGREDIENTS:
2 tablespoons

olive oil

2

zucchini, sliced crosswise into 1/2″ thick slices

1

medium eggplant, sliced crosswise into 1/2″ thick slices

1/2

small red onion, sliced crosswise into 1/2″ thick slices

Salt and freshly ground black pepper

1

French baguette, divided into 4 pieces (or 4 demi-baguettes)

1/2 cup

basil pesto (either store-bought or homemade)

8 ounces

fresh water-packed mozzarella cheese, drained, sliced

2

tomatoes, sliced

1/2 cup

roasted red peppers
DIRECTIONS:
Preheat the panini grill to medium-high heat.
Drizzle olive oil over the vegetables and sprinkle with salt and pepper. Working in batches, place the vegetables on the grill, seasoned side down. Drizzle more olive oil on top and sprinkle more salt and pepper. Close the lid, with the grates making contact with the vegetables without actually pressing them. Grill the vegetables for 4-6 minutes until they're tender, with grill marks.
Split the baguettes in half lengthwise and grill them for about 5 minutes until they're toasted, with grill marks.
For each sandwich: Spread each grilled baguette half with pesto. On the bottom half, add eggplant, zucchini, onion, tomato, mozzarella and roasted red peppers. Close the sandwich with the top baguette half.
You can either serve the panini immediately or, to allow the flavors to meld together more, wrap them up and refrigerate for a few hours.
[/print_this]