Add this Grilled Flat Iron Steak with Chimichurri and Fingerling Potatoes recipe to your personal repertoire of highly satisfying and relatively quick meals you can prepare on the panini press (remember the list we started a few weeks ago?).
I'm not a huge steak-eater, but I've pretty much fallen in love with the flat iron cut. It's flavorful (lots of marbling), relatively inexpensive and so versatile. Cooked just right, your knife slides right through it, it's amazing. Lately I've just been seasoning it simply with salt and pepper, but I can't deny the fact that an incredibly robust, garlicky, herby chimichurri makes it a hundred times better. And definitely get the potatoes in that chimichurri too. I left it off in the photos so you could see the pretty grill marks on the fingerlings, but when it came time to eat this you can be sure a whole lot more chimichurri was applied globally to this dish!
This grilled flat iron was inspired by one my husband, Mike, and I recently enjoyed at Twenty/20 Grill & Wine Bar up in Carlsbad. As guests of the restaurant, we were treated to a terrific selection from their San Sebastián-inspired menu. Here are a few of the highlights from our meal.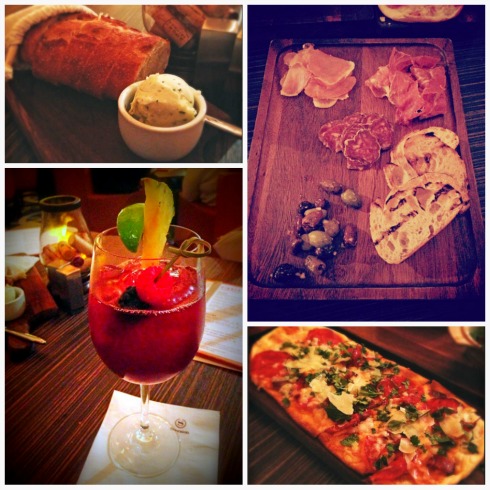 When I think of Spanish cuisine, two items immediately jump to mind: sangria and tapas. At Twenty/20 you have the choice of sangria in red, white or blush. I went with the red and it was refreshing, the way good sangria should be, and not too sweet. If I had walked into the restaurant with my family after a long day at Legoland (it's located in the Sheraton adjacent to the theme park), this would have been just the thing to unwind. It's also a nice way to kick off a date night. 🙂
Mike and I sampled a variety of tapas from the menu as well, many of which arrived at the table on beautiful wooden boards. Our favorite dish was the chorizo flatbread (pictured above, at the bottom-right), with parmesan, bacon and cilantro. It was my first time trying Spanish chorizo, which is a hard sausage as opposed to the spicy, ground Mexican variety. Mike especially enjoyed the bacon-wrapped dates, which were served with a piquillo pepper tomato sauce that added a touch of sweet heat. I always love a good charcuterie board – it's our standard order whenever it's on a menu. The board at Twenty/20 offered an item we already love – jamón serrano – and an almost floral-tasting wild boar salami, which was new to us. The marinated olives on the board, I must say, were a bit too garlicky for us (and we love garlic!).

After our tapas, we moved on to the Ensalada Verde (above, center), which was tossed with asparagus and green beans and topped with avocado and Manchego. I love all the components of this salad, and Manchego happens to be my favorite cheese (lucky me, Manchego was all over this menu!), but I did wish the Manchego had not been set atop the avocado as both have buttery, nutty flavor and it muddled things a little for me.
And then, of course, there was the grilled flat iron that inspired today's recipe. Our steak was cooked perfectly, and it was served with broccolini in addition to the fingerling potatoes. The chimichurri sauce, as you can see (above, right) was pureed very smooth, which is a little different from how I've typically seen chimichurri. It tasted terrific – obviously all the same ingredients are in there as in a chunkier version. For me, being able to see the leaves in the herbs actually heightens the flavor for me – we eat with our eyes, right? It's all a matter of personal preference. Mike and I definitely enjoyed this dish, both on this date night and when we previously visited the restaurant with our kids.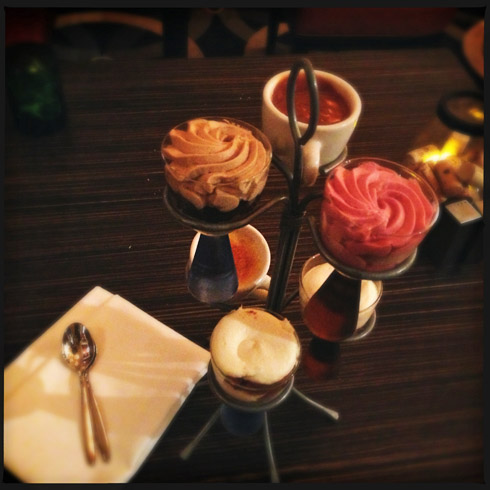 Dessert is fun at this restaurant. Our server brought a tower of six different mini-treats to choose from. They're $2.50 each and about five bites' worth, so you can enjoy dessert with a bit less guilt than normal. I've had a bazillion crème brûlées in my life, but I actually really liked this one with it's light, sweet crust (the portion control was much appreciated as well). Another favorite was the caramel cheesecake – the caramel sauce was buttery and rich, I just loved it.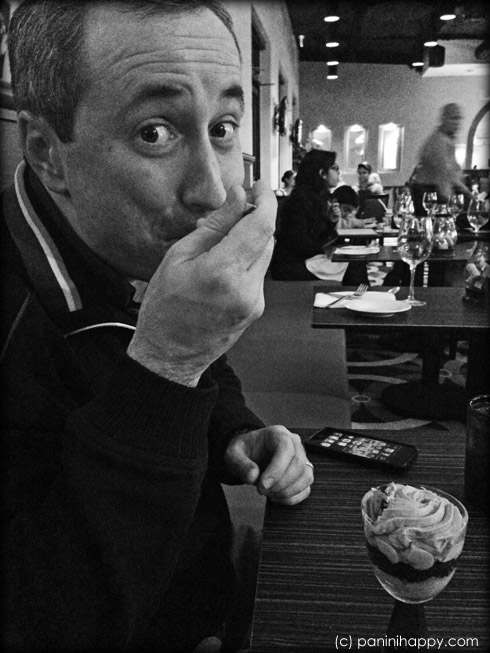 This guy definitely enjoyed polishing off a few mini-desserts. 🙂
Many thanks to Twenty/20 for a terrific date night dinner! I hope you'll love this recipe for a date-worthy dinner you can make any night of the week.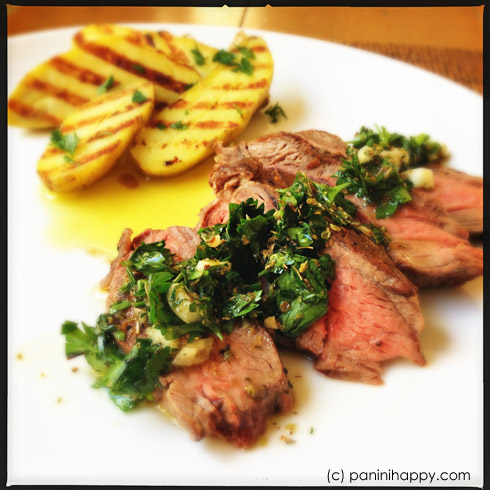 [print_this]
Grilled Flat Iron Steak with Chimichurri and Fingerling Potatoes
Prep time: 10 minutes | Cook time: 25 minutes | Total time: 35 minutes
Yield: 4 servings
INGREDIENTS:
Chimichurri Sauce:
1 cup

packed fresh Italian parsley, finely chopped

4

garlic cloves, minced

1/2 cup

extra virgin olive oil

1 tablespoon

red wine vinegar

1 tablespoon

freshly squeezed lemon juice

1 tablespoon

dried oregano

1 teaspoon

coarse salt

1/4 teaspoon

black pepper

1/4 teaspoon

red pepper flakes
Grilled Flat Iron Steak:
1

(

1 1/2 pound) flat iron (or top blade) steak

Coarse salt and black pepper
Grilled Fingerling Potatoes:
8

fingerling potatoes (about 3/4 pound)

1 tablespoon

coarse salt

1 tablespoon

olive oil
DIRECTIONS:
Mix all of the chimichurri sauce ingredients together in a medium non-reactive bowl and set it aside.
Place the clean fingerling potatoes in a large pot. Fill the pot with enough water to cover the potatoes. Add the salt and bring the water to a boil. Allow the potatoes to continue cooking for 10 minutes, drain and set aside.
Heat the panini maker to high heat.
While the potatoes are cooking, pat the steak dry with paper towels and season both sides generously with salt and pepper. Place the steak on the grill and close the lid. Grill the steak until your desired doneness, 137°F for medium rare (9 to 11 minutes).
Let the steak rest on a clean cutting board for 10 minutes before slicing. Carefully scrape off any residual steak bits with a grill scraper. Keep the panini press on.
Halve the cooked potatoes lengthwise and toss them with the olive oil in a medium bowl.
Arrange the potatoes on the panini press, cut side down. Close the lid so that the upper plate is touching the potatoes without pressing down on them. Grill the potatoes until dark grill marks appear, about 4 minutes.
Serve the steak and potatoes with the chimichurri sauce.
[/print_this]