At one time, a few years ago, I had almost 15 magazine subscriptions coming to my mailbox – everything from Food & Wine to People to The Industry Standard (any former dot-commers remember that one?). Even though I've cut that number back to about 5 or 6, keeping up with popular culture through glossy magazine pages is still one of my favorite ways to relax and unwind.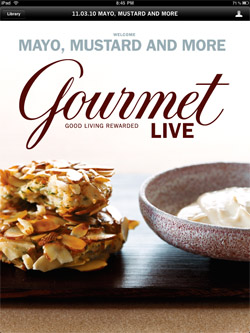 I recently found myself captivated for the better part of an hour by Gourmet Live, the reincarnation of Gourmet magazine on the iPad. Browsing the pages is almost like a game – as I read through the various articles I was "rewarded" with the opportunity to unlock even more content, such as a collection of essays by legendary American food writer M.F.K. Fisher and a series of decadent chocolate recipes. It's like a modern day Choose Your Own Adventure (once again, I date myself as a child of the '80s).
In the course of my browsing and unlocking – they even give you an audible "Ding!" when you discover new content – I came across a recipe for Grilled Eggplant Parmigiana Hero sandwiches. That got me thinking…no, I actually haven't made eggplant parm panini yet (I did do Chicken Parmesan Panini in my first year of the blog).
Eggplant Parmigiana Panini are super easy and relatively quick to make. You can even use your panini maker to grill the eggplant. Flavor-wise, they're fantastic, just like eggplant parmigiana in sandwich form. I relegated the marinara toward the middle of the sandwich to keep the moisture out of the bread. Plus you get nice bursts of sauce in each bite. 🙂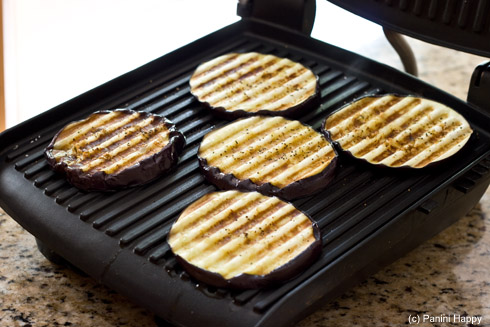 [print_this]
Grilled Eggplant Parmigiana Panini
Makes 4 panini
INGREDIENTS:
1 eggplant, sliced crosswise into 1/2″ slices
Olive oil, for brushing
8 slices Italian bread (denser is better)
1 cup shredded mozzarella
1/2 cup shredded Parmigiano-Reggiano
1/2 cup store-bought or homemade marinara
8 fresh basil leaves, chopped
DIRECTIONS:
Preheat the panini grill to medium-high heat.*
Lay out eggplant slices on a clean surface, like a cutting board. Brush olive oil on top of each slice; season with salt and pepper. Place eggplant slices seasoned side-down on the panini grill (you'll need to work in batches). Brush olive oil on the other side of each slice, season with salt and pepper and close the grill lid. Grill eggplant for 4-5 minutes until cooked through and tender. Set eggplant aside and cover with foil to keep warm.
Unplug the grill, carefully wipe it clean, and reheat it to medium-high heat.
For each sandwich: Pile a few tablespoons of the mozzarella and Parmigiano-Reggiano onto a slice of bread. Add a few spoonfuls of marinara on top of the cheese. Layer on 2 slices of eggplant, 1/4 of the basil, a sprinkling of cheese, another slice of eggplant, a few more spoonfuls of marinara, and another few tablespoons of cheese. Close the sandwich with a second slice of bread. Brush olive oil on top.
Grill the sandwich for 3-4 minutes until the cheese is melted and bread is toasted. Cut in half, serve immediately and enjoy!
* If you don't have a panini maker you can always sauté the eggplant in a skillet over medium-high heat, turning occasionally, until very tender. You can bake the assembled sandwiches in an oven or toaster oven at 350° until the cheese is melted and bread is toasted, about 7 or 8 minutes.
[/print_this]