I headed to my local farmer's market this weekend with high hopes of gaining some good panini inspiration.  And I did…but not in the way I'd expected.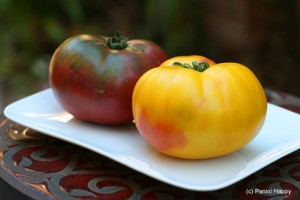 It was my first trip to the farmer's market in over a year and I soon remembered why it had been so long.  Two tomatoes ran me $7.50!!  I mean, they were big, beautiful heirloom tomatoes – nicer looking than anything I've found at Vons.  But WOW!  So I resolved to use them in the best dish I know in which to showcase fresh, sweet tomatoes: a caprese salad, with fresh mozzarella, basil, olive oil and salt and pepper.
So if I was going to have an Italian side dish I wanted an Italian main.  Which is how the farmer's market indirectly inspired this panini recipe.  I've been having "chicken pawm" (as they say in New York!) on the brain since seeing a beautiful one on Vanilla Basil, which begat the idea to make Chicken Parmesan Panini.  The breaded chicken was nice and moist, all nestled amongst the zesty marinara sauce and melted blend of Italian cheeses.  I decided to add in a slice of grilled eggplant for a little extra flavor and texture.  These sandwiches were real meals-in-one and were devoured quickly!
I thought I'd share a rather odd interaction I had at the grocery store after I left the farmer's market.  A cashier who's helped me on many occasions was working the checkstand – a nice lady in maybe her early 50s with long, bright red hair piled on top of her head.  As she scanned my items she asked, quite out of nowhere, "Do you like Mary J. Blige?"  The topic took me slightly off guard, but I responded, "Uhh…yeah.  Sure!  Yeah, she's cool."  The cashier went on to talk about how much she liked Mary J. Blige, she's the best, she's so real, etc.  Then she poses another question.
"Do you think you could get her autograph for me?"
I was about to start laughing along with her, but her face was dead serious.  She really wanted to know if I could hook it up.  OMG – who did she think I was??  All of a sudden, I felt like a parent who has to tell their kid there's no tooth fairy.  All I could muster was something to the effect of "Ummm…no, I don't think so."  Her reaction was more of disdain than disappointment:
"Oh.  I wasn't sure how big a fan you were."
Now I felt like some kind of Mary J. Blige fan poseur!!  Anyway, that was really weird.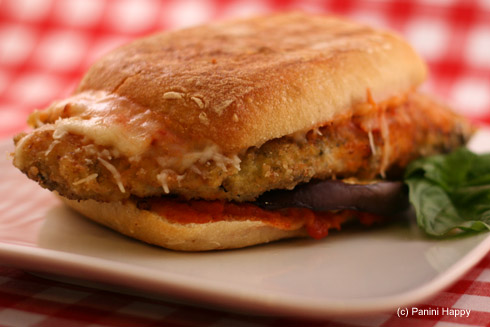 Chicken Parmesan Panini
Serves 4
INGREDIENTS:
Grilled Eggplant:
4 eggplant slices, about 3/8″ thick
Olive oil
Salt and pepper
Breaded Chicken:
4 boneless, skinless chicken breasts
Salt and pepper
1 egg, beaten
1 cup Italian seasoned bread crumbs
2 tablespoons olive oil
4 ciabatta rolls, split in half
1 cup marinara sauce
4 ounces shredded Italian cheese blend (i.e., mozzarella, parmesan, provolone, romano, etc.)
DIRECTIONS:
Preheat panini grill to medium-high heat (375 degrees).
To grill eggplant: Brush one side of eggplant slices with olive oil and season with salt and pepper.  Place on the panini grill seasoned side down.  Brush oil and season the other side of the eggplant slices.  Close the lid and grill for 4-5 minutes until eggplant is tender and grill marks appear.  Set aside and cover with foil to keep warm.
Unplug grill and clean off grates.  Reheat grill to medium-high heat (375 degrees).
To sauté chicken breasts: In a large sauté pan, heat olive oil over medium-high heat.  Place chicken breasts between two pieces of plastic wrap and pound chicken to 3/8″ thickness.  Season chicken with salt and pepper on both sides.  Dredge each piece of chicken in egg and bread crumbs and add to the sauté pan.  Brown chicken, about 2-3 minutes on each side.  Set aside and cover in foil to keep warm.
To assemble each sandwich: Spread about 2 tablespoons of marinara sauce each inside the top and bottom halves of a ciabatta roll.  To the bottom half add a slice of grilled eggplant, a breaded chicken breast and a few tablespoons of cheese.  Close the sandwich with the top half of the roll.  Grill 7-8 minutes until cheese is melted.  Serve immediately and enjoy!