Are you as sleep-deprived as I am this week from all of this late-night Olympics viewing?  But, man, it's been worth it.  As someone who has never been mistaken for athletic (does varsity cheerleading count??), I am in absolute awe of our real-life superheroes.  Especially the gymnasts – these girls and guys can fly.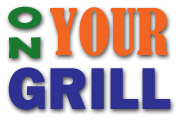 It actually didn't occur to me to make Olympic-themed panini until Carolyn from Savannah, Georgia suggested an interesting On Your Grill panini combination: ham, blueberry and Brie.  I'll admit, the skeptic in me did rear its head when I initially read this one.  Blueberries?  But when it comes to food, I've learned time and again, don't knock it till you try it.  As I tried to visualize this one, I realized that the colors in this sandwich would be red, white and blue (well, pink, but close enough).  The idea hit me: open-face American flag panini!
So, ladies and gentlemen…as a tribute to our American athletes over in Beijing, I present to you Go Team USA! Open-Face Panini: sliced French bread, topped with a thin layer of sweet honey, creamy Brie cheese, "stripes" of ham and plump summer blueberries.
Carolyn was right – these flavors do go great together!  Sweet and savory never seems to fail.  Ham and brie is a tried-and-true combo, but the blueberry factor was a new one for me.  I had debated whether to use whole blueberries or preserves, and I'm glad I went with the whole berries – that warm, gently sweet burst you get when they break in your mouth is a fun part of eating these snack-like sandwiches.  Thanks so much for the great idea, Carolyn!
Do you have a panini combination I ought to try?  Submit an idea for On Your Grill and I might feature it on Panini Happy!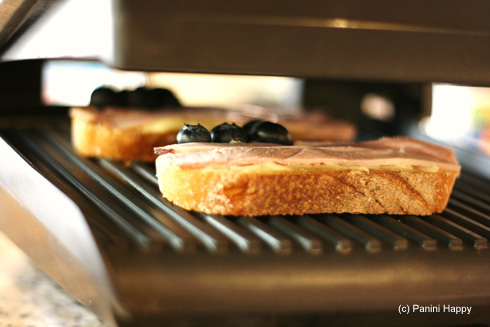 Go Team USA! Open-Face Panini
Serves 4
INGREDIENTS:
4 slices French bread
Honey
Brie cheese
2 slices deli ham, sliced into 1/2″ strips
Fresh blueberries
DIRECTIONS:
Preheat panini grill to medium-high heat (375 degrees).
To prepare each open-face sandwich: Spread a thin layer of honey on a slice of bread.  Spread a generous amount of Brie on top of the honey.  Arrange strips of ham and blueberries to create an American flag design on top of the Brie. Place sandwiches on the panini grill.  Close the lid, adjusting the grill height so that the upper grate does not make contact with the sandwich.  Grill for 3 minutes or until the cheese has melted and the bread is toasted.