It's been a hot time for sandwiches lately! Two of my blogging friends have released sandwich cookbooks in the past month. By their titles, 400 Best Sandwich Recipes and The Encyclopedia of Sandwiches, you can tell right away that each covers quite a bit of sandwich territory. Today I'll share with you the Grilled Crab, Mango & Avocado recipe from 400 Best Sandwich Recipes, by Alison Lewis of Ingredients, Inc. and later this week I've got another recipe from The Encyclopedia of Sandwiches, by Susan Russo of Food Blogga.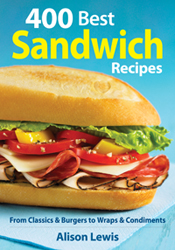 In 400 Best Sandwich Recipes, Alison Lewis takes on the gargantuan task of creating a comprehensive collection of sandwich recipes – everything from the classics to burgers to wraps and condiments. The Grilled Cheese section alone contains 91 recipes – and I thought I was exhausted of grilled cheese!
Without question, coming up with this many sandwich recipes requires a good amount of creativity. Alison's creativity proves to be boundless as she delivers innovative twists on familiar favorites such as BLT Pimiento Cheese Sliders, Tuna Caesar Wraps Prosciutto and Melon Grilled Cheese. She also has an appetizer section with a slew of mini sandwiches and crostini.
Out of the 400 recipes in this cookbook, the one that I knew right away I wanted to make first was the Grilled Crab, Mango & Avocado. The reason? A chance for sandwich redemption.
Back in the early days of Panini Happy I attempted to grill crab, mango and avocado panini. It was horrendous. I actually posted about what a disaster it was. My major faux pas back then was cheese choice: a really strong blue cheese. I have no idea what I was thinking with that.
The recipe in this cookbook calls for Muenster, a milder, more sensible choice. Also, the crab is tossed in lime juice and black pepper, making it more like a ceviche. This made for a fresh-tasting seafood sandwich. I substituted some flatbread that the Kontos company sent to me in place of the French bread the recipe calls for, which was a nice, toasty variation.
I knew this sandwich idea held promise when I first attempted it – I'm so glad this book prompted me to revisit it!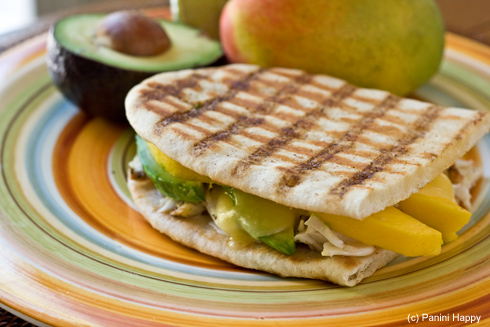 [print_this]
Grilled Crab, Mango & Avocado
Excerpted from 400 Best Sandwich Recipes by Alison Lewis © 2011 Robert Rose Inc. www.robertrose.ca Reprinted with permission. All rights reserved.
Prep time: 15 min | Cook time: 15 min | Total time: 30 min
Yield: 4 sandwiches
INGREDIENTS:
12 oz

fresh crabmeat, drained

3 tablespoons

freshly squeezed lime juice

1/8 teaspoon

freshly ground black pepper

8

slices French bread (1/2-inch thick slices)

1/4 cup

butter or margarine, softened

2

avocados (see Tips, below)

1

mango, thinly sliced

4 oz

Muenster cheese, thinly sliced
DIRECTIONS:
In a medium bowl, combine crab, lime juice and pepper.
Brush one side of each bread slice with butter. Place on a work surface, buttered side down. Slice avocados. Top 4 bread slices equally with crab mixture, avocados, mango and cheese. Cover with remaining bread slices, buttered side up, and press together gently.
Place sandwiches on preheated panini grill or in a large skillet over medium heat and cook, turning once if using a skillet, for 3 to 4 minutes or until golden brown and cheese is melted.
Serve immediately.
Tips: If you're short on time, purchase jarred mango slices and use 1 cup (250 mL), drained.
Avocados turn brown quickly but brushing with lemon juice will help it some. If you end up with half of a cut avocado, store it with the pit still in it and wrap tightly in plastic wrap in the refrigerator.
[/print_this]
I received a copy of 400 Best Sandwiches for free from the publisher but the opinions expressed here are my own.