For me, the biggest challenge of getting dinner on the table on weeknights is deciding what to make. I have been having an absolute field day (field week?) with a new cookbook for busy families I was invited to review – High Flavor Low Labor, by J.M. Hirsch, the food editor for The Associated Press. Each of the 150 recipes is geared for weeknight cooking, with a simple premise: "Foods that taste great going into the pot need less work from you to taste great when they come out."
I'm giving away a copy of the book!  [THE GIVEAWAY IS NOW CLOSED] Read on for my review and find out how to enter. PLUS you'll love the author's Fig, Prosciutto & Goat Cheese Panini recipe.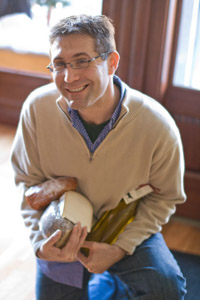 In High Flavor Low Labor, author J.M. Hirsch and his adorable young son (who is depicted throughout the book) leverage "the Parmesan cheeses, balsamic vinegars, jalapeños, chorizos and wasabis of the world" to create high-flavor meals that can be prepared in a relatively short amount of time. Mercifully, he avoids the phrase "quick and easy." In truth they are, but the emphasis of the book is really where it ought to be: on great-tasting food.
Among the recipes I've tried so far:
Baked Breaded Eggplant with Marinara – The panko crunch is terrific. I sliced the eggplant into strips for my two-year-old, who enjoyed the "sticks".
Red Curry Beef – I'm still pretty new to making my own curries, but I found myself devouring this one. It was almost like a Thai sloppy joe, served over fragrant jasmine rice.
Orecchiette Pasta with Wilted Greens – I love the subtle flavor of anchovies in pasta dishes. This one has kale as well, so I didn't have to come up with a separate vegetable to serve. Bonus!
Chicken Mole – This recipe was very rich and tasty but the chicken was not quite as succulent as my favorite mole poblano from Lotería Grill in Los Angeles. Of course, that takes many hours to achieve – this is very good for just 20 minutes of simmering.
If I had one criticism of the book it would be its use of boneless, skinless chicken breasts. It's all a matter of personal preference, but mine – particularly if big flavor is my goal – is always bone-in, skin-on and usually dark meat. Obviously, it's very easy to substitute whichever cut you prefer. Oh, and he takes a little dig at "silly" panini presses. That's okay, J.M. – I still loved your sweet and savory Fig, Prosciutto & Goat Cheese Panini! I've shared the recipe at the bottom of this post.
—–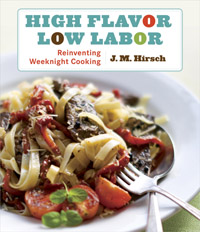 Win a copy of High Flavor Low Labor!
To enter: Leave a comment on this post with your favorite flavor boosting ingredient you like to use when you cook. (For me, I tend to use balsamic vinegar and cinnamon quite a bit).
The giveaway ends Monday, September 20, 2010 at 12 PM PDT. [THE GIVEAWAY IS NOW CLOSED] The winner will be announced by Tuesday, September 21, 2010. One entry per person, please. Due to shipping costs, you must have a U.S. or Canadian address to be eligible.
—–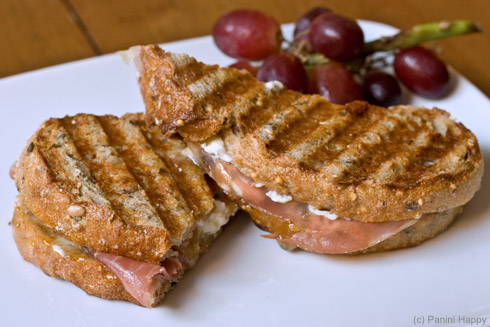 Fig, Prosciutto & Goat Cheese Panini
From High Flavor Low Labor, by J.M. Hirsch. Reprinted with permission.
Makes 2 servings
INGREDIENTS:
4-ounce log chevre (soft goat cheese)
4 slices rustic multigrain bread
2 tablespoons fig jam
1 tablespoon chopped fresh oregano
4 slices prosciutto
1 tablespoon butter
DIRECTIONS:
Spread a quarter of the goat cheese over one side of each slice of bread.
Spread 1 tablespoon fig jam over the goat cheese on 2 of the slices.
Scatter the oregano over the fig jam, then top it with prosciutto, then the
remaining slices of bread, cheese side down.
In a large skillet over medium-high heat, melt the butter. Add the
sandwiches, then set a heavy or weighted pan over them. Cook until the
bread is lightly browned on the bottom, about 2 minutes.
Remove the top pan, flip the sandwiches, then replace the top pan and
cook for about another 2 minutes.
(My note: Alternatively, if you use a panini grill like I do, you can just heat it to medium-high and grill for about 3-4 minutes.)
The book's publisher is providing one copy to me for review and one for the reader giveaway.