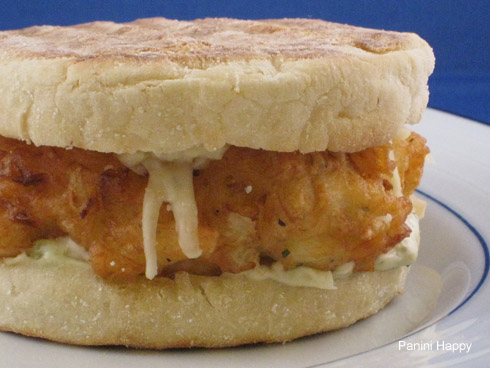 It's back!  It's been a little while since I've opened the On Your Grill vault – I've got a good one for you today.  As you'll recall, the On Your Grill series is an opportunity for Panini Happy readers to submit your ideas for panini and have them featured here on the blog (click here to submit one!).  There have been some great combinations in the past: Grilled Raclette Cheese & Honey, Roast Beef with Blue Cheese & Apple, Tomato, Feta & Oregano.  It's high time I tried another one!
Robin Sue of the Big Red Kitchen blog had the following suggestion:
Ok, I would like one with the fried fish patty from my site. Hmm. Fish Patty, with a good robust tartar sauce, you are good at picking the cheese and bread with some type of salad greens or coleslaw or pickles or something….
A Panini Happy First – incorporating a recipe from another blog!  Well, Robin Sue, I'm more than happy to do it, especially since I'd already starred your yummy-looking Favorite Fish Patties in my Google Reader and was planning to make them soon.  And then a few days later I saw a great recipe for tartar sauce on Closet Cooking (Kevin has been unveiling the secrets behind his delicious fish & chips over the past week!).  So I decided to go ahead and make that too!  And, of course, I had to put my own Panini Happy "stamp" on things with some more of that sharp Old Quebec Vintage Cheddar that I had on last week's Burger Mini-Panini Sliders.  Put it all together on a nice, soft English muffin and you've got a sandwich that's a keeper.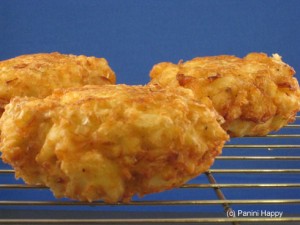 Let's go ahead and address something you're bound to notice in today's post.  I've gone BLUE!!  Curiously.  Oddly.  Unintentionally.
What you're observing is a new episode in the evolution of my food photography – the lightbox.  I've already written a thousand times on the blackboard "I will not say bad things about how my blog photos look…I will not say bad things about how my blog photos look…"  That said, perhaps it's okay if I let you know I'm working on improving my blog photos so you can "feast your eyes", as they say, and enjoy these panini as I much as I do.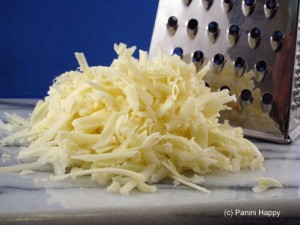 I usually like to take photos during the afternoon, when there's a ton of great natural light pouring into my kitchen.  But sometimes day turns into night before I have a chance to get started and that's when I thought a lightbox might come in handy.  Overall, I liked the soft, diffused lighting it gave – WAY better than turning on my overhead lights, without question!  But there's the issue of the blue background the box came with.  Whoa, Nelly that's bright.  Of course, I only realized this once it was time to shoot – and as many of you know, once the food is ready there's not a whole lot of time to mess around.  So I went ahead and shot with the blue and promised myself that next time we'll experiment with something a bit more eye-pleasing!  I'm open to (kind) photography suggestions if you have any!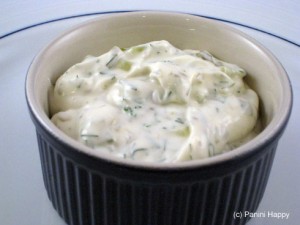 Back to the panini.  Crispy, zesty, tangy – these were a real feast for your senses.  Robin Sue's fish patties had a great crispy outer texture, as she promised in her post.  I used wild Pacific cod, which was super-easy to cook in the microwave.  Kevin's tartar sauce, with all the fresh dill flavor, was the perfect complement.  I chopped my pickles a bit on the chunky side, which added some nice texture.  My sharp cheddar, which I grated this time on the suggestion of my local cheese shop manager, added a nice, tangy bite.  Last, but not least, the English muffins remained soft on the inside as I'd hoped, allowing the crispy fish patty to provide the main "crunch" in the sandwich.
Thanks again for the great recommendation, Robin Sue – it was quite a tasty one!  Got an idea you'd like to see featured on Panini Happy?  Click here for the submission form.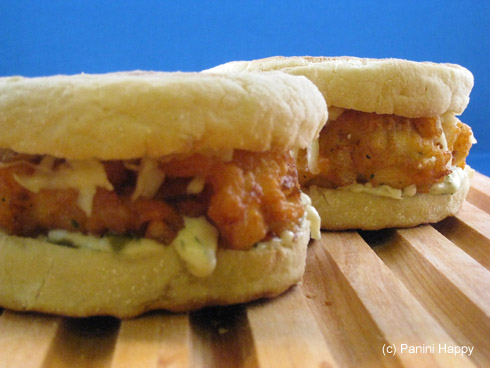 Crispy Fish Panini
Serves 4
INGREDIENTS:
4 English muffins
Tartar sauce (see recipe on Closet Cooking)
4 fish patties (see recipe on Big Red Kitchen)
3 oz. sharp cheddar cheese, grated
DIRECTIONS:
Preheat panini grill to medium-high heat (375 degrees).
For each sandwich: Spread a generous amount of tartar sauce inside the bottom half of an English muffin.  Place a fish patty on top.  Sprinkle cheese onto the fish patty.  Place the remaining half of the muffin.  Grill 7-8 minutes until cheese is melted.  Serve immediately and enjoy!