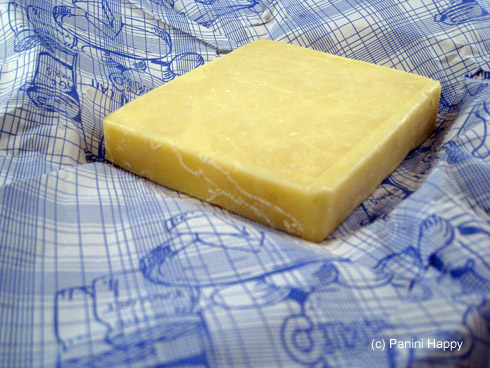 It was fantastic on burgers (see Burger Mini-Panini Slider Bonanza!) and added a great punch of flavor to fish patties (see Crispy Fish Panini) – it's about time I give Old Québec Vintage Cheddar its proper due in a Cheese, Please! post.
One of my good friends, Gillian, hails from Montreal and I felt a sense of vicarious pride as I enjoyed this fine cheese from her homeland.  A pasteurized cow's milk cheese from, Old Québec Vintage Cheddar cheese is aged at least 3 years.  It's extra-sharp flavor is very tangy, yet the texture is still rather smooth.  It's definitely a firm cheese but it melts really well nonetheless, making it an excellent choice for panini.  Grating the cheese is probably the best way to ensure even melting, as I did with the Crispy Fish Panini, although slicing worked fine as well with the sliders.
When I think of cheddar cheese, I envision a solid orange block.  Yet, as you can tell from the above photo, Old Québec is a white cheddar.  I used to think that white cheddar meant it had sharper flavor.  It turns out that orange color just means the cheesemaker incorporated annatto natural plant dye into the cheesemaking process.  It has nothing to do with the flavor.  Who knew?
So the next time you're looking for a cheese with a big pop of tangy flavor, keep an eye out for the Old Québec.  Besides being great on sandwiches, my local cheese shop suggests it's also great with crackers, dates and tropical fruits!