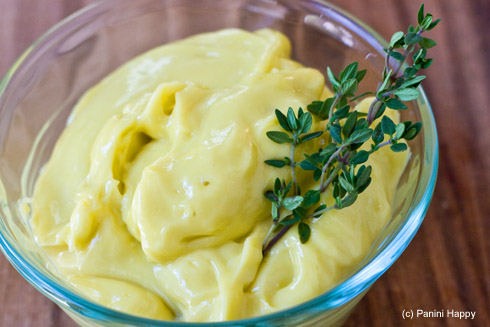 Condiment Week continues with Lemon Aïoli!
It's true what everyone says – once you make your own mayonnaise the jarred stuff just never quite measures up. What was once a means to keep your sandwich from being overly dry becomes a significant flavor enhancer in its own right. While aïoli isn't quite exactly the same as mayonnaise, it's often used interchangeably in cooking and I definitely enjoy both in panini.
My favorite way to use lemon aïoli is on fish sandwiches, but it's great with chicken, turkey and vegetables as well – in fact, this recipe actually originally accompanied asparagus. There's no missing the lemon here – the spread is quite zesty. You'll want to be sure to use a good-quality olive oil, as the flavor features very prominently.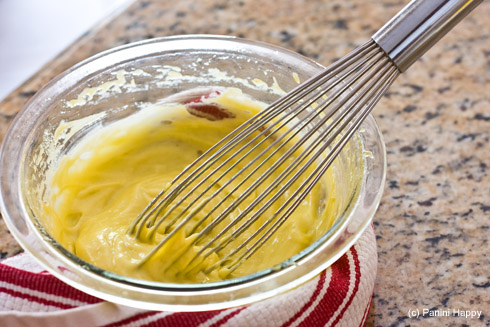 [print_this]
Lemon Aioli
Adapted from the Asparagus & Lemon Aioli recipe on Real Simple
INGREDIENTS:
1 egg yolk
1/2 teaspoon Dijon mustard
3/4 cup olive oil
1 tablespoon fresh lemon juice
1/4 teaspoon kosher salt
DIRECTIONS:
In a small bowl, whisk together the egg yolk and mustard. Whisking constantly, very slowly add the oil in a steady stream (tip: roll up a kitchen towel and wrap it around the base of your bowl to hold it steady while you whisk). The aïoli should be quite thick. Whisk in the lemon juice and salt.
[/print_this]