It's that time of year again – Big Game Panini Week! Each year I create sandwiches in honor of each of the teams playing in the Super Bowl. A reader, Joanne, suggested on the Panini Happy Facebook community that since this year's matchup between the New York Giants and the New England Patriots is a "chowder showdown" the sandwiches should pair well with Manhattan and New England clam chowder, respectively. It sounded pretty logical to me!
Tomato-based Manhattan clam chowder can definitely hold its own alongside the bold flavors in these Pastrami, Aged New York Cheddar and Peperoncini Panini. You can't help but think "deli" when you think about New York City sandwiches. One of the city's most famous is Katz's Deli, where they've been serving their prized, enormous hot pastrami sandwich for decades. Here, I've matched pastrami with some sharp aged New York cheddar, tangy peperoncini (aka sweet Italian peppers) and a bold homemade horseradish sauce on pumpernickel. For fun, I decided to cut the bread into football shapes and decorate them with more of the horseradish sauce. I'm strongly tempted to invite people over to watch the game on Sunday just so I can make these again.
New England fans: get ready to see what I grilled for your team later this week!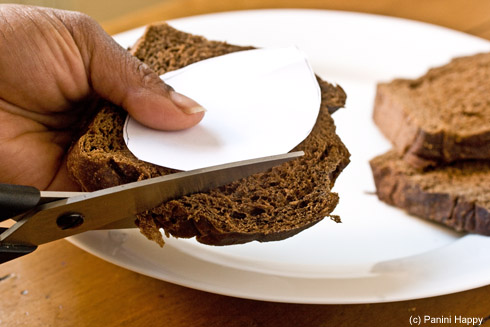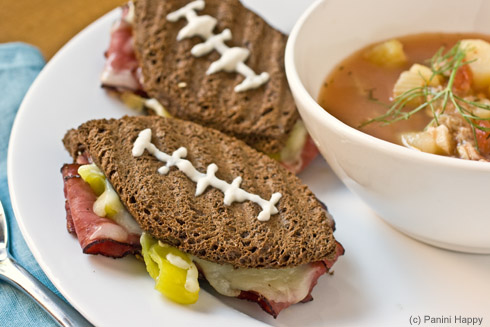 [print_this]
Pastrami, Aged Cheddar and Peperoncini Panini
Prep time: 10 minutes | Cook time: 8 minutes | Total time: 18 minutes
Yield: 4 panini
INGREDIENTS:
Horseradish Sauce:
1/4 cup

sour cream

2 tablespoons

mayonnaise, regular or reduced-fat

1 tablespoon

prepared horseradish

1 teaspoon

finely grated onion

1/2 teaspoon

Worcestershire sauce

Salt and pepper
Panini:
8 slices

pumpernickel bread

1/4 pound

thinly sliced pastrami

2 tablespoons

sliced peperoncini*

4 ounces

shredded sharp aged cheddar cheese
DIRECTIONS:
Whisk together the horseradish sauce ingredients in a small bowl, seasoning it with salt and pepper to your taste. Refrigerate the sauce until you're ready to use it.
Heat the panini maker according to the manufacturer's directions.
For each sandwich: Spread a few teaspoons of horseradish sauce on one slice of bread (see advice below for cutting the bread into football shapes). Top it with a few slices of pastrami, a few slices of peperoncini and a few tablespoons of cheese. Close the sandwich with a second slice of bread.
Grill the panini until the cheese is melted and the bread is toasted, 3 to 4 minutes. Serve them immediately, with a bowl of Manhattan clam chowder, if you like.
* You can find jarred peperoncini in the condiments aisle at the grocery store, near items like olives.
If you'd like to make football-shaped panini: Draw and cut out a simple football-shaped template for yourself out of paper (you can make it as large or as small as you want, depending on the size of your bread). Then just lay your template on top of each slice of bread and cut around it with kitchen shears or a sharp knife.
After the panini are grilled, let them cool slightly for about a minute. Meanwhile, spoon the remaining horseradish sauce into a small plastic bag and make a small snip at one of the bottom corners. Gently pipe the sauce into a football laces design on top of the panini.
[/print_this]