Big Game Week on Panini Happy continues with sandwiches to honor the New England Patriots!
You won't believe how many different ideas I toyed with to represent New England and pair well with New England clam chowder. Panini Happy Facebook fans suggested lobster rolls, fried clams, even a deconstructed New England clam chowder on Boston brown bread (I especially liked that creative one). In the end, I arrived at Grilled Cod Sliders on Parker House Rolls. Inside I've dressed them up with a little bacon, lettuce and tomato as well as homemade dill tartar sauce.
Cod has deep ties with New England. I never even thought about it before but did you know that Cape Cod was named for the volume of cod found in Massachusetts Bay? A carving of a codfish, known as the Sacred Cod, hangs in the House of Representatives chamber of the Massachusetts State House in Boston, symbolizing the importance of the fishing industry in the state.
Any fluffy dinner roll would work great for these sliders, but if you want to keep the New England theme going, buttery Parker House rolls like the ones I baked are the way to go. They originated at the Parker House Hotel (also the birthplace of the Boston Cream Pie) in Boston in the late 1800's. I followed the recipe from Joy the Baker, but there are also some great ones from King Arthur Flour and The Pioneer Woman.
Many thanks to Kelly from Evil Shenanigans and Lisa from Lisa is Cooking for the tartar sauce ideas they shared with me on Twitter. Kelly's sauce base combined with the flavors of pickle juice and dill from the recipe Lisa shared makes a pretty amazing condiment to go with fish!
In case you missed it, I shared football-shaped Pastrami, Aged Cheddar and Peperoncini Panini earlier this week in honor of the New York Giants. May the better team win this weekend!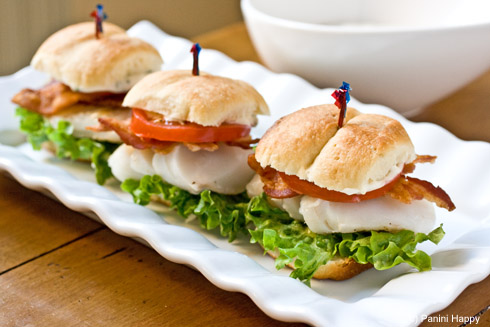 [print_this]
Grilled Cod Sliders
Prep time: 20 min | Cook time: 4 min | Total time: 24 min
Yield: 8 sliders
INGREDIENTS:
Tartar Sauce:
1/2 cup

mayonnaise, regular or reduced-fat

2 tablespoons

minced dill gherkins plus 1 tablespoon pickle juice

1 tablespoon

finely minced onion

1 tablespoon

chopped fresh dill

Dash

black pepper
Cod:
1 pound

fresh cod fillets

2 tablespoons

extra virgin olive oil

Coarse salt and black pepper
Sliders:
8

Parker House rolls or other dinner rolls

4

green lettuce leaves, torn in half

2

medium tomatoes, sliced thinly

4

strips cooked bacon, broken in half
DIRECTIONS:
Whisk together all of the tartar sauce ingredients in a small bowl. Refrigerate the sauce until you're ready to use it.
Heat the panini maker according to the manufacturer's directions.
Rub olive oil all over the fish and season it with salt and pepper.
Place the fish on the panini maker and close the lid so that the upper grate is resting on it without pressing it. Grill the fish until it's cooked through and flaky, 3 to 4 minutes.
For each slider: Split a roll in half lengthwise to create top and bottom halves. Spoon on a bit of tartar sauce inside each half of the roll. On the bottom half, layer on a lettuce leaf, a small piece of the fish sized to fit on the roll, two half-strips of bacon and a slice of tomato. Close the slider with the top half of the roll. If you want to be a little festive you can stick a party toothpick through the top of the slider, which will also help to hold it all together.
Serve the sliders immediately, with a bowl of New England clam chowder if you'd like.
[/print_this]