[Please join me in a momentary pause from sandwiches and grilling for a sweet treat in honor of an even sweeter friend!]
A new baby boy is on the way for my friend Jenny, creator of the boundlessly creative blog, Picky Palate! A bunch of us are celebrating on our blogs today with a surprise virtual baby shower, hosted by Marla from Family Fresh Cooking and Amanda from Kevin and Amanda. Jenny, who is expecting son #3,  is waking up this morning to a shower of treats across the blogosphere – SURPRISE, Jenny!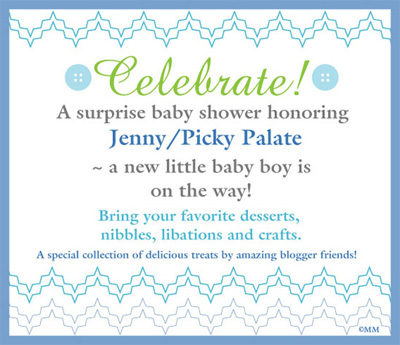 As I contemplated a dish to bring to the "party", one idea just wouldn't leave my head: I'm gonna stuff something with Oreos. Jenny is famous for her Oreo-Stuffed Chocolate Chip Cookie recipe (hers is the original!) so for her baby shower I thought it would be fun to stuff mini Oreos inside some Baby Oreo Ice Cream Pies.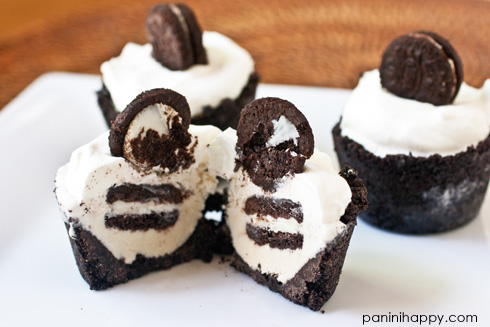 I enlisted the help of one of my own babies (it didn't take much to convince a 4-1/2 year old to assist with cookies and ice cream) to assemble these incredibly easy, no-bake, frozen bites.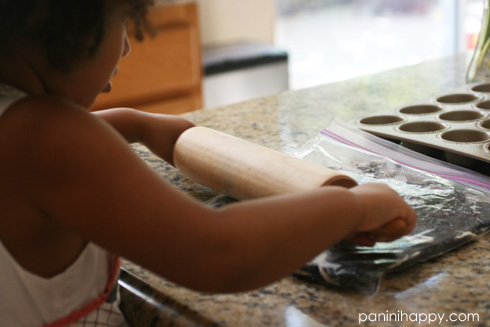 We started by crushing a whole bag's worth of regular Oreos. Rolling over them with a rolling pin is fun, but if you have a food processor that's actually a more effective tool for getting the cookies good and ground. The smaller the crumbs the better the crust holds together.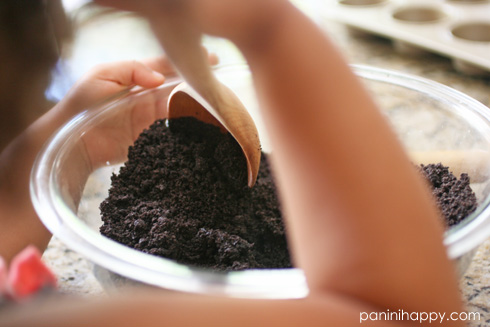 Next, we stirred in butter…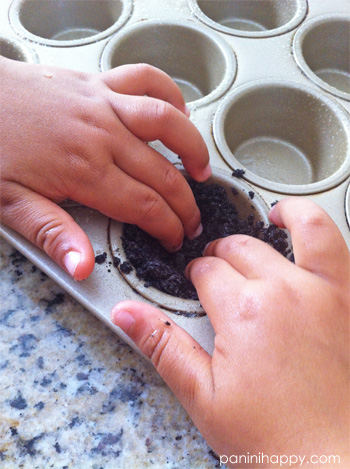 …and pressed the Oreo crust into the wells of our mini muffin pan. We didn't need to bake the crusts at this point, but we did stick them into the freezer for about 30 minutes to get them nice and cold before we spooned in the ice cream.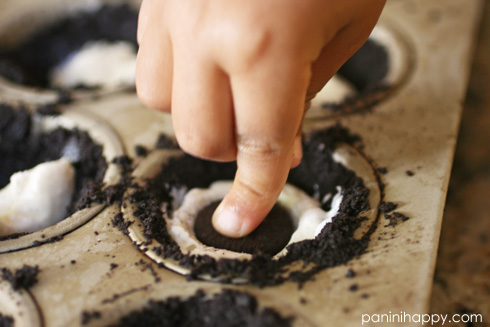 We needed to let the ice cream soften a bit at room temperature in order to be able to spoon it into the crusts but that meant we had to work fast so it didn't completely melt. My daughter let me take over with the ice cream, but she came back when it was time to press in the mini Oreos. I covered them up with more ice cream and back they went into the freezer while I made some whipped cream. The final step was to top each pie with whipped cream and another mini Oreo.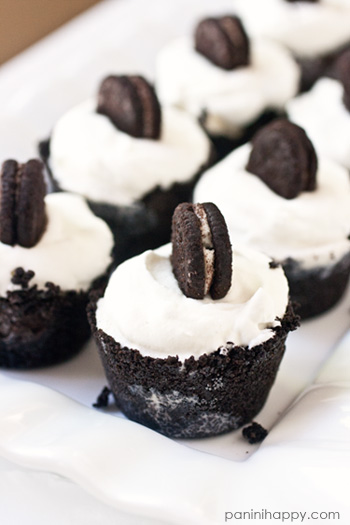 Oh my goodness, this was the best bon bon idea I've had in a while! I'd initially considered making these pies in a regular-sized muffin tin rather than the mini, but these baby-sized pies turned out to be just the right two-bite rich dessert. Besides, this is a party and there are a whole lot more fun dishes to share (with lots more Oreos in the mix too!):
Amanda: i am baker Special Cake for a "Picky Palate"
Amanda: Kevin and Amanda Cinnamon Blueberry Biscoff Breakfast Cookies
Angie: Bakerella Baby Faces
Averie: Averie Cooks Chocolate Banana and Biscoff Graham Bars
Bev: Bev Cooks Horseradish Deviled Eggs
Bridget: Bake at 350 Cute as a Button Cupcakes
Cheryl: TidyMom Salted Caramel Cupcakes
Gaby: What's Gaby Cooking Blueberry Buttermilk Cake
Heather: Heather's Dish Perfect Pancake Bites
Julie: The Little Kitchen Mixed Berry Mint Slushies
Kristan: Confessions of a Cookbook Queen Homemade Animal Crackers
Lauren: Lauren's Latest Mini Chocolate Lava Cakes
Lori: Recipe Girl Oreo and Caramel Stuffed Chocolate Chip Cookie Bars
Maria: Two Peas and Their Pod Cookies 'n Cream Sheet Cake
Marion: Sweetopia Baby Shower Cookie Favors
Marla: Family Fresh Cooking Blueberry Mint Agua Fresca
Michelle: Brown Eyed Baker Shrimp Nacho Bites
Naomi: Bakers Royale Chocolate and Peanut Butter Chocolate Chip Trifles
Recipe Boy: Chocolate Dipped Peanut Butter Cup Stuffed Oreos
Robyn: Add a Pinch Blue Velvet Cake
Shaina: Food For My Family Ginger Plum Preserves
Shelly: Cookies and Cups Oreo Pop Baby Rattles
I couldn't be happier for Jenny and the whole Flake family – welcome baby #3!
[print_this]
Baby Oreo Ice Cream Pies
Prep time: 1 hour 20 minutes | Cook time: 0 minutes | Total time: 1 hour 20 minutes
Yield: 24 mini pies
INGREDIENTS:
1

(15.5 ounce) package Oreo cookies (about 39 cookies)

6 tablespoons

unsalted butter, melted

3 cups

vanilla ice cream

48

mini Oreos, divided

3/4 cup

heavy cream

1/4 cup

powdered sugar
DIRECTIONS:
Spray a 24-well mini muffin pan with baking spray.
Grind the Oreos (not the minis) finely, either in a food processor or by sealing them in a large plastic bag and rolling over them with a rolling pin. The smaller the crumbs the better the cookie crust will hold together.
Transfer the ground Oreos to a large bowl and mix in the butter until it's well combined.
Lightly fill each mini muffin well with the crust and press the crust into the bottom and the sides with your fingers. Transfer the pan to the freezer to chill and solidify for 30 minutes.
Set out your ice cream at room temperature for 5 to 10 minutes until it's soft enough to spoon out. Working quickly, fill each pie crust about half full with ice cream, tuck in a mini Oreo and add more ice cream. Return the tray to the freezer.
In a medium bowl, whip the cream and powdered sugar together with a wire whisk or electric mixer until stiff peaks form. Bring the pies out of the freezer, top each one with whipped cream and a mini Oreo for garnish.
Freeze the pies for at least an hour before removing them from the tray and serving. NOTE: You may need to run a butter knife along the edges to coax out the pies.
[/print_this]