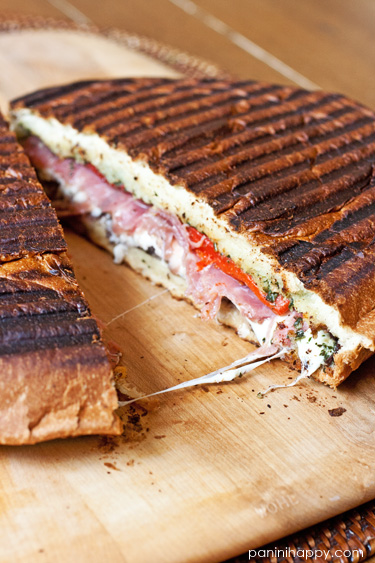 I was up in Los Angeles last week for a tour of the King's Hawaiian Bakery when Courtney Taira – a member of the Taira family, who founded and owns the company – mentioned a ham and cheese sandwich they like to make on a whole loaf of their bread. "It can feed the whole soccer team," she commented. I immediately had an image of a big, fluffy round loaf of sweet Hawaiian bread loaded with savory fillings…grilled.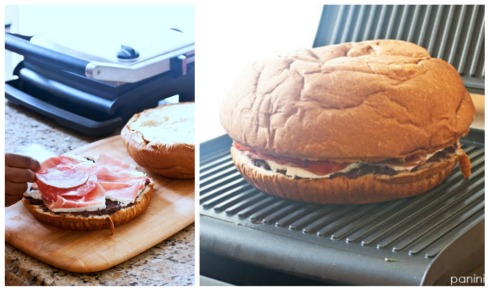 I brought up the concept to my sister and it reminded her of the strombolis, full of Italian meats and cheeses, we used to get from Stew Leonard's in Connecticut back when I was in high school. It came as a big stuffed roll and we'd slice it up. A stromboli is usually baked inside pizza dough, like the one my friend Sommer recently made on A Spicy Perspective, but the idea seemed easy enough to convert to sandwich form.
For my stromboli-style panini, I sliced open a whole round of King's Hawaiian sweet bread (you could also try this with a light ciabatta) and layered a slew of antipasto ingredients inside: tapenade, fresh mozzarella, prosciutto, sopressata, roasted red peppers and basil pesto. I normally wouldn't grill panini on such soft bread, but in this case there was so much airy volume there was no way it would flatten to a thin cracker (the usual concern with soft breads on the panini maker).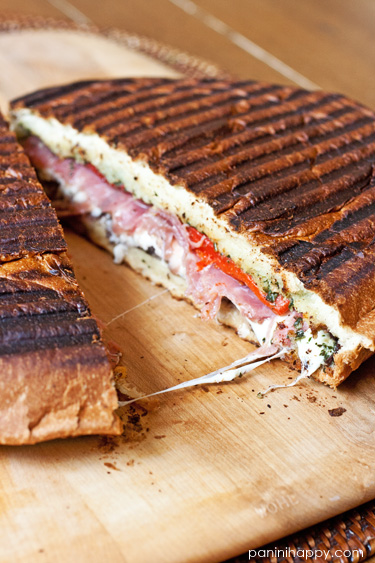 This turned out fantastic – fit for a crowd! As much as I love light, fluffy Hawaiian bread, it turns out it also tastes great pressed. The antipasto fillings, as you can see, oozed nicely together inside their sweet surroundings. One thing with grilling the Hawaiian bread, of course, is that the sugars in the bread are going to start to burn after a while – hence the extra-dark grill marks. I didn't mind this one bit, I think it adds character. 🙂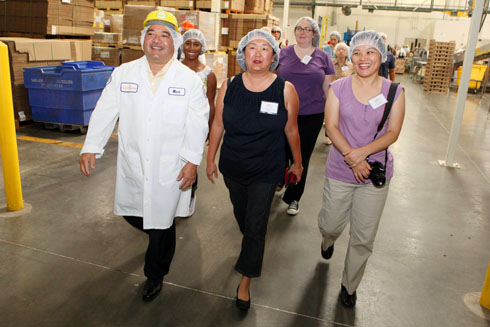 Speaking of quirky…that's me in the hairnet, walking just behind King's Hawaiian CEO, Mark Taira. They really rolled out the "aloha" for a group of us Southern California bloggers, treating us to a rare behind-the-scenes tour of their enormous bakery in Torrance (it felt like stepping right into an episode of Unwrapped) and an incredible lunch featuring some of LA's most popular food trucks who happen to feature King's Hawaiian bread on their menus.
It was hot in there – it felt like at least 90 degrees – but I don't think any of us minded because the aromas of fresh-baked bread were almost unbearably amazing. As we walked through the various segments of the baking process, I don't think I have craved bread more strongly ever before in my life. Finally, when I could hardly stand it anymore, we turned a corner and there it was…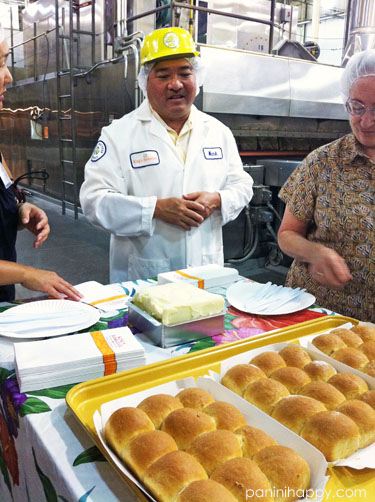 …a table full of hot-off-the-line honey wheat rolls and one insanely large block of butter! Talk about a welcome sight – I was practically giddy.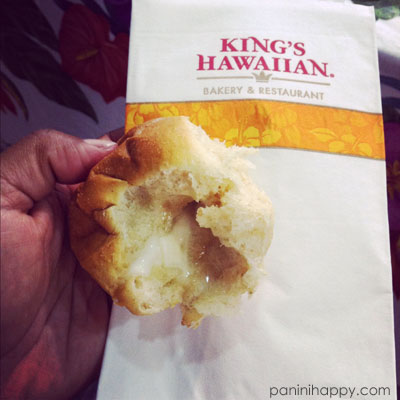 I've had many Hawaiian rolls in my day, but this one will always stand out in my memory as the absolute best of them all – piping hot, with the tiniest hint of a crispy crust on the outside. But that was literally just a taste of what was to come.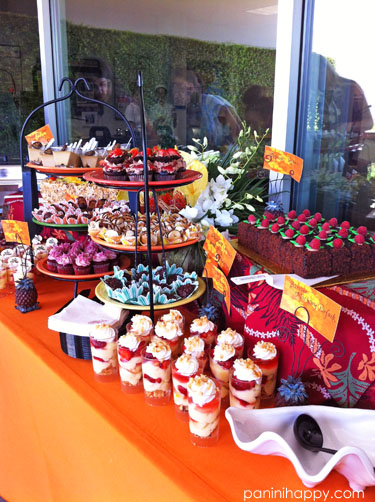 What is that, about 10 different gorgeous desserts on the dessert table? I'm glad I saw this table right as I entered the lunch area so I knew to pace myself when it came to my sampling from the four food trucks that were positioned around the company parking lot – Lobsta Truck, Kogi, Ludotruck and the Buttermilk Truck – and the tailgate grill from King's Hawaiian's own restaurant. We took off the hair nets, draped beautiful fresh flower leis over our shoulders and began to explore.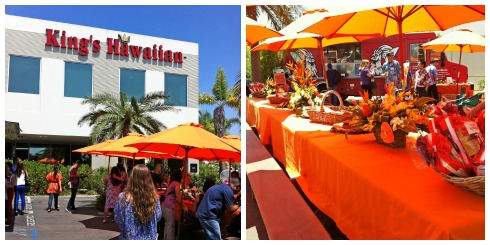 With all the food contest judging I've been doing lately, I've gotten used to taking just a bite or two and then moving on, but I have to say I couldn't help but take more than a few bites that afternoon!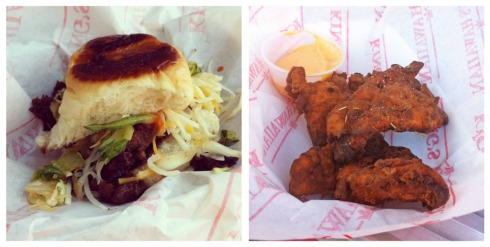 Pictured above are my two favorites of the day – the short rib sliders from the Kogi truck (oh my goodness, every piece of glowing press I'd read about this truck was so true – most flavorful meat ever!) and the famed buttermilk fried chicken from Ludotruck (hot, perfectly seasoned, served with spicy mayo and a King's Hawaiian sweet roll). That's pride in craftsmanship right there.
Mahalo, King's Hawaiian and Taira family for a fantastic day!

[print_this]
Antipasto Stromboli Panini
Prep time: 10 minutes | Cook time: 10 minutes | Total time: 20 minutes
Yield: 8 servings
INGREDIENTS:
1

(1-pound) loaf sweet Hawaiian bread or ciabatta

3 tablespoons

olive tapenade

3 tablespoons

basil pesto

1/4 pound

fresh mozzarella, sliced

4 slices

prosciutto

6 slices

hot sopressata or other salami

1/4 cup

roasted red peppers, sliced
DIRECTIONS:
Heat the panini maker to medium heat.
Split the bread lengthwise to create top and bottom halves. Spread tapenade inside the bottom half of bread and spread pesto inside the top half.
On the bottom half of bread, layer on the mozzarella, prosciutto, hot sopressata and roasted red peppers. Close the sandwich with the top half of bread.
Grill the sandwich until the cheese is melted, 8 to 10 minutes. Slice the sandwich into 8 wedge portions and serve.
[/print_this]