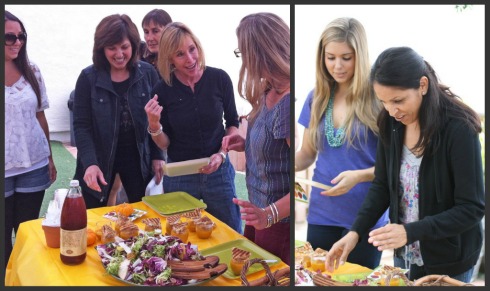 Those of us who love to cook know how it is. Nothing makes us happier than to pour our hearts into preparing a special meal and see delight on the faces of our guests as they enjoy it. I spent a good chunk of last week chopping, slow cooking, baking and caramelizing to pull off a lunch party for the staff of our preschool last Friday.
In conjunction with their National Sandwich Day Challenge, Arnold/Oroweat asked me to host a sandwich party featuring their Health-full bread (see the giveaway at the end of this post). I saw it as the perfect opportunity to show my appreciation for all of the teachers and aides at our school by treating them to a special lunch just before their weekly staff meeting. After much frantic scrambling that morning and some last minute packing help from my babysitter (thanks again, Jo!) I managed to get all of my trays and bowls transported to the school and set up under the big tree in the play yard.
I served three types of sandwiches: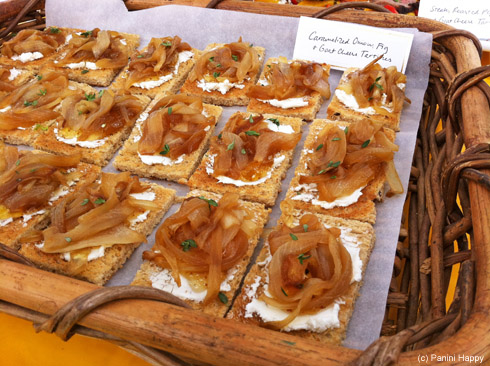 Caramelized onion, fig preserves and goat cheese tartines…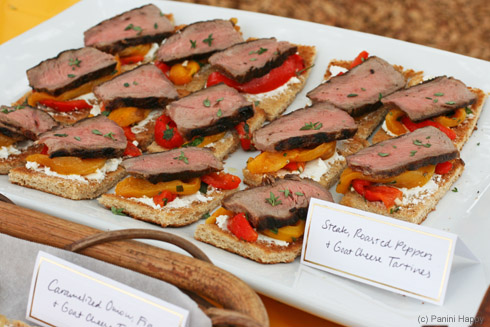 Steak, roasted bell peppers and goat cheese tartines…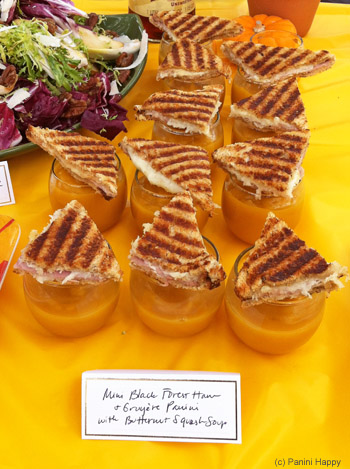 …and Mini Black Forest Ham and Gruyère Panini over little bowls of warm butternut squash soup.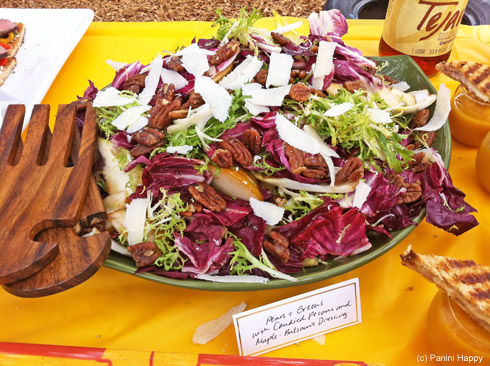 My salad was Tyler Florence's Fall Salad, with fresh pears, frisée and radicchio tossed in a maple balsamic vinaigrette with candied pecans and shaved parmigiano-reggiano on top.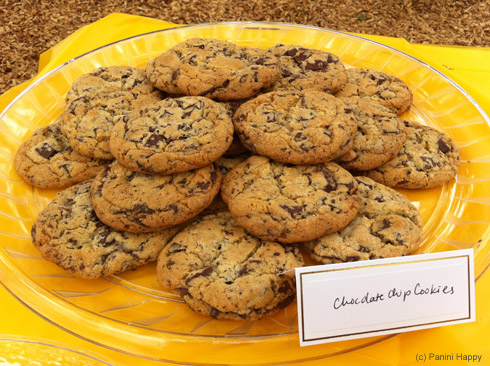 For dessert, I baked the New York Times chocolate chip cookies, which is pretty much my prevailing favorite recipe at the moment. The teachers transferred this whole plate over to their dining table.
We have a few teachers who are gluten-free so I made them a special plate with the same sandwiches prepared on gluten-free bread. I also baked them a plate of gluten-free chocolate chip cookies (which are actually rather good!).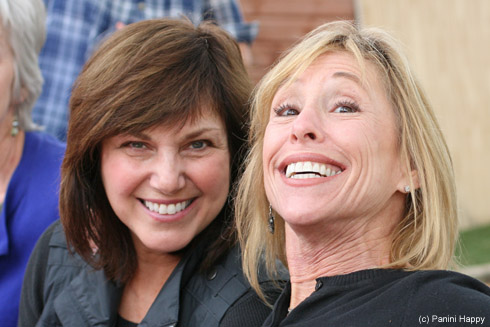 The staff has let me know that they would be very willing to help me out the next time I'm looking to cook for a group. 🙂
* * * * *
GIVEAWAY
Arnold/Oroweat would like to give 10 Panini Happy readers the opportunity to try their Health-full bread for free.
To enter, simply leave a comment on this post.

[THE GIVEAWAY IS NOW CLOSED]
I'll choose 10 winners at random to receive free coupons. The giveaway will close on Monday, October 24 at noon PDT and is open to those with U.S. addresses only.
**UPDATED 10/26/11 – Congratulations to the winners!
#17 – Kristi
#7 – Elisa B
#13 – Sami
#15 – Robbi H
#30 – Sharon Clifton
#4 – Robin Sue
#26 – Jacqui
#36 – Roxana Payton
# 3 – Nelly Rodriguez
#23 – Debbie
* * * * *
This post is one in a series sponsored by Arnold/Oroweat Bread, for which I have received compensation, but my opinions are always my own.