I never need much of an excuse to make grilled cheese, but a rainy day is about as perfect an excuse as you're gonna get. The sky just opened up outside the coffee shop where I'm sitting right now. This is newsworthy stuff in San Diego.
I surprised even myself when I first decided to make these Wild Mushroom Melt Panini. Me, the one who is more commonly known to remove mushrooms from dishes. I'll say this, though. In my experience, there aren't many foods that can't be remarkably enhanced by sautéing them in olive oil and butter with garlic and shallots and finishing them with some balsamic vinegar. Mushrooms, it turns out, are no exception.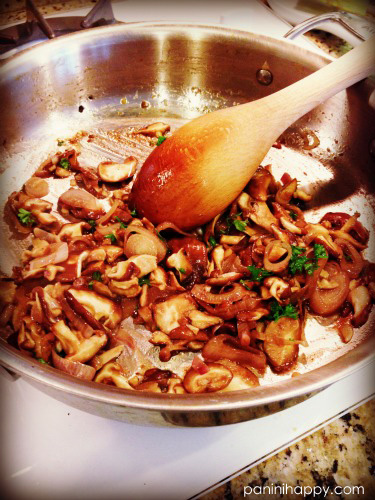 Silky wild mushrooms and shallots…melty Gruyère…toasted rye bread…this gray day just got a whole lot cozier!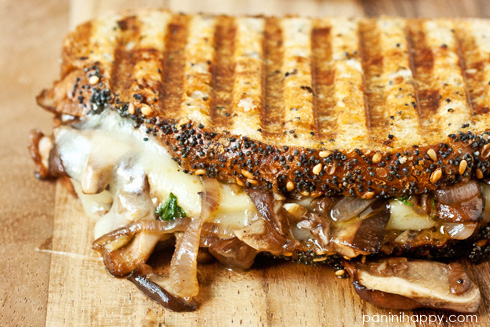 [print_this]
Wild Mushroom Melt Panini
Prep time: 10 minutes | Cook time: 20 minutes | Total time: 30 minutes
Yield: 4 panini
INGREDIENTS:
Sautéed Wild Mushrooms:
1 tablespoon

extra virgin olive oil

1 tablespoon

unsalted butter

1/4 cup

thinly sliced shallots

2 teaspoons

minced garlic

2-1/2 cups

sliced wild mushrooms, such as shiitake, chanterelle or porcini

1 tablespoon

balsamic vinegar

1 tablespoon

chopped fresh parsley

Coarse salt and black pepper
Panini:
4 tablespoons

butter, room temperature

8 slices

rye bread, sliced from a dense bakery loaf

1/2 pound

Gruyère or Swiss cheese, sliced
DIRECTIONS:
Heat the olive oil and butter in a large skillet over medium heat until the butter is melted. Add the shallots and garlic and cook them, stirring frequently, until they're fragrant, about a minute. Add in the mushrooms, cooking and stirring occasionally until the mushrooms are tender, 5 to 7 minutes. Stir in the balsamic vinegar and parsley and season with salt and pepper to taste. Remove the skillet from the heat and set it aside.
Heat the panini maker to medium-high heat.
For each sandwich: Spread butter on two slices of bread to flavor the outside of the sandwich. Flip over one slice and top the other side with cheese, sautéed mushrooms and more cheese. Close the sandwich with the other slice of bread, buttered side up.
Grill the panini, two at a time, until the cheese is melted and the bread is toasted, 4 to 5 minutes.
[/print_this]