Ever wonder how you'd fare on Iron Chef America or Chopped? If you were given random ingredients to incorporate into a creative (and tasty) dish, could you pull it off? Well, I'm about to find out!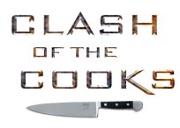 The Southwest Thanksgiving Panini and Chowder you see above is my entry in a fun Chopped-style competition with our local San Diego Whole Foods stores called "Clash of the Cooks". Local bloggers were challenged to create a holiday inspired dish from these four mystery ingredients from the store:
Whale Tails Tortilla Chips
Whole Foods Organic 365 Chicken Broth
Smoked Gouda
Cranberry Sauce
Can you guess how I used each ingredient? I bet I'll surprise you! Read on to find out how my southwestern-inspired dish came together, but first…let me tell you how you can help me win the competition!
It's super-easy: just click on the Pinterest/Twitter/Facebook buttons at the top of this post (if you're reading this on email or RSS, please click through to the blog) to Pin, Tweet or Like it. Remember to use the hashtag #WFMClash in your shares. That's it – and thank you so much in advance for your support!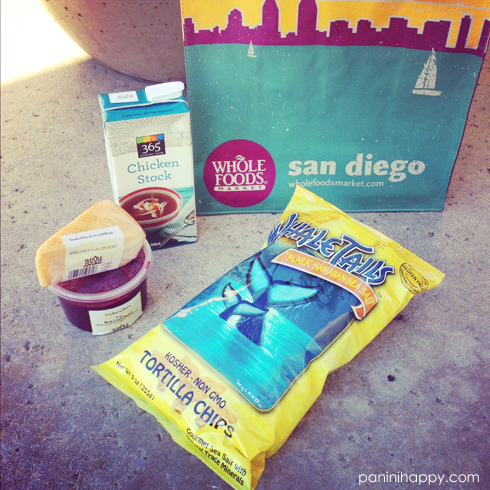 Friends on Facebook and Instagram had all sorts of creative ideas for what to make with these ingredients – everything from a layered turkey enchilada casserole to chilaquiles to a savory pie with a corn chip crust. A suggestion from Jenni Field at Pastry Chef Online particularly stood out to me:
"I'd make a turkey chili w/gouda stock and cran sauce and grind up the corn chips to use as a thickener."
That last part about using ground tortilla chips as a thickener reminded me of the Sweet Corn Tortilla Soup I had at The Melt last spring. It was velvety, a bit spicy and practically bursting with corn flavor. That was it – I had to make a chowder like that, thickening it in part with the corn chips. The chips gave the chowder a wonderful toasty flavor, and sautéed poblanos brought just the right amount of heat.
And then, of course, I needed a killer sandwich too, right?
I used more ground tortilla chips to crust the outside of the panini, à la my friend Laura Werlin. Not only does this give the bread a great crunch, but the aroma of toasted corn as you bite into the sandwich is beyond incredible. Inside, I layered on some turkey breast, the smoked Gouda and a kicky cranberry relish (which I gave some southwestern flair by by mixing minced jalapeños and orange zest into the traditional Whole Foods cranberry sauce). You could easily make this with leftover Thanksgiving turkey and cranberry sauce too. Sweet, tart, salty, smoky, crunchy, nutty – this was a true feast for the taste buds.
Here are the recipes, below – and thanks again for your Pins, Tweets and Likes (#WFMClash)!
[print_this]
Southwest Thanksgiving Panini and Chowder
Spicy Corn Tortilla Chowder recipe adapted from Chef Jack's Corn Chowder recipe by Paula Deen
Prep time: 25 minutes | Cook time: 35 minutes | Total time: 1 hour
Yield: 4-6 servings
INGREDIENTS:
Spicy Corn Tortilla Chowder:
1/2 cup (1 stick)

unsalted butter

1

small onion, diced

1

poblano chile, stemmed, seeded and diced

1

clove garlic, minced

1/4 cup

ground Whale Tail Tortilla Chips plus crumbled chips for garnish

1/4 cup

flour

3 cups

corn kernels, fresh or frozen

3 cups

Whole Foods Organic 365 Chicken Broth

2 cups

half-and-half

Coarse salt and freshly ground black pepper
Cranberry-Jalapeño Relish:
1/2 cup

Whole Foods Cranberry Sauce

2 teaspoons

minced jalapeño, seeds removed

1 teaspoon

grated orange zest
Panini:
4 tablespoons

butter, at room temperature

1/4 cup

crushed Whale Tails Tortilla Chips

8 slices

rustic white bread, sliced from an artisan loaf

1/4 pound

smoked Gouda, sliced

1/2 pound

turkey breast, sliced or carved
DIRECTIONS:
Spicy Corn Tortilla Chowder:
In a large saucepan, melt the butter over medium heat. Add the onion, poblano and garlic, and saute for 4 to 5 minutes. Add the flour and ground tortilla chips and stir to make a roux. Continue cooking and stirring until the roux is cooked and fragrant; remove the pan from the heat and set it aside.
Meanwhile, add the corn and chicken broth to another saucepan, bring it to a boil and let it simmer for 10 minutes. Ladle in a little of the broth and corn at a time into the saucepan with the roux, whisking briskly to prevent lumps. Return the saucepan to the heat and bring the mixture to a boil. It should become very thick. Remove it from the heat.
In a small saucepan, gently heat the half-and-half.
In batches, transfer the mixture to a food processor and puree till smooth (better yet, if you have an immersion blender, use it to puree the mixture right in the saucepan).
Return the corn mixture to the saucepan and stir in the warmed half-and-half. Season the chowder with salt and pepper, to taste. Garnish individual servings with crumbled tortilla chips.
Cranberry-Jalapeno Relish:
Mix the cranberry sauce, jalapeno and orange zest together in a small bowl. Set the aside to chill in the refrigerator while you prepare the panini.
Panini:
In a small bowl, mix the butter and tortilla chip crumbs until they're well combined.
For each sandwich: Spread a layer of tortilla chip butter onto two slices of bread. Flip one slice over and layer on cheese, turkey, a few tablespoons of cranberry sauce and more cheese. Close the sandwich with the other slice of bread, buttered side up.
Grill the panini, two at a time, until the cheese is melted, 4 to 5 minutes.
[/print_this]