Each Thanksgiving I like to come up with new leftover turkey panini recipes to share with you guys. Some of my past favorites have been Turkey Jalapeño Melt Panini (based on one of my husband's favorite sandwiches from a local deli) and Turkey Cuban Panini (inspired by a Bobby Flay recipe). This year I've given two classic sandwiches a Thanksgiving twist. First up is my Thanksgiving Turkey Reuben.
If you know the traditional Reuben, you're familiar with a robust sandwich piled with corned beef or pastrami, sauerkraut, Swiss cheese and Russian dressing, served on rye bread. A turkey Reuben – also known as a Rachel or a California Reuben – substitutes turkey and cole slaw in place of beef and sauerkraut. To bring in even more Thanksgiving flavor, I made a cranberry Russian dressing and tossed it with cabbage to make a very pink and zesty cole slaw.
"This is delicious!" was my husband Mike's immediate reaction. That cranberry cole slaw in the middle of the sandwich is such a fabulous flavor burst. I made the slaw a little extra wet to have more of that great dressing but you can always adjust to your own taste. Read on for the recipe…and stay tuned for one more leftover Thanksgiving panini recipe coming up tomorrow!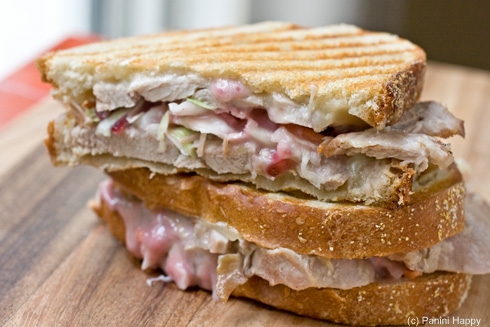 [print_this]
Thanksgiving Turkey Reuben
Prep time: 15 minutes | Cook time: 8 minutes | Total time: 23 minutes
Yield: 4 panini
INGREDIENTS:
Cranberry Russian Dressing:
1/3 cup

mayonnaise

2 tablespoons

cranberry sauce (I used whole berry)

2 teaspoons

freshly grated horseradish

1 teaspoon

Worcestershire sauce

Kosher salt and black pepper, to taste
Panini:
2 cups

shredded green cabbage or packaged cole slaw

8 slices

rye bread

8 slices

Swiss cheese

3/4 lb

carved turkey, thinly sliced (I think thigh meat is best)

2 tablespoons

melted butter
DIRECTIONS:
To make the Cranberry Russian Dressing:
Whisk together the mayonnaise, cranberry sauce, horseradish and Worcestershire sauce in a small bowl. Season with salt and pepper to taste. It will be rather pink!
To make the panini:
Preheat the panini grill to medium high heat.
In a medium bowl, toss the with cabbage with the Cranberry Russian Dressing.
For each sandwich: Lay one slice of cheese on a slice of bread. Add a thin layer of turkey, a few spoonfuls of the dressed cabbage another thin layer of turkey and a second slice of cheese. Close the sandwich with a second slice of bread. Brush a little melted butter on top.
Grill until the cheese is melted and the bread is toasted, about 4 minutes. Serve immediately.
[/print_this]